The Noel Kempff National Park, named after a
famous Bolivian biologist
, is located 600 km. northeast of the city of Santa Cruz. It is one of the largest (1,523,000 hectares) and most intact parks in the Amazon Basin of Bolivia. It is located in the northern-most tip of the Department of Santa Cruz bordering Brazil.
This park is wonderful and is uniquely beautiful. Noel Kempff National Park is a place that offers diverse habitats that are rarely found in other parts of the planet. This is why it was declared a Natural Heritage of Humanity site by UNESCO in 2000.
It is said that hundreds of years ago, a group of natives called Guarasug'we, originally from Paraguay, populated these Bolivian lands leaving behind unlikely legends and colorful traditions. It is also known that in the northern side of the park there are several stones that show the features of human faces, but they have not yet been studied closely.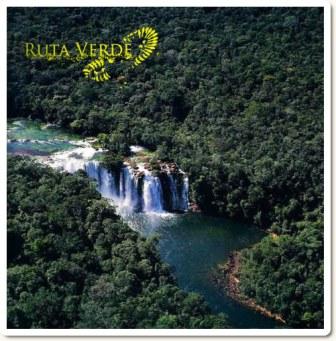 Ranging between 200 and 1000 meters in altitude, it is the site of a rich mosaic of habitats. The cerrado habitats found on the Meseta Caparú (a high plateau inside the park) have been isolated for millions of years providing an ideal living laboratory in which to study the evolution of these ecosystems. An estimated 4.000 species of flora and over 620 bird species and viable populations of many globally endangered or threatened species live in the park.
The Caparú plateau (980 meters high), was discovered by the English adventurer Percy Fawcet and later inspired Sir Arthur Conan Doyle to write his famous novel "The Lost World". It is an imposing and isolated table mountain of Precambrian origin (over a billion years old), formed by sandy rocks and quartzite laced by crystal clear creeks and numerous waterfalls on a landscape characterized by open grasslands and forested islands.
The south side of Noel Kempff National Park can be reached overland by 4x4 (you need at least 7 days to make this trip). The north side can be reached by chartered airplane. Trips to the north side take a minimum of 4 days. For more information on this and many other amazing ecotours and tours in Bolivia contact Ruta Verde Bolivia.