"Santa Cruz doesn't have any museums." "Santa Cruz de la Sierra is not a museum city." I've seen these comments on so many travel sites and I just can't imagine where these people are getting their information. A "google" of museums in Santa Cruz leads to a page on a famous travel guide website that says there isn't much of ANYTHING to do in Santa Cruz. Another famous travel guide website says "There is not much to see and do in Santa Cruz itself -- most travelers use Santa Cruz as a base for trips to the surrounding area."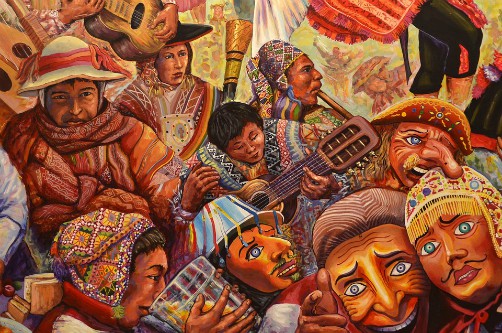 Have y'all just never been here? Either their writers have never been here, or they are NOT doing their homework. Santa Cruz has at least 40 (say it with me FOUR-TEE) museums and art galleries that I know of, so far (listed below). So our museums are not ENORMOUS, but since when is a museum qualified by its size?
True, this lush, tropical city has such a great climate that visitors prefer to enjoy the outdoors. And Bolivia's museums and galleries may not be as large as the Metropolitan. However, the arts are far from forgotten here in Eastern Bolivia. There are art galleries, exhibitions and showings by great local and national artists, and frequent art-related events. There are also natural history, botanical and cultural museums.
There is an organization in Santa Cruz called the Asociación Pro Arte y Cultura (APAC) (The Association Pro Art and Culture) that works actively to promote culture and the arts in all forms. It hosts the International Baroque Music Festival and the Bolivian Film Festival every two years as well as promoting numerous local and national events and artists throughout the year.
APAC - Asociacion Pro Arte y Cultura
Calle Beni No. 228
Santa Cruz de la Sierra, Bolivia
Tel: (591-3) 333-2287
Fax: (591-3) 337-2526
Email: info@festivalesapac.com
http://www.festivalesapac.com


MUSEUMS in the city of Santa Cruz

Museo de Arte Sacro "Monseñor Carlos Geniche" (Museum of Sacred Art)
San Lorenzo Cathedral
Calle Ayacucho
Santa Cruz de la Sierra, Bolivia
Tel: (591-3) 332-7381
Admission fee: Bs. 5 (less than $1.00)
Hours: Tuesday, Thursday and Sunday 10-12 a.m. and 2:30-6:30 p.m.
This museum, a small room inside the San Lorenzo cathedral on Santa Cruz' central plaza, contains gold and silver religious relics and artifacts, paintings and sculptures, and other treasures from the colonial era that date back as far as 1600.

Santa Cruz Cultural Center (Centro Cultural Santa Cruz)
René Moreno Street
4 blocks south from the main plaza
Across from René Moreno Theater
The new Santa Cruz Cultural Center is now the largest in the country and will be used for art exhibits, theater, music, and events to promote all forms of cultural expression. Read more about it here.

Museo Regional de Historia (Regional Museum of History)
Calle Junín 151 between Libertad and España
Santa Cruz de la Sierra, Bolivia
Tel: (591-3) 336-5533
Hours: Monday to Friday 8-12 a.m. and 3-6:00 p.m.
This museum, built in 1915, is run by the Gabriel René Moreno State University. It contains pieces discovered during archeological digs, a library and historical archives that date back to the colonial era. It contains important pre-Colonial and Chiquitano pieces as well. It also houses a theater where plays and other showings are scheduled on Thursdays, Saturdays and Sundays from 8-10 p.m. There is no admission fee.
Museo de la Independencia (Independence Museum)
Central Plaza, corner of Ayacucho and Independencia
Santa Cruz de la Sierra, Bolivia
This new museum, established in 2010, contains pieces relating to Bolivia's historic fight for freedom from Spain, specifically highlighting the role played by citizens and historical figures from Santa Cruz in gaining Bolivia's independence.


Centro Cultural Simón Patiño (Simón Patiño Cultural Center)
Suárez de Figueroa 89 (corner of Independencia)
Santa Cruz de la Sierra, Bolivia
Tel: (591-3) 337-2425
http://www.fundacionpatino.org/centrosci.htm
This center contains a large art gallery which frequently exhibits paintings, sculptures, and photography by both national and international artists. It provides guides who explain each exhibit to you and a space for artists, concerts, and meetings with writers, film-makers, and artists. Operated by the Simón I. Patiño Foundation of Geneva, Switzerland.

Museo de Arte Contemporáneo (Modern Art Museum)
Calle Sucre Esq. Potosí
Santa Cruz de la Sierra, Bolivia
Hours: Monday to Friday 10-12 a.m. and 3-7 p.m.
Tel: (591-3) 334-0926
This museum exhibits modern art by local and national artists and changes its showings on a regular basis. There is no admission fee.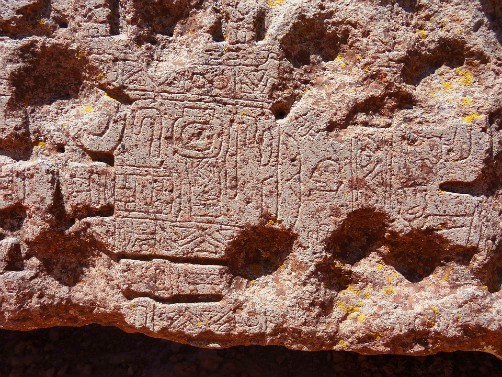 Museo de Historia Natural Noel Kempff Mercado (NKM Museum of Natural History)
Av. Irala 565
Santa Cruz de la Sierra, Bolivia
Tel: (591-3) 336-6574, 337-1216
Admission: Bs. 1 for adults and Bs. 0.50 for kids
Hours: Monday to Friday 8-12 a.m. and 3-6:30 p.m.
Named after famed Bolivian naturalist Professor Noel Kempff Mercado (after whom the NKM National Park is also named) it contains a collection of thousands of fossils, botanical specimens, fish, reptiles, insects, amphibians, birds and mammals. Noel Kempff, an internationally recognized Bolivian conservationist, also established the Santa Cruz Zoo and Botanical Gardens.

Museo Etnofolklórico de Santa Cruz (Santa Cruz Ethno-Folkloric Museum)
Parque Arenal Calle Beni
Santa Cruz de la Sierra, Bolivia
Hours: 9-12 a.m. and 3-6 p.m.
Tel: (591-3) 335-2078
This tiny museum contains pieces that reflect Eastern Bolivia's culture, population and language groups, and folklore collected from small towns and rural areas throughout the fifteen provinces of the Department of Santa Cruz such as baskets, woven items, masks, musical instruments, typical dress, hunting and fishing implements, and others. There is no admission fee.
Museo de Arte y Arqueología (Museum of Art and Archeology)
Casa de Cultura "Raul Otero Reiche" (ROR House of Culture)
Calle Libertad on the Central Plaza
Santa Cruz de la Sierra, Bolivia
Tel: (591-3) 334-5500
http://www.gmsantacruz.gov.bo/cultura/casadecultura.htm
Hours: 10-12 a.m. and 3-6 p.m.
Operated by the Santa Cruz Municipal Government, it is located on the Western side of the central plaza next to the Palace movie theater. It has a small gallery, bookshop, and theater where plays, concerts and recitals take place. It constantly promotes new cultural events and exhibits as well as dance, music, puppetry, art, and theater classes.
Museo "Teniente Coronel Germán Busch Becerra" (Lieutenant Colonel GBB Museum)
Colegio Militar de Aviación (Military Aviators Academy)
Av. Santos Dumont, Aeropuerto El Trompillo
(between the 2nd and 3rd rings)
Santa Cruz de la Sierra, Bolivia
Tel: (591-3) 352-6340
Hours: Monday to Friday 10-12 a.m.
Germán Busch was Bolivia's president in the early 1900's and he was also a Chaco War hero. This museum houses many of his personal belongings as well as family photos, war medals, letters and newspapers articles he wrote, and even his model airplanes. It also contains war items used during the Chaco War. Admission Fee: Bs. 5 (Under $1)

Museo Guaraní (Guaraní Museum)
3er Anillo, across from the Santa Cruz Zoo
Santa Cruz de la Sierra, Bolivia
Tel: (591-3) 341-2047
Admission:
Students from public schools Bs. 0,50
Students from private schools Bs. 1.00
Adults from anywhere Bs. 1.00
Open Monday to Friday 9:00 to 12:00 and 1:00 to 4:00
This museum contains about 150 pieces collected from various Guaraní indigenous sites throughout the Department of Santa Cruz including pottery, funeral urns, musical instruments, masks, tools and weapons. The museum also has an small book collection and an image archive. No admission fee but donations are accepted upon entry.
ART GALLERIES in Santa Cruz

Galería Mamani Mamani
Studio of Roberto Mamani Mamani, Bolivian Painter
Suárez de Figueroa #66 (Casi Independencia)
Santa Cruz de la Sierra, Bolivia
Tel: (591-7)007-7726
Email: kaalbees@hotmail.com
Monday to Friday 9:00 - 1:00 and 3:00 to 7:00
Saturday 9:00 to 5:00
Roberto Mamani Mamani is one of Bolivia's most awarded painters. At his gallery you can see a continuous exhibit of his ongoing works, most of which are very colorful and based on the Tiahuanacota culture. There are also souvenirs, cards, postcards, agendas, originals, and prints for sale.

Búho Blanco (The White Owl)
Juan Bustillos, Bolivian Sculptor
buhoblanco@cotas.com.bo
Santa Cruz de la Sierra, Bolivia
Tel: (591-3) 358-3902 or (591) 760-23726
This is actually the private residence of local sculptor Juan Bustillos who displays his art in every area of the house and opens it to the public each day for viewing. The entryway is a huge sculpted owl, thus the name. Bustillos works with wood, metal, and scrap metal. You can actually see him at work and he'll graciously give you a tour. Also owns the Buho Blanco Art Gallery in the Jesuit Mission town of San Javier, an amazing underground art gallery you can't miss if you go!
Oxígeno Fine Art Gallery
Edif. Arte Urbano
Calle Jaimes Freyre
Santa Cruz de la Sierra, Bolivia
This is a true working gallery featuring the artwork of many local and national artists for viewing and for sale. It was established by several of Bolivia's local artists. Art seminars, conferences and other less formal meeting spaces for the art community and potential buyers are held here as well.

Espacio de Arte Manzana Uno (Manzana Uno Art Gallery)
1 block South of the central plaza
Independencia Esquina Ayacucho
Santa Cruz de la Sierra, Bolivia
Tel: (591-3) 339-5792
Email: manzana.uno@gmail.com
Web: www.manzanauno.org.bo This is the city's newest museum and opened in Santa Cruz in 2005 just one block from the central plaza in what was for over thirty years a police barracks and city jail. It has six salons and galleries where great local and national artists' artwork is featured.
Centro de Arte Urbano Interactivo (Interactive Urban Art Center)
Houses the Kiosko Art Gallery and the Simple Graphic Design Studio
Monseñor Santiesteban 347
Santa Cruz de la Sierra, Bolivia
Tel: (591-3) 339-6626
http://www.kioskogaleria.com/
Contemporary art gallery and studio complex established by artists Raquel Schwartz, Roberto Unterladstaetter and Sergio Antelo Pérez. National and foreign artists are invited to apply for 2-month residencies. Artists live, work and interact together for 60 days and participate in art-related events and activities including exhibits for the general public.
OTHER CENTERS, HOTELS, CAFÉS, CLUBS, BUILDINGS THAT HAVE ART GALLERIES
Galería de Arte Axioma
Calle Aroma No. 167 (between Bolivar and Arenales) Santa Cruz, Bolivia Tel: (591-3) 339-6338
Acrilex Art Plaza
Avenida Banzer y 3rd Anillo Interno (across from the big Hipermaxi grocery store) Santa Cruz, Bolivia Tel: (591-3) 343-7400
Asociación Cultural Nueva Acrópolis
Calle Potosí No. 462 Santa Cruz, Bolivia Tel: (591-3) 332-5525
Fundación Puerta Abierta
4to Anillo between Avenida Piraí and Radial 17 1/2 Santa Cruz, Bolivia Tel: (591-3) 355-7903
Instituto de Bellas Artes
3er Anillo con Roca y Coronado Santa Cruz, Bolivia Tel: (591-3) 352-0844
Anahí Galería de Arte
Calle Güemes No. 5, Esquina Canal Isuto
Santa Cruz de la Sierra, Bolivia
Tel: (591-3) 335-4054
Casa Café Lorca (The Lorca Café)
24 de Septiembre Esq. Sucre
Across from the San Lorenzo Cathedral
Santa Cruz de la Sierra, Bolivia
On the southeastern corner of the city's central plaza is a small antique house that opened up a few years ago as a café and bar and eventually became a sort of a gallery where local and national artists display their creations. It typically displays art not exhibited in other galleries. It now has a shop where artwork is sold and a tiny stage area as well.
The Los Tajibos Hotel
Galería, Los Tajibos Hotel
Av. San Martín #455 Barrio Equipetrol
Tel. (591-3) 342-1000
Just past the main lobby this five-star hotel has a long hallway that many years ago was converted into a permanent art gallery featuring a constant rotation of art by local and national artists. Though not very large, it's special placement and lighting make this a beautiful small gallery worth taking a peek. Artists sell well here, especially to foreigners staying at the hotel.
Las Palmas Hotel
Av. El Trompillo # 604
Santa Cruz - Bolivia.
Tel: (591-3) 352-0366
Fax. (591-3) 352-0533
The owner of the Las Palmas Hotel, Karen Reimers, is an amazing painter and actively promotes the arts in Santa Cruz. She quite frequently plans and hosts special art events, transforming hotel salons and hallways into beautifully lighted art galleries to feature local and national artists.
Camino Real Hotel Art Gallery
Equipetrol Norte y 4to. Anillo
Santa Cruz de la Sierra, Bolivia
Tel: (591-3) 342-3535
Fax: (591-3 )343-1515
E-mail: hotel@caminoreal.com.bo
http://www.caminoreal.com.bo/Hotel/hoteng/hotel.asp
Hotel Suites Yotaú
Av. San Martín No. 7 - Barrio Equipetrol
Santa Cruz de la Sierra, Bolivia
Tel: (591-3) 336-7799
Fax: (591-3) 336-3952
Email: yotau@yotau.com.bo
http://www.yotau.com.bo/span/
Galeria de Arte Banco de Credito (Banco de Crédito Art Gallery)
Calle 24 de Septiembre #158
Santa Cruz de la Sierra, Bolivia
Tel/Fax (591-3) 337-8537
Las Palmas Country Club Art Gallery
Av. Las Palmas (final)
Casilla de correo 519
Santa Cruz de la Sierra, Bolivia
Tel. (591-3) 352-6566
Fax (591-3) 352-7098
NATIVA ARTE Y COLOR
Santa Cruz De La Sierra
Bolivia - Santa Cruz, Santa Cruz de la Sierra
Tel: (591-3) 356-7001
Pinoteca de Artes "Cury"
Subasta de Arte (Art Auction)
Asociación Boliviana de Artistas Plásticas (Bolivian Association of Artists)
Calle Arenales No. 591
Santa Cruz de la Sierra, Bolivia
Tel: (591) 770-01770 (Dolly Costas)
Tel: (591) 721-04015 (Cury Roberts)
Galería Nen Art (Nen Art Gallery)
Nena Orellanos, Artist and Owner
Calle Ñuflo de Chavez No 663
Santa Cruz de la Sierra, Bolivia
Tel: (591-3) 332-7568
Cel: (591) 770-58291
Email: infoventas@galerianenart.com
http://www.galerianenart.web.bo/
Agencia Española de Cooperación (Spanish Agency for International Cooperation)
The AECI (Spanish abbreviation) occasionally, and usually in conjunction with the Embassy of Spain, provides spaces within its building for special intercultural exchanges and encounters with artists, seminars and theater. Exhibits are temporary and usually last between two weeks and one month and are always announced in the local newspapers.
Centro Cultural Franco Alemán (Franco German Cultural Center)
Av. Velarde esq. Elvira de Mendoza
(Across from the Blacutt Plaza)
Santa Cruz de la Sierra, Bolivia
Tel. (591-3) 332-9906
This binational agency also frequently hosts art exhibits in its salons featuring both Bolivian and international artists, usually in conjunction with special international and intercultural events it plans. These events are always published in local newspapers.
MUSEUMS in other towns in the Department of Santa Cruz
Museo Arqueológico Regional de Vallegrande (Vallegrande Regional Archeological Museum)
Inside the Casa de Cultura (Vallegrande House of Culture)
Vallegrande, Bolivia
This museum contains pieces such as pottery, funeral urns, pieces of woven fabric, and more collected from finds and towns all around Vallegrande including Pucará, Cuevas, Guadalupe, Palmarito, and many others, including pieces found near a well-known rock painting site called Cuevas del Diablo.
Museo de Che Guevara (Che Guevara Museum)
Vallegrande, Bolivia
This museum contains photographs and historical memorabilia concerning Ernesto "Che" Guevara, who was killed in Bolivia. The town has become a major tourist attraction since his body was found and returned to his family in 1997.
Museo Arqueológico de Samaipata (Samaipata Arqueological Museum)
Hours: 8:30-12:30 a.m. and 2:30-6:30 p.m.
This very small museum contains some artifacts and information on El Fuerte, the largest carved rock in the world, some 6 miles East of town, as well as some pottery thought to be from the Tiahuanaco empire, and locally made pottery.
Museo Folklorico Chiquitano
San Ignacio de Velasco, Bolivia
This museum exhibits artifacts from the Chiquitano culture such as costumes, instruments, pottery and others.
Saimpina Archeological Museum
Saimpina, Bolivia
In the tiny town of Saimpina, founded over 390 years ago and located about 160 miles West of Santa Cruz, there is a tiny museum that contains objects donated by locals that are of special importance: it contains figurines, funeral urns and pottery that date back to somewhere between 100 BC and 1470 AD. These pieces are believed to have been left behind by several civilizations: the Mojocoyas, Omereques, Yamparas and Incas.