Fully furnished home with pool for temporary rent in Santa Cruz

(Santa Cruz, Bolivia)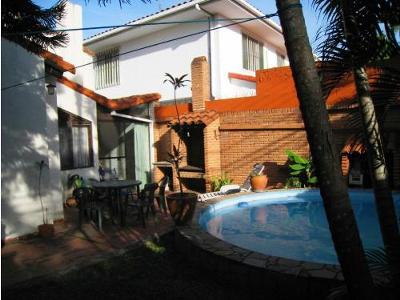 Pool and grilling patio
This large fully furnished 2-bedroom, 2&1/2 bath house in Santa Cruz, Bolivia is available for temporary rent for the months of August and September 2010 with the possibility of extending through October. The property is large with room for 2-3 vehicles, has a small pool and outdoor grilling patio, living room with fireplace, dining room with attached sitting room overlooking the pool, kitchen, office, second patio with hammock and outdoor furniture, and a 3rd room upstairs that can be outfitted if needed. In addition, the home has a laundry area with washing machine (no dryer).


At $700 per month, this rental includes all utilities (water, electricity, gas, cable TV and internet) PLUS free housekeeping once a week. It is located in one of the nicest residential neighborhoods of Santa Cruz (Equipetrol) 1/2 block from a park and 1 block from a well-known gym. It sits 3 blocks in from San Martin Avenue, where much of Santa Cruz nightlife takes place with many great restaurants, cafés, shops and clubs.
Equipetrol is also the major Santa Cruz Hotel district. Here you'll be just blocks away from the Los Tajibos, Caparuch, Yotau, Casablanca, and several other hotels.
It is also just minutes from Monseñor Rivero Avenue (the second most popular boulevard of cafés and restaurants). For families with small children, we note that it is located just 5 minutes (walking distance if you must) from Mi Osito Daycare center, run by English-speaking staff and is just 10 minutes west of the Santa Cruz Zoo.
Eight blocks north of this home is the Centro Empresarial Equipetrol and the bridge that crosses the Piraí River (leading to the Güembé Butterfly Sanctuary, Casa del Camba restaurant, and La Rinconada Resort), all popular among foreigners and locals alike.
The home is available as of August 2nd, 2010 for a 2-month rental with the possibility to extend through October. To view or rent this home, contact
BoliviaBella Expat Services
now.