How to Get to El Fuerte de Samaipata

---
Samaipata Home Page | Tourism Home Page | Plan Your Trip
---
There are several ways to get the Samaipata Fort (
El Fuerte de Samaipata
), which is 120 kilometers (75 miles) from the city of
Santa Cruz de la Sierra
.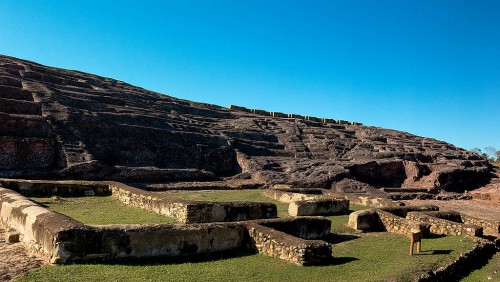 Take a minibus from the Santa Cruz Bus Station
Take a bus or minibus from the Terminal Bimodal: This is the combination bus/train station in Santa Cruz. Buses heading to Mairana, Vallegrande and Comarapa will make a stop in Samaipata if you ask them to ahead of time. If you don't ask the driver to drop you off in Samaipata in advance, they will drive straight through.
Share a taxi with strangers or form a group
There are 4 taxi companies to Samaipata in Santa Cruz. They leave from different areas of the city. These taxis cost about Bs. 35 per person, each way. They line up and wait until they've filled a taxi with 5-6 passengers, then leave, so you may have to wait, unless you are already a part of a group. They run every day, usually between 5:00 am and 8:00 p.m. The trip, on a good day, takes 2 to 3 hours. If the road is in poor condition, landslides, or it's foggy, or it's raining, it can take up to 4 hours. The name in capital letters is the name of the taxi company:
1. Radiomóvil FLORIDA - Go to the corner of Calle Omar Chavez and Soliz de Holguin (near the Ramada Market and first ring, which is also known as Avenida Grigotá or Primer Anillo). About 1 block down from the Tahuichi Aguilera soccer stadium. Ask for the MINIBUSES a Samaipata (they call them minibuses because most of them are minivans rather than cars, but some of them are cars). Their phone number is +591-2-333-5067. This is a picture of the particular corner where they all line up: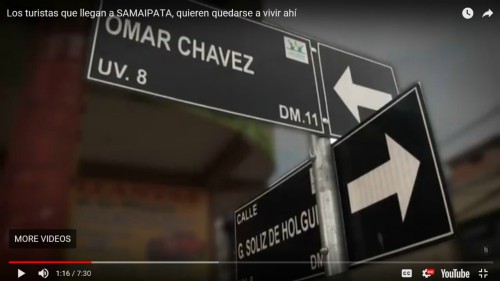 This is a map of their location 2 blocks from the Immigration office.
2.
Radiomóvil EL FUERTE
- These taxis are located on Calle Arumá, just off Avenida Grigotá. Their phone number is +591-2-359-8958. They've been servicing Samaipata for many years and are a favorite of some of the hostels in Samaipata. They are the blue flag on the map below.
3. Radiomóvil EL SAMAIPATENO and EXPRESO SAMAIPATA - These taxi companies are located at Tristán Roca and Manuela Velasco, across Av. Grigotá from Radiomóvil EL FUERTE and down a the block. The phone number is +591-6-878-6002. They are the red flag on the map below.
Rent one of the above taxis just for you
Rent the same taxis just for yourself: If you want to take one exclusively, you can pay Bs. 700 ($100 US dollars) to rent one for a full day. Taking one exclusively means you can take the cab by yourself and stop anywhere you want to along the way. If you travel with others you cannot stop to take pictures or simply because you like the view. If you travel exclusively, the driver will stop as many times as you like and also stop at other places such as Cuevas, the Fuerte (the ancient fort). From the Fort to the town of Samaipata the distance is 10 Km. This is a good option if you just want to do a day trip because the price is round trip returning to Santa Cruz in the afternoon. The taxi is all yours for the entire day.
Rent a car and drive yourself
Rent a car and drive yourself: We have an entire page dedicated exclusively to how to drive to Samaipata including a map with a driving route and a crazy dash cam video a guy made of the entire route. The video is sped up and lasts only 17 minutes but you literally see everything along the road between Santa Cruz and El Fuerte de Samaipata. Here's where to rent a car in Santa Cruz.
To return to Santa Cruz from Samaipata
The taxis from Samaipata to Santa Cruz can be found at the "Surtidor" (gas station) and at the central plaza. Their phone number is +591-6-878-6004. They leave continually as they fill up with passengers.

Photo: By Marek Grote - Own work, CC BY-SA 3.0,
https://commons.wikimedia.org/w/index.php?curid=28029299
Learn more about Samaipata
Samaipata tours, sites and attractions
In and around the town of Samaipata
What to take, know before you go
All the ways to get to Samaipata
How to drive to Samaipata on your own
Road maps and maps of the fort
Local tour operators in Samaipata
Hotels, hostels and where to stay
Samaipata restaurants, cafes and bars
Samaipata photo and video gallery
View our Samaipata travel forum
Return to the Samaipata home page

---
Samaipata Home Page | Tourism Home Page | Plan Your Trip
---