Creative Corners is a not for profit volunteer organisation that specialises in creative projects for creative people. It matches people like you to projects where you are best suited and return profits to communities that need them most - a WIN/WIN scenario.
It has dozens of exciting & creative projects throughout South and Central America. And no matter what your skill - even if you think you are not creative – Creative Corners will find a creative way to apply it.
From the mystery of Macchu Picchu and the striking landscape of Bolivia to the sun and energy of Rio de Janeiro - we currently have projects located in Brazil, Bolivia, Peru, Costa Rica, Nicaragua, Honduras and Guatemala. Living, working and traveling in these South and Central American destinations will provide you with an incredible back drop for your volunteer experience. (Read the founder's own volunteer story below to see how she became so inspired).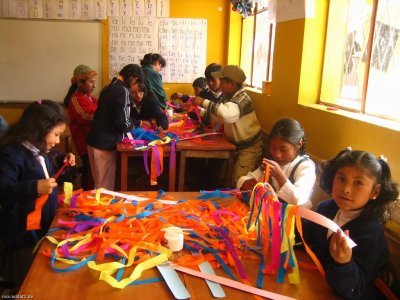 What we do and who we need:

• We aim to stay specialised and focused on creative projects which means finding talented artists, teachers and creative people so that we can create a passionate and creative network of artists pitching their vision and skills to creatively change lives around the world.

• Our projects are well planned, affordable and 100 % of our profits are reinvested back to the projects for disadvantaged, abused and abandoned children where we send volunteers to supply arts education materials.

• We also encourage volunteers to strive for an element of public performance, exhibition, installation, recording or publication of the work produced during the project. "Process" will always be important, but striving towards a final goal or "product" whether that be a performance, photo exhibit, CD recording or published calendar, provides a tangible goal and WIN/Win situation for everyone involved … you won't regret the challenge!

• Trips are available for volunteers from anywhere in the world for individuals, couples, groups, 'corporate' and even family teams. We have projects looking for willing creative workers from as little as one week to 12 weeks and beyond depending on the project chosen and how long you've got!

We are different!

You are probably searching through the thousands of volunteer opportunities and organisations that are out there to choose from - and you need to know what's special about Creative Corners...we are different because we are:

•Creative - We are the only volunteer organisation that specialises in projects in the creative arts
•Affordable- Our 2 month projects are from just £10 / US$19 a day!
•Charitable - We give back 100% of profits back to the projects.

The popularity of a Volunteer/Travel experience is growing more and more every year as increasingly people are realising the personal benefits of volunteering. Whether you are a graduate, career breaker or retiree a volunteer experience with Creative Corners definitely provides a WIN/Win outcome…

What will you get?

• Unparalleled personal development, professional kudos and a once in a life time adventure.
• An enhanced and interesting CV with overseas experience working in the field.
• The chance to make new friends & international contacts while experiencing new cultures and places.
• Re-discover why teaching found you…
• Hands on experience.
• Collaborations on which to build in the future.
• Personal challenges and personal reward.
• A chance to reinspire yourself and your career.

What will the projects and children get?

• Talented creative teachers.
• Access to the creative arts.
• Creative educational activities.
• An opportunity to express themselves through artistic avenues.
• Confidence, self assuredness and invaluable new communication skills, where imagination is used freely while interacting with others.

And The Host Community:

• Cultural exchange where hopefully life long connections and friendships are made.
• We pay for your lodgings at your host family's home, hostel or B&B – an important source of rental income in struggling communities.
Fund-a-Need:

• Donate to our Creative Corners Fund which is used to buy arts materials and specific resources needed by volunteers for their workshops: £10+
• Musical Instruments: £20
• Paints for a Mural: £20
• Redecorate a room in a home for Disabled Children £50
• Buy a camera for photography workshops for the Shoe Shine/Street Newspaper project £50
• Buy a computer for a detention centre for girls: £100
• Provide a Christmas Outing to the zoo for 50 children in a Bolivian Orphanage: £100
• Provide sponsorship to print one edition of the Street Newspaper £300
• Sponsor a child of The Helping Hand Project: £8 a month (for rent support) and £30 a month (to cover yearly university costs) In return you will get regular newsletters and updates on the progress of your sponsored boy and also the project.
• Sponsor a volunteer & provide a volunteer 'grant': £600 - £800 for 2 months

Founded by a Volunteer to Bolivia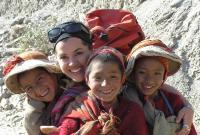 Hi, my name is Monique Julian. After volunteering in Bolivia I was inspired to start my own not-for-profit volunteer organisation and founded Creative Corners - The Global Arts Project. Please take a moment to read my own volunteer story to see what inspired me! And if you volunteer with Creative Corners, please return to visit Bella's Volunteer Page to share your own experience and motivate others!