Bus Stations in Bolivia

---
Tourism Home Page | Buses Home Page | Plan Your Trip
---
Did you that know at bus stations in Bolivia you usually can't reserve bus tickets very far in advance? Here in Bolivia there are dozens of bus companies. You can call in advance for pricing and route schedules, but you can't purchase over the phone or with a credit card at bus stations. Some allow you to purchase tickets on the day before you travel. Below you'll find a list of bus stations in the main cities and border points of Bolivia. Be careful of your belongings at these busy, crowded bus stations.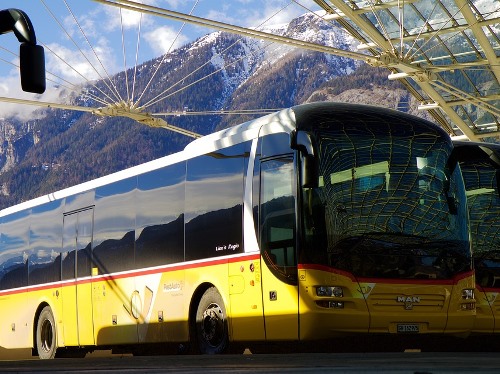 Bus Stations in Major Bolivian Cities
In Bolivia, major international and interdepartmental stations are called terminals (terminales). Each department's capital city has at least one "terminal de buses". The number of smaller provincial, regional and departmental stations varies greatly between cities.

La Paz Bus Terminal
At the end of Av. Uruguay corner of Av. Perú
La Paz, Bolivia
Tel: (591-2) 228-5858 or 228-6061
Oruro Bus Terminal
Bacobick St, no number btw. Villarroel and Aroma
Oruro, Bolivia
Tel: (591-2) 527-9535 or 527-9554
Potosí Bus Terminal
Av. Universitaria
Potosí, Bolivia
Tel: (591-2) 624-3361
Cochabamba Bus Terminal
Av. Ayacucho. between Tarata and Punata
Cochabamba, Bolivia
Tel: (591-4) 423-4600 or 425-2575
Chuquisaca Bus Terminal
Calle Ostria Gutierrez
Sucre, Chuquisaca, Bolivia
Tel: (591-4) 6441292
Pando (Interdepartmental)
Km. 2 Av. 9 de Febrero
Cobija, Pando, Bolivia
Tel: (591-2) 842-3122
Beni Bus Terminal
Av. Beni corner of Aviador Pinto
Trinidad, Beni, Bolivia
Tel: (591-3) 462-4607
Santa Cruz Bimodal Bus & Train Station
Av. Interadial btw. 3 Pasos al Frente and Av. Brasil
Santa Cruz, Bolivia
Tel: (591-3) 348-8482
Tarija Bus Terminal
Av. Las Américas btw. Av. La Paz and Alejandro Calavi
Tarija, Bolivia
Tel: (591-4) 663-6508
Yacuiba Bus Terminal
Calle Martín Barroso
(591-4) 682-4794
Tupiza Bus Terminal
Av. Serrano, corner of Suipacha Tupiza

---
Tourism Home Page | Buses Home Page | Plan Your Trip
---