On April 1st, 2009 Bolivia vs Argentina in a 2010 Play-off soccer match at the stadium in La Paz and TOTALLY TROUNCED Argentina 6-1!!! This was a practically unbelievable victory...was it an April Fool's joke? To those of you who don't live in Bolivia or Argentina this may seem like just another soccer match. But alas, there is
so
much more to this than meets the eye. So who cares, why is this victory so important? Thanks for asking! I'll give one reason for each of Bolivia's SIX goals:
GOAL #1 - Dedicated to Bolivians Living in Argentina
Tens of thousands of Bolivians have migrated to Argentina in past years in search of work. Over the past three years or so, hundreds of them have come forward to reveal that rather than finding better opportunities and living conditions, they are humiliated and treated as slaves. They work long hours in sweatshops and there are numerous legal cases pending concerning Bolivians who were physically, verbally, and even sexually mistreated, locked into their work rooms, not allowed meals or restroom breaks, and other such atrocities. The problem has gotten so bad it's been making the news frequently and has caused tension between the two countries. This has nothing to do with soccer but I'm working my way to a point so bear with me. Bolivians in Argentina suffer discrimination, racism and xenophobia.
GOAL #2 - Dedicated to Bolivian Soccer Fans and Players
The discrimination, intolerance and racism are evident on the playing field as well. On multiple occasions during soccer games in Argentina, Argentinean fans have chanted racist and xenophobic remarks against Bolivians and Bolivian players. They've waved flags (some with painted racist remarks on them), and in general been horrendously unsportsmanlike. Argentina's fans are often violent and even enter the stadiums armed. Bolivian fans who live in Argentina and attend games (even if they are fans of the Argentinean team) suffer insults and are demeaned.
This is a commercial, but the video says it all

https://youtu.be/L73UGwHOD-g
This finally got way out of hand and came to a head on March 8th, 2009 during a match between Boca Juniors and Independiente (both Argentinean teams with Bolivian fans). Thousands of Argentinean fans in the stands chanted racist remarks against Bolivia and Paraguay, waving the flags of both countries painted with racist slogans. Argentinean fans have been more and more frustrated with their teams, even threatening the players if they don't win (and I quote a message painted on a wall - "there will be bullets for all of you"). During one very recent game, 57 fans were arrested trying to enter fully armed with guns, knives and explosives.
After this particular game the Bolivian government finally got involved through the Embassy, swiftly presenting lawsuits against the Argentinean Soccer Federation AFA and demanding public apologies and economic sanctions against the teams, coaches and referees for failing to take any action to stop the game until fans retired the flags and stopped the chanting.
Goal #3 - Dedicated to an Argentinean Soccer Coach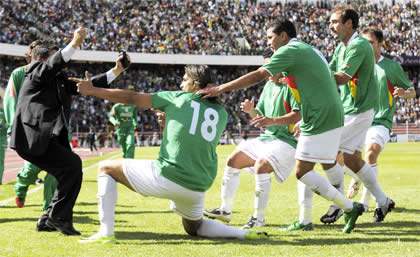 (photo published by www.eldeber.com.bo)

Two months ago during a soccer match in Argentina an Argentinean soccer coach got very angry and screamed derogatory remarks about Bolivians which were easily captured by media microphones. His remark was something to the tune of "I know what I'm doing, I'm not a f-----ng Bolivian." This was broadcast around the world. In Argentina the word "Bolivia" or "Bolivian" has practically become an insult or swear word.
To this coach I dedicate Goal number 3. Think twice before you use the word BOLIVIA as an insult again Mr. Yucky Argentinean Coach-who-shall-remain-nameless-because-I-don't-think-you-deserve-any-free-publicity-and-I-would-say-more-but-I'm-too-educated-to-stoop-to-your-level. We'll just let your name slide quietly into oblivion.
Goal #4 - Dedicated to All Who Were Not Expecting This
Let's face it. Nobody was expecting this win - and never in a million years such a completely resounding one. OK, Argentina's teams are under fire for not doing as well in recent years as they usually do, but Bolivia's teams have also been under fire - more than ever before. Bolivian fans have been disheartened and frustrated and complain that the players are undisciplined, don't attend practices, drink too much...etc. Argentina's teams have almost always been better than Bolivia's so this was just not expected at all.
Goal #5 - Dedicated to Diego Armando Maradona
Most surprising about this Argentinean loss yesterday is that their coach was none other than Diego Maradona himself. I salute Maradona because he's like, the world's most fabulous player in recent years, but there's another reason to dedicate this goal to him even if he's from the rival team (really - who cares what team he's on - he's MARADONA for Pete's sake).
During a press conference after the game, a disheartened and clearly tired Maradona was asked by one reporter "do you think the altitude had anything to do with Argentina's loss" (a frequent and understandable excuse used by foreign teams - although only when they lose) to which the entire room full of reporters responded with hisses and whistles.
Maradona responded with a clear NO stating that Bolivia had played a game worthy of praise and Argentina had not been up to par with the Bolivian players, ending his response with "...y punto!" ("period end of discussion".) Thank you Maradona. We love you anyways. Sorry you lost (ok not very sorry) but kudos for being a good sport.
Goal #6 - Dedicated to a Sport that Unified Bolivia
Historically, Bolivians have been divided on social, racial, cultural, economic, geographic and political grounds for centuries, with no end in site. But during the past three years this division has become increasingly evident and even violent on occasions, exacerbated by the country's current political situation.
Yesterday's historic win (all the newspapers are calling it historic because Argentina has NEVER been beat by such a large margin) brought Bolivians together in celebration at EXACTLY the point in time when it was most needed. Racial, social and cultural lines were completely obliterated and forgotten as fans embraced each other all over the country and celebrated into the early hours of the morning.
How long this euphoria will last is anyone's guess. But it makes a wonderful point - we have to put our differences aside and find our points in common stressing our similarities as much as possible in all areas not related to politics. Sports is one arena in which we can make this happen. Maybe theater, the arts, music, volunteering, the environment and others are possible additional means to unite us. These are the "FIELDS" in which Bolivians can work together toward common "GOALS", learn from each other, and grow environments of understanding and tolerance. Why aren't we dedicating more time, energy and funding to them and creating a culture of good sportsmanship that can flow into other areas of our lives?
Goal #7 - What Happens in Bolivia Stays in Bolivia
(photo use authorized by www.futbolstreet.blogspot.com)

Goal SEVEN? Didn't we say Bolivia only made SIX goals? Yes! But there was ONE other goal made in La Paz yesterday. Sorry Argentina's players but your goal in La Paz will forever remain in Bolivia! Because of the way Argentina's soccer fans have treated Bolivians, I'm going to dedicate Argentina's ONE AND ONLY LONELY GOAL to Bolivia and Bolivia's children who are already being trained and taught about respect and good sportsmanship!
One organization that is using sports and the arts to do this already is the San Isidro Sports and Culture Center. It's located between two of Santa Cruz' most underprivileged neighborhoods. San Isidro runs a soccer school that has over 250 kids. It has been both nationally and internationally recognized, as have its theater, arts and crafts, music, and cultural programs during which children learn early on important values such as sportsmanship, understanding and tolerance, children's rights, and much more. Maybe we should export that to Argentina.