In Bolivia Potosi is one of the most visited departments (states) because it is home to the remarkable
Uyuni Salt Flats
, ancient mines like the Cerro Rico, and many places of natural and cultural beauty.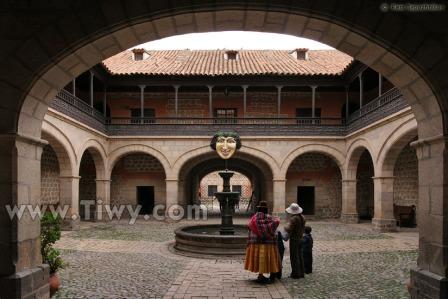 Potosí was once one of the wealthiest cities in the world, was thought to be the most populous city on Earth in the 1600's (surpassing even the largest European capitals), and is still considered to be the highest city on Earth. UNESCO declared Potosí a Natural and Cultural Heritage of Humanity site and the Organization of American States named Potosí a Monument City of the Americas due to its rich history. Today, the department of Potosí is the only one in Bolivia in which more people live in rural areas than in urban areas.
In the city
Plaza 10 de Noviembre: Almost every Bolivian town or city is established around a central square or plaza. This is Potosí's central plaza and around it you'll find many colonial era buildings.
Casa de la Moneda: This is the Spanish Mint, an enormous building that covers an entire city block and has over 20 rooms. The Spanish built the Casa de la Moneda to turn all the silver they mined into coins prior to sending them on ships back to Spain. You can still see much of the original equipment used to mint the coins. Guided tours only. There are tours in English as well.
Catholic churches and cathedrals: At one time, Potosí had over 30 churches, most of which are very ornate and some of which have altars covered in gold, silver and precious gems. Some had convents as well. Potosí's many churches often house priceless antiquities and paintings and are well worth taking a look at if you are interested in architecture, art or history.
Scenic Overlooks: If you'd like a nice look out over the city, visit the Torre de la Compañía de Jesús or the Mirador de San Francisco (the latter also has catacombs!) Both are churches.
The Cerro Rico Mine: most tourists who venture to Potosí wouldn't dream of leaving without taking a tour to the Cerro Rico, the high pointed mountain that is the landmark of Potosí. Women were once forbidden from entering the mines as the male miners believe they will bring bad luck. However, female tourists are allowed to enter. You may need to crawl in some places and you are expected to purchase gifts for the miners and "El Tio" (the devil believed to own the mine) prior to initiating your tour.
The Artificial Lagoons: when the Spanish first arrived in Potosi, they built numerous lagoons to hold water both for mining and for human consumption. You can visit some of them, such as the Kari Kari lagoon.
Colonial streets and houses: Potosi has numerous pretty colonial streets that are well worth a walking tour and several local markets that are also interesting. Many of the homes still have their original architecture and you will often see family crests on their walls or doors as evidence of much more opulent times. Today Potosí is one of the poorest cities in the nation.
Festival de Chu'tillos: one of the best times to visit Potosí is during the last week of August each year when you'll be able to see some of the native dances and music of the region. This is also sometimes called the Festival de San Bartolomé. The dance that
Other Folklore Festivals: Potosí is best known for is the "tinku". Other festivals you may be able to see are the Festival of San Miguel, which takes place in Uncía, or the Festival de la Virgen de Asunción in Llallagua.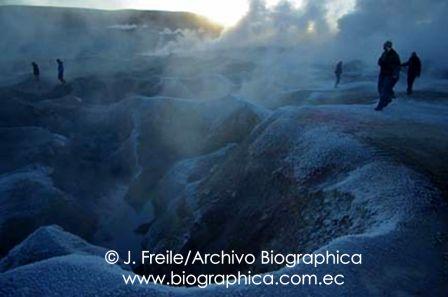 Further out
Toro Toro National Park: This national park preserves several sets of dinosaur tracks and also has some very interesting caves such as Huma Jalanta. It is also known for its waterfalls, and it's many species of flora and fauna. The park is located North of the city.
Eduardo Avaroa National Park: this national park, located in the province of Sur Lípez, borders Argentina and Chile and is truly remote. Be sure to visit Laguna Verde and Laguna Colorada. See more in our Salar de Uyuni section.
Betanzos: located in central Potosí, this is a small town from which you can take tours of local hills and caves where there are some well known rock paintings. You can also see rock paintings in Tecoya and Tinguipaya as ell as in Cueva Jatún.
Local Haciendas: Cayara, Samasa, Don Diego, Mondragón, Tecoya, Vila Vila, Potobamba, Tirispaya and Siporo are the names of rural haciendas that will let tourists in. Some are also equipped to host events.
Machacamarca is a small town where most of the homes and buildings are made of stone. The ruins of the town and mines are very ancient and date back to the Colonial period.
Salar de Uyuni: the largest salt desert on earth is also home (in November and December) a huge flock of pink flamingoes, a truly unexpected sight so high above sea level. You can also visit Isla Cujiri (better known as Isla Pescado) and Isla Incahuasi as well as two beautiful lagoons, Laguna Verde and Laguna Colorada, which are bright green and bright red, respectively. In addition, you can visit the nearby hot springs, Volcán Thunupa (a large volcano crater) and Colquesa, where you can see the mummified remains of ancient peoples. Because this is one of Bolivia's top tourist attraction, we've dedicated an entire section to the Uyuni Salt Flats.
Tupiza: Tupiza, in southern Potosí, is one located in a valley filled with vineyards and orchards. Here you can visit several haciendas and wineries. It is also known for its handcrafters who work with silver, pottery and textiles. Tupiza is usually visited along with the town of Villazón on your way into Argentina from Bolivia or vice versa.
Villazón: is also known for its valleys and interesting petroglyphs in the valley of Sococha, in addition to the ruins of Moucollajta and several waterfalls.