Tiahuanaco: Tiwanaku Hotels and Hostels

---
Hotels | Tiwanaku Home Page | Tourism Home Page | Plan Your Trip
---
There aren't many Tiwanaku hotels but the following are a few good options. You can still visit the ruins even if you don't plan on staying in Tiwanaku. Most hotels in La Paz offer day tours. These are day trips that leave at about 8 am and return around 4 pm. See our
Tiwanaku Tourist Info
page on how to get there and what to take. A trip to these mystical ruins is worth it! If you've already found a hotel or hostel you love, or one you don't recommend, please tell us in our
Bolivia Hotel Review
. Below is a list of hotels in Tiwanaku. Check for them on Tripadvisor and Trivago. If they aren't listed, you'll need to make a reservation directly.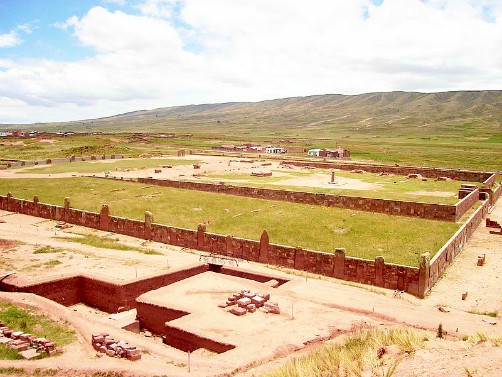 Hotels in Tiwanaku (Tiahuanaco)
Bolivian hotels are kind of "all over the place" when it comes to listing themselves on booking sites so that you can make reservations online. You'll find almost all of the 4 and 5 star hotels in Bolivia on most of the major hotel reservation websites that are well-known worldwide. But smaller Bolivian hotels aren't as organized about their online presence. They are more likely to be on Tripadvisor, which has become very well-known in the Bolivian hospitality industry by word of mouth.
Akapana Hotel
Av. Manco Kapac N° 20
Tiwanaku, Bolivia
Tel: (591-2) 289-5104 or 246-2215
Mobile: (591-7) 354-5206
Email: info@hotelakapana.com
Web: www.hotelakapana.com
Book on TripAdvisor

Hostal Wiracocha
Calle Santa Barbara No. 7 & Quimsachata
Just 2 minutes (200 metres) from the ruins
Tiwanaku, Bolivia
Contact: Rafael Perales
Cel: (591) 735-02014, 719-86367, 765-29121
Email: misteriosdetiwanaku@gmail.com
Web: http://misteriostiwanaku.blogspot.com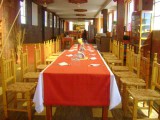 La Cabaña del Puma Complejo Turistico
Tiwanaku, Bolivia
Tel: (591-2) 289-8641
Cel: (591) 712-52408
Email: tiwanaku_delpuma@hotmail.com
FB: www.facebook.com/cabanadelpumatiwanaku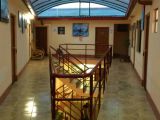 Hotel Tiahuanacu
Calle Bolivar #803
Sector laguna Verde
Tiahuanacu, Bolivia
Hotel tel: (591-2) 289-8548
La Paz tel: (591-2)241-0322

El Mochilero 2
On the corner of Plaza 14 de septiembre
Across from the soccer stadium
Tiwanaku, Bolivia
Has a restaurant with rooms to rent on the 2nd floor
Suma Uta Tourist Guesthouse
Tiwanaku, Bolivia
600 mts from Tiwanaku Archeology museum
Very nice, clean rooms, private bathrooms, more.
This property accepts only cash payments and has no website
Learn more about Tiwanaku
Tiwanaku tours sites and attractions
How to get there and what to take
Road maps and maps of the ruins
Hotels, hostels and where to stay
Tiwanaku photo and video gallery
View our Tiwanaku travel forum
How to get to Tiwanaku on your own
Return to the Tiwanaku home page

---
Hotels | Tiwanaku Home Page | Tourism Home Page | Plan Your Trip
---