Tanta is a Peruvian "fusion food" restaurant located in the Zona Sur (southern zone) of the city of Santa Cruz. I'm not exactly sure what fusion food is, other than to say Tanta has some spectacular novel food combinations and
unusually good customer service
.
We visited Tanta on a beautiful, warm Saturday evening, early-ish (8:00 pm).
As we approached the restaurant a smiling waiter opened and held the door for us. The cashier smiled, the barman smiled, another waiter smiled as we walked past them into the interior dining area. We had spotted a party of friends inside before we entered the restaurant and headed straight to them. The wait staff politely retreated while we broke into a short round of greetings, hugs and brief conversation. Then, leaving them to their meal, we opted for outdoor seating on a patio where tables are shaded by canvas umbrellas. A waitress instantly appeared to open the door and show us to a table.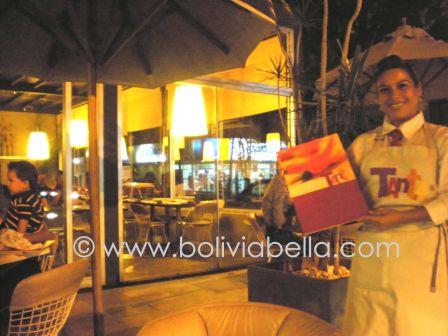 We were presented with two menus. One is a beverage menu listing beers, wines, cocktails, coffees, teas, sodas, and delicious fruit juices. The second menu lists entrees, soups, salads, main courses, desserts, baked goods and more. Our waitress was amazingly attentive and well-trained and paid a great amount of attention to every detail of our meal. She gave us the impression she genuinely loved her job. She patiently answered every question and happily posed for pictures. If she thought we were crazy to take photos of all our food, she didn't ever show it (she had no idea I was combining a friend's visit to Bolivia with a restaurant review). Our party of three (two adults and one child) couldn't easily decide what to eat. Everything on the menu is described fully, listing all ingredients, and it all sounds good!
Our jaws first dropped when our waitress said quite out of the blue, "If you're looking for vegetarian options we have a great many you'll be sure to like." My friend is vegetarian but we hadn't once mentioned that. We looked at each other in shock as if to say "how on Earth did she know that?!" Ms. Vegetarian opted for the "sopa de cebolla criolla", Tanta's Peruvian version of French onion soup. I ordered the "tabulé de quinoa", tabouli made from quinoa, currently touted as one of the world's superfoods for its high nutritional content. My son was offered a long list of foods in child-sized portions from which he chose a hamburger and French fries. Pfff! Kids.
We ordered lemonade, a Huari beer and maracuya (passion fruit) juice, all of which were served tall and frosty. My friend, who is Norwegian and had never tasted maracuya, rolled her eyes and smacked her lips more than once. A basket of warm toasted garlic bread was served along with our drinks.
Our waitress took our order and left, only to appear a few seconds later to say, "your table is wobbling, isn't it?" Again we exchanged looks of surprise. We hadn't even noticed, but she had.
As we waited for our food, my son played in the front yard. Not ten minutes later our entire meal was served with a friendly call from the waitress to my son, "Kristoffer, your food is ready." Again we exchanged looks of shock. She knew his name already? Was there any detail she wasn't paying attention to?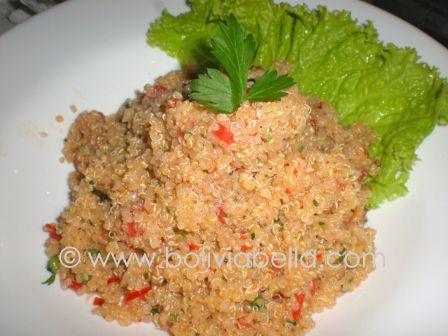 My Norwegian friend declared the onion soup (served with a piece of toast and cheese on top) delicious, and stated it was "a truly perfect combination with the Huari beer". It almost tasted like it was made with a bit of beer itself, although soy sauce seems to have been a main ingredient as well. The quinoa tabouli was also delicious. Unfortunately, it was too salty. It was so good I continued to eat a bit more, but it got saltier and saltier until finally I apologetically told the waitress I just couldn't eat it. Her response was a huge smile and an immediate offer to replace the meal, with which she returned in under 3 minutes.* My new enormous platter of quinoa tabouli (pictured above) was spectacular with just the right touch of cilantro and red bell pepper. I honestly liked it way more than Mediterranean tabouli.
(* Does it sound like I'm gushing about the great customer service we received at Tanta? I am. Unfortunately, Bolivia isn't strong on customer service, especially at stores and restaurants. In other countries replacing a meal that isn't to a customer's liking is considered absolutely essential to keeping the customer happy and ensuring they return to the restaurant in the future. However in many parts of Bolivia, foreigners have found that returning a meal is often greeted with a frown and at times even an argument from the wait staff. It's unbelievable, really.)
The desserts are to die for. When we had finished our meal our waitress presented us with a huge platter of desserts to choose from (pictured above). You'll find desserts that are common to Bolivia such as cheesecake with maracuya topping (tartita de maracuyá), alfajores, or brownies sprinkled powdered sugar. Or you can try something really unusual like the "pom", the "plátano manjar", or the "opera". I won't ruin your soon-to-be unforgettable dessert experience by describing them for you. You can salivate over the dozens of food photos on their website (listed below) or better yet...just go!
If the variety of unusual foods doesn't have you returning to Tanta over and over again, the precision-trained wait staff will.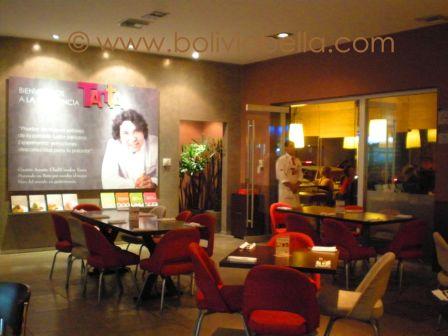 Tanta is truly warm and inviting. It's not-quite minimalist interior includes a mix of concrete walls and open steel ceilings for an urban industrial feel, with colorful original paintings on some walls, just the right touch of green foliage, a long hand-chalked menu board, a big photo of the owner under which his aptly awarded cookbooks are displayed and sold, and huge warm lamps that provide just the right amount of low lighting. Both the interior design and the ornately detailed food presentation give it a breath of elegance mixed with an eclectic Soho neighborhood coffee shop feel. You really could entertain a diplomatic party or a casual group of friends for tea and dessert, or just hang out in your sandals with a frosty beer and a newspaper. Either way you wouldn't feel out of place.
It's not an insanely expensive restaurant, though not accessible to the general population. There are comparatively priced restaurants in Santa Cruz that are not as deserving of praise. Prices are openly listed on their website.
You'll find Tanta easily if you head to Plazuela Blacutt (about 10 blocks straight south from Plaza 24 de Septiembre, the city's central plaza). Head to the Burger King on the corner of Andres Manso, and walk one block East to the next corner (Monseñor Santistevan).