Spicy Tangerine Jam - Bolivian Food and Recipes
by BoliviaBella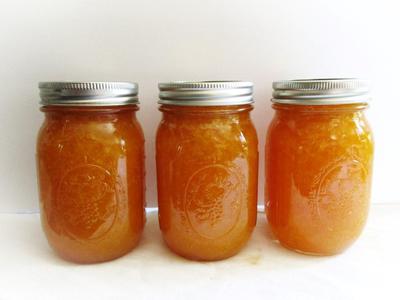 Bolivian Spicy Tangerine Jam - Mermelada de Mandarina
If you've never made your own spicy tangerine jam, you haven't lived life to the fullest yet... but there's still time, because this recipe takes very little time to make (about 30 minutes), is easy to follow, requires just 6 ingredients, and is incredibly delicious!


Please read through the entire recipe and instructions before you start as I make some recommendations for substitutions for those of you who do not live in Bolivia.
Prep time: 10 minutes. Cooking time: 15-20 minutes.
Makes 3 16-oz jars of jam.
INGREDIENTS
36 small or 18 large tangerines
1/2 cup lemon juice
1/4 pectin powder
4 cups white sugar
1/2 cup dark brown sugar
1-2 small locoto peppers
3 sterilized 16-oz. glass jars
INSTRUCTIONS1. PREPARE THE TANGERINES
Wash the tangerines under cold water. Peel them, removing some of the pith (the white strings that are found on the inside) but not all. Pith has natural pectin so you'll want to leave some of it.
If you see any seeds, remove them. I recommend a smaller variety of tangerines because they don't usually have as many seeds.
In the US you will find that the "Cuties" brand is great for this recipe.
2. PREPARE THE PEPPERS
Wash the locoto peppers, slice in half, remove the seeds, then chop into very fine, very tiny cubes and set aside. You might consider wearing gloves. If you don't have gloves, be sure you do not touch your face (especially the eyes and lips) with your hands until you have finished chopping the peppers and have washed your hands 2-3 times with soap and water.
In the US you can use jalapeños if you want your spicy tangerine jam to be mildly spicy, or use serrano peppers if you want it to be very spicy. For reference, serranos are about 5 times as hot as jalapeños on the Scoville Scale. Use fresh, not canned or bottled peppers, as they may contain vinegar.
3. BLEND THE FRUIT
Blend the tangerine fruit sections in a blender for 30 seconds, just enough time to break them down and release their juice.
4. PREPARE TO COOK
Place 4 cups of the blended tangerines into a large pot, along with the lemon juice and pectin powder. I recommend a pot with tall sides because as your jam boils it will rise.
In the US you can substitute 1 package of SureJell pectin.
Cook on high, stirring constantly, until the tangerine jam comes to a rolling boil. Turn the heat down to medium and add both sugars.
5. COOK THE JAM
Cook on medium, stirring occasionally to ensure the tangerine jam doesn't begin to stick to the bottom of your pot. Adjust the heat of your stove to ensure you are cooking at a low enough heat to prevent burning.
As your tangerine jam begins to reduce (as it thickens and becomes less watery) it may begin to produce foam on the surface. You can simply remove the foam with a spoon and discard it.
Cook until your tangerine jam is thick and begins to look sticky. On medium heat (about 220F) this should not take more than 10-15 minutes. To test if your jam is done, do the following:
6. TEST THE JAM TO KNOW IF IT'S DONE
Place one teaspoon of jam on a small plate and put it into your freezer for 2 minutes (this will quickly cool it down to room temperature). Remove the plate from the freezer and run your finger straight through the middle of the jam.
If your finger separates the jam and it does not run back together again, it's ready. If the jam is still juicy and it runs back together, you'll need to cook it a bit more. Cook and test every 3-5 minutes until it separates when you finger-test it.
7. ADD THE PEPPERS
Pour the finely chopped locoto peppers into the pot and stir until they are evenly distributed throughout the jam.
8. STORING YOUR HOMEMADE JAM
Using a large spoon or soup ladle, fill your jars with your homemade spicy tangerine jam, leaving about 1/2 inch of space at the top. Screw the lids on. Allow your jam jars to cool completely before you refrigerate them. They will preserve well in your refrigerator for up to 3 months.
If you plan to use a water-bath canner to preserve your jams for long-term storage, sterilize your jars beforehand, and ensure the jars are still hot to the touch when you fill them with hot jam. Place them in your canner with at least 1 inch of water over the lids, and simmer for 10 minutes. Remove, cool completely, label them with the date, and store.
9. EAT THE JAM
You can eat your jam as soon as it's cool enough to do so. Be aware that the peppers will take a few days to soften so initially, the pepper bits may be slightly crunchy, depending on how finely you chopped them.
10. BRAVELY GO WHERE YOU'VE NOT GONE WITH JAM BEFORE
This spicy tangerine jam is so tangy and flavorful and it's just sweet enough to enjoy with sweet or savory foods. You'll enjoy eating it on toast, but I also encourage you to try it as an ice cream topping, as a spread between cake layers, as a coating for orange chicken, drizzled over cheesecake, on shortbread, or my favorite way: slathered on a big, juicy grilled steak!