Samaipata Fort Photos and Videos

---
Samaipata Home Page | Tourism Home Page | Plan Your Trip
---
The
Samaipata Fort
(El Fuerte de Samaipata), located in the eastern tropical department of Santa Cruz, Bolivia, is actually not a fort. It is the world's largest carved rock surface, and was most likely used for ceremonial purposes. It's mysterious origins had initially been attributed to the Incas; however, there is evidence it was initially carved by another ancient civilization several hundred years prior to their occupation of this area called the Chané. The
town of Samaipata
, just a few miles further down the road is known as Bolivia's "Little Switzerland" due to its location in the Andes foothills, cooler weather, and the large community of European and American foreigners who live there.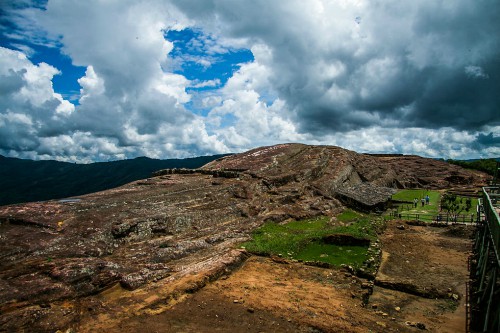 Photo: By Marcelo Claros Marzana - Own work, CC BY-SA 3.0, https://commons.wikimedia.org/w/index.php?curid=28754493
Samaipata, located 2 hours West of Bolivia's largest city,
Santa Cruz,
is nestled in a picturesque valley and it's Bolivian and foreign residents enjoy a privileged landscape and beautifully moderate climate. The Samaipata fort is the town's top tourist attraction; however, Samaipata is also a gateway to
Amboro National Park
, and there are many other beautiful sites to visit. See our
Samaipata Tours
page for details on local attractions and activities, and select
Samaipata Hostels and Hotels
here.

https://youtu.be/jemd_fPVYQw
A video walking tour of the Samaipata rock formation and ruins.

https://youtu.be/wCGQxm8a2xI
Video in Spanish but shows close up details of the carvings on the Samaipata rock, rock paintings at Mataral, some of the artifacts found in the area, and other details about the fort.

https://youtu.be/GgV8OaVigYg
Video tour en español, muy bien hecho y explicado, detallando cómo llegar a Samaipata, al Fuerte, a Cuevas, a los Viñedos Uvairenda, dónde alojarte, y más junto con costos para cada opción.

https://youtu.be/e58jofxbaN8
Learn more about Samaipata
Samaipata tours, sites and attractions
In and around the town of Samaipata
What to take, know before you go
All the ways to get to Samaipata
How to drive to Samaipata on your own
Road maps and maps of the fort
Local tour operators in Samaipata
Hotels, hostels and where to stay
Samaipata restaurants, cafes and bars
Samaipata photo and video gallery
View our Samaipata travel forum
Return to the Samaipata home page


---
Samaipata Home Page | Tourism Home Page | Plan Your Trip
---