Revuelto de Chuno (made from a freeze-dried dehydrated potato native to the Andes Mountain region of Bolivia) is a popular side dish in Western Bolivia. Chuños are potatoes that have been carefully stepped on to remove their water, then dried in the sun, and frozen outdoors.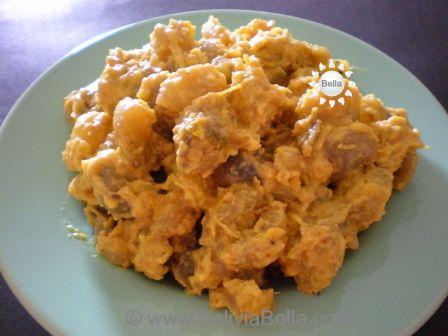 This is how potatoes were conserved by the indigenous population of Bolivia hundreds of years ago before refrigeration existed. For cooking, the potatoes are then re-soaked overnight and cooked until soft, but do not regain their full size and remain black. The result is a tiny potato with a delicious nutty flavor used in many of Bolivia's Andean dishes.
Ingredients
1 pound of black chuños (use white chuños if necessary)
2 green onions
2 eggs
2 small roma tomatoes
2 small garlic cloves
1 dried yellow chili pepper
1 cup shredded mozzarella cheese
Oil
Salt and pepper to taste
Instructions
Place your chuños in a large mixing bowl and completely cover them in water. Soak overnight to soften. Then boil the chuños along with a little salt and pepper until they are completely soft. Drain and cool.
Chop the green onion, including the tails, garlic and tomatoes very small. Sautée in a little oil. Dice the cooked chuños.
Cut the chili pepper lengthwise and remove the seeds. Place the dried pepper into a blender and blend with 1/2 cup of water. Remove from blender.
In a pan with some oil, sautée the onion, garlic, tomatoes and blended chili pepper. Add salt and pepper. Scramble the 2 eggs and add to your sautée along with the grated cheese, stirring as you would scrambled eggs.
Add the chopped chuños to your scrambled egg mixture stirring well to ensure the chuños are fully incorporated. Serve hot. Your revuelto de chuno will have a sort of "scalloped potatoes" consistency although the potatoes are cubed rather than sliced thin.