Reineke Fuchs German Restaurant in La Paz, Bolivia
by BoliviaBella
(La Paz, Bolivia)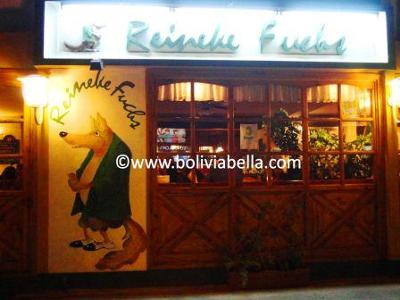 Reineke Fuchs is a German restaurant in the San Miguel zone of La Paz (the ritzy southern zone of the city). We enjoyed dinner here on a cold Wednesday night. One of us had milanesa which is a chicken fried steak, another had weisswürst (white sausage) accompanied by German potato salad, and a third colleague was served an absolutely ginormous pan-platter of pork knuckles with mashed potatoes and sauerkraut. The restaurant has a large and pretty good selection of wines and beer as well. Dessert was vanilla ice cream with a cherry/strawberry/raspberry sauce which was a little too sweet but delicious anyways.
The restaurant is located just 4-5 blocks from the San Miguel church next to a discotheque with a very strange name (WARM U). Having first ordered some of the authentic German beers, we then tried Paceña Black (dunkel bier - dark beer - made in Bolivia) and came to the conclusion that Bolivia has nothing to envy other countries when it comes to beer. The Paceña was definitely the best beer of the night. The food was good, the service was friendly, the restaurant was full all evening.
Join in and write your own page! It's easy to do. How? Simply click here to return to Restaurant Review.