Post Colonial History of Bolivia: 1800-1900 A.D. At the beginning of the Post Colonial Era, in 1809, there was an uprising in Chuquisaca (
Sucre
). Mestizos and indigenous groups together fought for Bolivia's independence from Spain, led and supported by freedom fighters such as Pedro Domingo Murillo (who was captured and murdered), Venezuelan Simón Bolivar, and José de San Martín. But it wasn't until 16 years later that the territory was actually established as a republic (with the first declaration of independence on August 6, 1825) after a decisive battle was won in Ayacucho on December 9, 1824 by Antonio José de Sucre, whose republican army of 7000 men defeated José de La Serna's Spanish army of 10,000 by capturing La Serna. The Spanish surrendered the next day. (Read about
Bolivian Independence Day
here).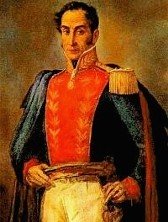 Bolivia was the first of the Spanish colonies to win its independence from Spain, beginning the Post Colonial period of Bolivia's history. Simón Bolivar (featured in this painting) drew up a constitution for the new republic in 1826, named the country Bolivia, and renamed Chuquisaca as "Sucre" in honor or Antonio José de Sucre who was named Bolivia's first president. However, internal turmoil made it impossible for Sucre to organize the new state.
Peru invaded Bolivia one year later on May 28, 1828 under General Agustín Gamarra and in September he forced Sucre to resign. Sucre went into exile in Colombia. Mariscal (Marshall) Andres Santa Cruz was elected president of Bolivia in 1829 to replace him and held the position for the next 10 years.
In 1836, Mariscal Andrés de Santa Cruz, and General Gamarra of Peru agreed Peru and Bolivia should never have been separated and, aiming to reunite Bolivia and Peru, formed a federation with the legislative brances of both countries in agreement. However, Gamarra believed the federation should be headed by Peru while Mariscal Santa Cruz believed Bolivia should be given more political power.
Simón Bolivar did not agree with either of them, having formed a project of his own to reunite most of the Spanish colonies, called the Gran Colombia Federation. He appointed the deposed Antonio José de Sucre as Commander of the Colombian Army and on June 3, 1828 declared war against Peru. However, Sucre was soon murdered and only 2 years later Bolivar died as well. At this time Colombian troops withdrew from Peru and the war came to an end.
Meanwhile, in Peru, General Gamarra deposed Peruvian President José de la Mar and declared himself as the new president of Peru. In 1833 a new Peruvian parliament was formed but instead of calling for elections, turned the presidency over to General Luis Orbegoso. Gamarra refused to acknowledge the new government.
In 1835 Orbegoso was overthrown by General Felipe Salaverry. Orbegoso turned to Bolivian President Mariscal de Santa Cruz and the Bolivian army invaded Peru. With Bolivia's aid, Orbegoso was returned to power. In exchange for this aid, Orbegoso agreed to the formation of a new Peru-Bolivia Confederation to attempt to reunite Bolivia and Peru and converting it back into the previous single territory of "Alto Peru". Initially this new country was divided into 3 states: North Peru, South Peru, and Bolivia. Its capital city was Tacna, in South Peru.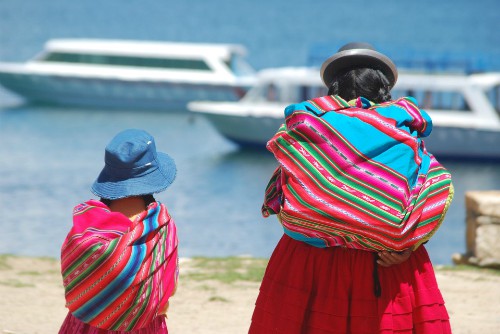 Post colonial times continued to be violent and unorganized. The creation of this federation caused alarm among neighboring countries, especially Chile which perceived it as a threat to its regional power and independence. Simultaneously, both Peru and Chile wee competing for control of commercial routes on the Pacific Coast.
Three years later Peru went to war against Chile, and several Peruvian rebel groups that supported Chile. The conflict began initially due to disagreements over tariffs. Because of the federation formed with Peru, Bolivia was obligated to support the Peruvian government, defeating the Chileans and Peruvian rebels in Paucarpata.
On the same day, a treaty called the Paucarpata Treaty was signed. According to this treaty, the Chileans and rebel Peruvians surrendered unconditionally and were allowed to return to Chile WITH all their arms and equipment intact.
The Chilean government later discarded this treaty and the Chilean army, again with the Peruvian rebels, on January 20, 1839 went to war once more against the Peru-Bolivia federation (once again led by Mariscal Santa Cruz) in Yungay. Chile defeated the federation this time using the same weapons and equipment Santa Cruz had allowed them to take home.
This resulted in the failure of the Peru-Bolivia federation in the same year, 1839. Gamarra declared its dissolution and ordered the states of North Peru and South Peru to merge, leaving Bolivia as a separate entity once again.
The post colonial period was rife with struggles for power. Between 1879 and 1884 Bolivia went to war against Chile in the War of the Pacific, this time over saltpeter (potassium nitrate) mining concessions in Bolivia's Atacama region that had been given to Chilean companies. In this war Bolivia lost a large part of its seacoast, its rich nitrate deposits in the Atacama, and the port of Antofagasta, to Chile (as shown on map). This was a major blow to Bolivia as it lost its access to the sea. It's history has been marked by this ever since. (1879 Map copyright undetermined).
Antofagasta is a port city in what is now northern Chile, about 700 miles North of Santiago in the Atacama Desert. In 1866 it was founded as a seaport for recently discovered silver mines. The city's name comes from the Quechua term "town of the great saltpeter bed" and the Aymara word that means "great salt bed". Because of this, the War of the Pacific between Bolivia and Chile is sometimes called the Great Saltpeter War.
The city's original Spanish name was Peñas Blancas (meaning "white boulders") and it was a part of the province of Litoral, belonging to Bolivia.
Before the Spanish arrived, the first inhabitants of this region were the Changos, who fished, gathered shellfish, and hunted sea lions. This region was once a part of the Incan empire.
During the late post colonial era, the price of silver rose worldwide and Bolivia prospered for a short period of time, although Bolivia's indigenous groups did not benefit from this improved economy. By the early 1900s, the silver mines were depleted after being mined for nearly four centuries, and tin replaced silver as Bolivia's primary source of wealth. The population (and importance) of Potosí, once the world's most populated city, eventually waned and Oruro, where major tin mines were located, became a major commercial hub. The post colonial era was coming to a close as Bolivia consolidated it's independence and began to shape its own history as a self-governed nation. Although that hasn't gone too awfully well. See the next chapter on Bolivia's recent history, which covers the period between 1900 and today.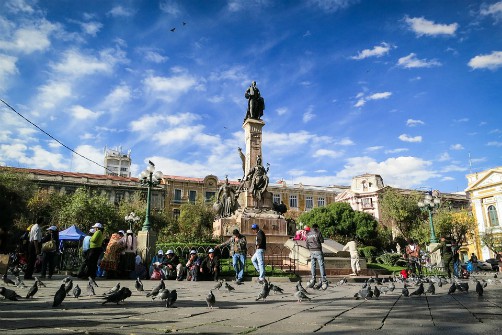 In 1898 the seat of two Bolivian government branches (the executive and legislative) was moved to La Paz (above) reflecting the changes in the Sucre - Potosí region's status and nearing the end of the Post Colonial era. Bolivia's Supreme Court remains in Sucre, Bolivia's only capital city. Now read about our Recent History.