Who knew underwear was SO important on New Years Eve!
Those who want to find love and passion in their lives will wear red panties on the 31st of December. Yellow underwear will bring happiness and money. Green is for prosperity, pink is for friendship, white is for hope and peace. Regardless of the color of your undergarments, if you wear them backward all evening, you're wishing for a new wardrobe throughout the year. (Wearing new clothes is also supposed to guarantee this). You can buy your lingerie, but if they are gifted to you, you will have more luck! Last New Years Eve reporters interviewed the public and vendors in several stores and markets. The predominant color? Yellow! People wanted to have a financially sound year! There are many rituals associated with New Years Eve and Day in Bolivia.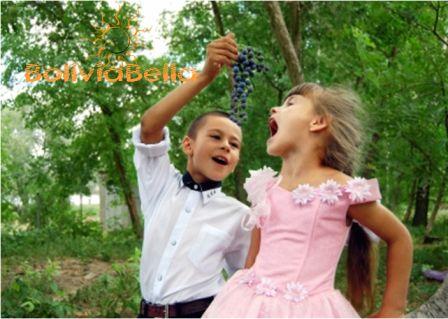 If you want prosperity or to improve your business, you should take out some money just as the clock is striking midnight and count it. Eat a spoonful of lentils or give a friend a fistful of lentils and your business will be prosperous next year. Some people place a wad of money inside their shoes that night.
Want more opportunities to travel? At the stroke of midnight, grab a suitcase and walk around the block with it. Some people place a suitcase outside their door and leave it there overnight. Others hold the suitcase and walk in and out of the front door with it several times right at midnight.
Want to get married? Precisely at midnight, sit down and stand up 12 times. Then, tie a red ribbon around the photograph of the person you want to marry and sleep with it under your pillow all night. This is supposed to ensure the person you love will give you his or her love before the next New Years Eve.
Candlelight for isn't just for romantics! Blue candles will bring you and your family peace. Yellow ones will bring abundance, red ones passion, green ones health, white candles will keep your mind clear, and orange ones will ensure intelligence.
Shoo away bad luck, pain and tears! At the stroke of midnight, fill a glass with water and throw it out onto the street. Write down all the bad things that have happened to you during the past year on a piece of paper and burn it to erase the past. At midnight, repeat aloud 12 times, "I will be happy this year!"
Clean your house! Even if you won't be celebrating at home, your house must be completely clean before the next year arrives. You must especially concentrate on cleaning out the dusty corners and be sure to get rid of anything broken so as to not attract disagreements. Place cinnamon sticks and candies in a dish to attract luck and love, respectively. Place three stones on the doorstep. One is for health, one for love, and one for money. Include some thorns in your holiday décor so your family will have peace and good luck.
Precise dinner décor. Your dinner table should be decorated with your best tablecloth and dishes, and at least one red candle to ensure there will always be love in your family. Make sure there is something gold on the table to attract prosperity, so money will never be lacking. Before you eat dinner, everyone must eat one teaspoon of cooked lentils for prosperity as well.
Hidden surprises in your champagne and cake. You should always toast in the New Year with something bubbly as the bubbles represent happiness. To ensure prosperity, place a gold ring in your champagne before you drink it, and if you don't drink you must bite on the ring instead. Three coins should be baked into your dessert. Whoever gets the pieces of cake with coins will have prosperity during the coming year.
Forget the wine! The grapes themselves will bring you more luck! Probably the most important ritual is to eat 12 grapes at midnight for good luck. Make a wish upon each grape prior to eating it as the clock counts down the seconds to a super New Year.