Jaguar Conservation in Bolivia
What's so Important about Jaguars?

---
Volunteer in Bolivia | Tourism in Bolivia | Ecotourism in Bolivia
---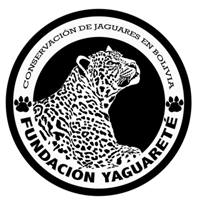 Fundación Yaguareté is a non-profit jaguar conservation organization established in Bolivia by Australian Matt Stonehouse. If you spend some time on our website, you'll soon notice that protecting our biodiversity in Bolivia is an issue close to my heart and one that I avidly and actively support.
Matt's calling to protect jaguars in Bolivia is a story of new beginnings, as are the stories of many expats who have made the move to Bolivia, with one big difference: this one involves the natural environment in which we live, the people and communities of the country that hosts us as guests, the third largest feline in the world, and the ecosystems it inhabits. The jaguar (Panthera onca) is the only Panthera species found in South America. Its numbers are declining and as you'll soon learn from Matt, jaguars are in dire need of protection. It's not a coincidence that this is our first feature article of 2015. As human beings we often set new goals for ourselves as each New Year begins. Perhaps, along with Matt and his dedicated jaguar conservation team, you and I can also choose to become a part of giving jaguars in Bolivia a chance at a new beginning too.
A HEART FOR JAGUAR CONSERVATION
01/15/15 Charis Irena, BoliviaBella.com Webmaster
Matt, what prompted you to start a non-profit organization, and why in Bolivia? Like others, you could have simply chosen to volunteer for a jaguar conservation project elsewhere.
Ever since I was a child I had a deep and inspiring connection with animals. On numerous occasions I have rescued wild and domestic animals and I always dreamed of one day doing something to help protect animals around the world.
I was living in England working in an animal rescue center while studying African wildlife and conservation when I started to think about ways I could make a difference. I had some ideas to try to film a documentary about poaching around the world and that eventually turned into the idea of starting an organization. I was contacted by someone in Bolivia and informed that there was a huge problem with jaguars and cattle ranchers so I decided to go and find out more, hoping that I would be able to start an organization to help.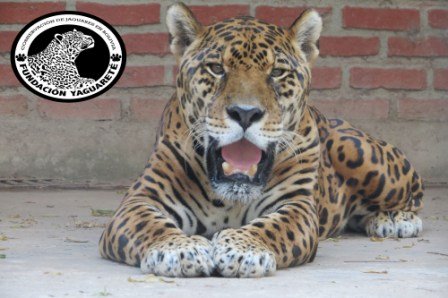 Had you ever visited Bolivia before? What did you do to prepare for moving here?
I had never been to Bolivia nor had I ever heard of this place before. This was a huge move for me as I didn't know anyone here and I didn't speak any Spanish whatsoever. In the months leading up to my move, I did some research on the jaguar-cattle conflict in South America and methods that other organizations were using. I did very little research about Bolivia itself and I didn't try to learn any Spanish whatsoever. Now I wish I had prepared myself better as it has been extremely difficult to live in a country and not be able to speak the native language.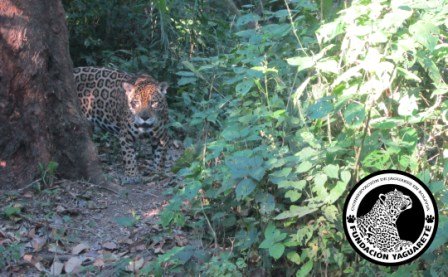 Why did you choose to focus your efforts on jaguars and not other animals as well?
As Bolivia has the second highest population of jaguars in Latin America, I believe we have a better chance of making a difference protecting this species before it's too late. The jaguar is also a "keystone" predator, which means that it plays a unique and critical role in maintaining the structure of an ecosystem and the way it functions. If a keystone predator were to be removed from its habitat, the ecosystem would experience a dramatic shift or even cease to exist entirely. Therefore, jaguars are defined as an umbrella species, which means that by protecting this species, we would essentially be protecting many other species along the way.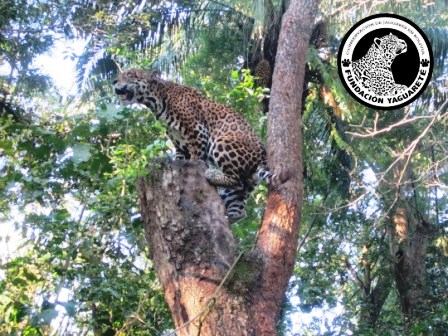 How serious is the problem regarding jaguar/ human conflicts?
Shortly after arriving in Bolivia I realized the problem was much more serious than I had originally anticipated. Not only was almost every cattle ranch owner we spoke to shooting jaguars because of cattle conflict, but there was also a huge problem with habitat destruction by encroaching soy plantations and illegal trophy hunting, which people still think is legal. Another serious problem is the illegal sale of skins and body parts. Just like trophy hunting, people still think that the sale of live animals or their body parts is legal here. However, there are laws in place that prohibit these actions, although Bolivia has only just begun enforcing them recently.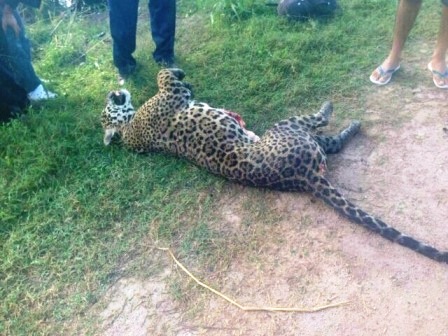 I've heard the illegal wildlife trade is the second most lucrative crime in the world (second only to drug trafficking). Is that true? And are live jaguars being illegally traded? Or are they only being killed for their skins?
The illegal trade of wildlife is now actually the fourth most lucrative business in the world and is worth an estimated 10-20 billion dollars a year. Now while I have never heard of a jaguar been traded live while I have been in Bolivia, I would have no doubts that it is happening as there are plenty of people in the United States and even some Arab countries that I have seen posting pictures on Facebook of their pet jaguars. Also I am constantly seeing and hearing about people selling jaguar skins and even body parts in Bolivia. There have even been reports of some Chinese foreigners harvesting jaguar parts in their front yard in a small community near the Beni River in Rurrenabaque. In Chinese culture it is believed that the body parts of big cats such as leopards, tigers and jaguars hold mystical powers and medicinal properties that are meant to energize the body and increase male potency. They use parts of the cat such as the whiskers, teeth, claws, eyes, fat, penis, testicles and bile. How they came up with these beliefs about jaguars is beyond me as there are no jaguars anywhere near China; however, they are causing a huge problem and it's not good.
How hard has it been to get things started and to establish and register your jaguar conservation organization in Bolivia?
I had been planning things since 2013 while I was still living in England, but I only started meeting with people around March of last year after I moved to Bolivia. I spoke to people about the steps necessary to start a non-profit organization in Bolivia, and after a few months of meetings with biologists, lawyers and other organizations I started to get an idea of how hard things were going to be due to paper work and bureaucratic nonsense. At this point a few people had actually told me I should just give up and do something easier, although this just made me more determined to reach my goals. On the 8th of July 2014, almost 12 months after I had started planning everything, I filed the first part of the paper work for the name of the organization (Fundación Yaguareté) and then decided on a logo. It was a big step in the right direction although it will still take another 6-12 months to finish the remaining paper work and have the foundation completely registered.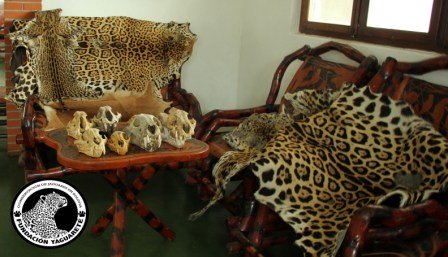 Are you working alone or do you have people working in the organization with you?
To begin with I was working by myself trying to get everything started and at times it was very disheartening to try to find people to be a part of what I am doing. As I spoke to more people I realized who genuinely wanted to help and eventually after 11 months of living in Bolivia I met the right people. Now I have a great team working with me. We are still only a small team of 5 people; however, the skills that these people bring to the table are amazing. We have two qualified veterinarians and two qualified biologists, one of whom works with the Department of Biodiversity in Santa Cruz. The other studied about jaguars in Brazil with the Jaguar Conservation Fund. I really couldn't have asked for a better group of individuals to work with.
Who is supporting you, or collaborating with you, in your efforts to get your organization off the ground and running?
We have been lucky enough to team up with a few companies already that export products to the United States and are willing to design a range of items that will help raise money for the foundation. We are in contact with a handful of local and even some foreign organizations, which we plan on working with in the future. We have also been working with the Department of Biodiversity in the local government to collaborate on projects with them. This has given us a good base to get things started and ensure we are on the right track. Although we haven't received any funding for support, it does help a lot knowing that we have a good network of organizations supporting what we are trying to do.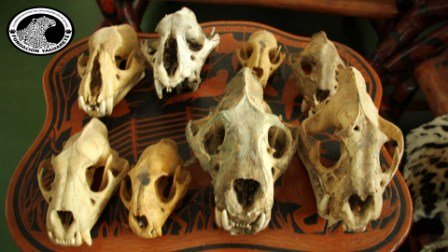 What jaguar conservation projects have you started or are you planning to start in the near future?
Education is the strongest tool we have, so we are focusing a lot on educating people about how they can help us to protect this majestic animal. We are in the process of starting a program for kids this year with some local schools but that's only the beginning as we hope that education programs for university students and rural communities will follow in the not too distant future. Other projects will include working closely with cattle ranchers to help prevent or compensate cattle loss. By giving cattle ranchers alternate solutions to shooting jaguars or even by providing them with a secondary income to compensate their losses, we are hoping to help reduce the number of jaguars being killed.
Illegal trading of furs and wild animals is another huge problem, especially in South America, as a lot of people here are unaware of the laws that are in place. We are aiming to make local people and tourists aware of the laws in place by working closely with the government on some campaigns to help put an end to this trade. We also have plans to purchase some land by the end of this year. This land will be transformed into an animal safe haven to help shelter some of the hundreds of animals that are constantly being rescued every week.
What are the three most difficult obstacles Fundación Yaguareté faces at this time?
The two biggest obstacles we face would definitely have to be getting the Bolivian government to want to make a difference and actually care about what is happening, and trying to find someone that is willing to support or sponsor us with a decent amount of funding so that we can make a larger impact. The third thing would be convincing people in this country that a change needs to be made. Although we have already seen positive responses to what we are doing, it's still not easy to convince people to change what they have been doing their whole life.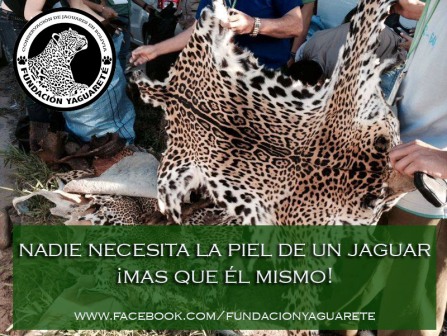 How do you obtain the finances needed to fund your jaguar conservation projects?
I have been funding everything out of my own savings for now. However, I have been working out ways that we can generate an income to cover the costs of everything. I have already been working with local artists and designers to create a range of clothing and other items that we will release this year to try and raise some funds. We have some fundraising events that will be held throughout the year, and as for some of the bigger projects we have planned, they will require us to apply for funding through larger organizations, although this is not always guaranteed.
What is your jaguar conservation foundation's most urgent need at this moment?
Funding and sponsors would are our two greatest needs, as it's what ensures that the work we are doing has the desired impact. We have some big projects planned for this year and without funding it will be very hard to get the maximum effect from them. Having said that, we also need supplies of equipment as mentioned before, and people to volunteer their skills in certain areas.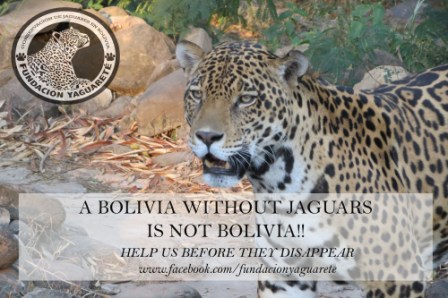 If someone would like to support your efforts by volunteering or making a donation, how can they do this?
We will need volunteers for projects and fundraising events soon and we will notify everyone via social media when we do. We do, however, need volunteers who can help us with certain things now such as web design, video editing, accounting, etc. Anyone who would be willing to help us in these areas can contact us via email or Facebook. We are still trying to find someone to help us design a web page so at this present moment we have no online donation page. However, people can always purchase some of the merchandise through the Fundación Yaguareté Facebook Page and soon through CharismaBolivia.com, which is one of the companies, we will be working with. Essentially, they could also donate items that we can use for some of our projects. For example, we need camera traps, tents, boots, waterproof clothing, etc.
What are some of the areas in which you have experienced success so far?
Already last year we have been successful in having people arrested for the illegal sales of skins, which was a first time for Bolivia, as this law, had never been enforced. Since those arrests, and also due to a small campaign from the local government, many people have been calling to inform us about illegal sales of animals and skins. Again, a few weeks ago a Chinese man was arrested also for selling skins and body parts of jaguars, so things seem to be changing slowly. We have a long way to go yet but there is light at the end of the tunnel and we are very hopeful.
Click these links to learn more about, volunteer for, or help fund Matt's jaguar conservation organization, Fundación Yaguareté:
Facebook
Twitter
Instagram
About Matt