The Lake Titicaca hotels listed below can be reserved online. What many visitors don't know is that the small town of Huatajata is a great place to begin exploring the lake. Both Huatajata and Copacabana are right on the Titicaca Lake shore. You can cross Lake Titicaca on a hydrofoil at Huatajata, a much smoother and faster way to cross over to the Island of the Sun. Hydrofoils skim the lake surface. If you've already found a hotel or hostel you love, or one you don't recommend, tell us in our
Below is a list of hotels in Copacabana and Lake Titicaca. Check for them on Tripadvisor. If they aren't listed, you'll need to book directly.
Bolivian hotels are kind of "all over the place" when it comes to listing themselves on booking sites so that you can make reservations online. You'll find almost all of the 4 and 5 star hotels in Bolivia on most of the major hotel reservation websites that are well-known worldwide. But smaller Bolivian hotels aren't as organized about their online presence. They are more likely to be on Tripadvisor, which has become very well-known in the Bolivian hospitality industry by word of mouth. We've partnered with Tripadvisor so you can save up to 30% on your hotel
.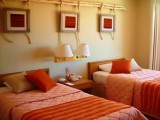 5-STAR INCA UTAMA HOTEL AND SPA
Km. 86 Carretera Asflatada a Lago Titicaca
Huatajata, Bolivia Owned by Crillon Tours
Av. Camacho 1223, La Paz, Bolivia
Tel: (591-2) 233-7533 or (591) 720-01077
Web: www.crillontours.com
FB: www.facebook.com/incautama
Book on TripAdvisor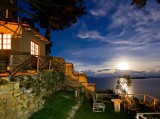 3-STAR POSADA DEL INCA LODGE
Isla del Sol
Lake Titicaca, Bolivia Owned by Crillon Tours
Av. Camacho 1223, La Paz, Bolivia
Tel: (591-2) 233-7533 or (591) 720-01077
Web: www.crillontours.com
FB: www.facebook.com/posadadelinca
Book on TripAdvisor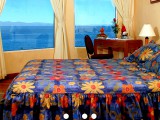 3-STAR HOTEL GLORIA COPACABANA
Avenida 16 de Julio entre Busch y Paredes
Copacabana, Bolivia
Tel/Fax: (591-2) 862-2094
Email: reservas@hotelgloria.com.bo
Web: www.hotelgloria.com.bo
FB: www.facebook.com/HGcopacabana
Book on TripAdvisor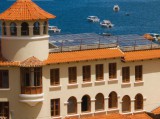 3-STAR HOTEL ROSARIO DEL LAGO
Avenida Costanera, Copacabana, Bolivia
Tel: (591-2) 277-6286 or 245-1658
Email: reservas@gruporosario.travel
Web: www.gruporosario.com
facebook.com/Hotel-Rosario-Del-Lago-416928608327426
Book on TripAdvisor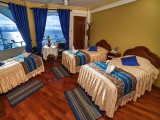 HOTEL LAGO AZUL COPACABANA
Avenida Costanera, No. 13
Copacabana, Bolivia
Tel: (591-2) 862-2581
Web: https://hotellagoazulcopacabana.club
Book on TripAdvisor

ONKEL INN TORRES DE COPACABANA
Costanera Avenue 257 on the lake shore
Copacabana, Bolivia
Cel: (591) 796-26886
Cel: (591) 706-45477
Email: copacabana@onkelinn.com
Web: www.onkelinn.com
Book on TripAdvisor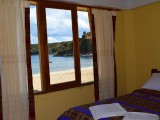 HOSTAL WILLKA KUTI
Isla del Sol, North side
Tel: (591) 681-39118
E-mail: willkakutihostal@gmail.com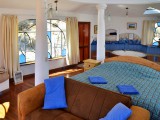 HOSTAL LA CUPULA
Calle Michel Perez 1-3, Copacabana, Bolivia
Cel: (591) 670-88464
Tel: (591-2) 862-2029
Email: bolivia@hotelcupula.com
Web: www.hotelcupula.com/en_index.php
Book on TripAdvisor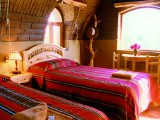 ECOLODGE COPACABANA
Avenida Costanera, Copacabana, Bolivia
Tel: (591-2) 862-2500 or (591-2) 212-8263
Email: info@ecocopacabana.com
Web: www.ecocopacabana.com
facebook.com/Ecolodge-Copacabana-400078746807590
Book on TripAdvisor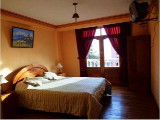 HOSTAL REAL LOS ANDES DEL LAGO
Av. Busch between Av. 16 de Julio and Costanera
Copacabana, Bolivia
Tel: (591) 732-64025
Email: marco_72578569@hotmail.com
Web: www.hostalreallosandesdellago.com/pt-br
Book on TripAdvisor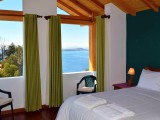 HOTEL CASA DE LA LUNA
Isla del Sol, facing Copacabana
Cel: (591)719-08040
Cel: (591)725-01964
Email: casadelalunab@gmail.com
Web: https://casadelalunabolivia.com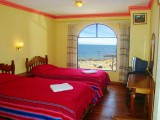 HOTEL ESTELAR DEL TITICACA
Avenida Costanera corner of Avenida Busch
Copacabana, Bolivia
Tel: (591-2) 2-862-202 or (591) 772-05013
Email: estelardeltiticaca@hotmail.com
Web: www.titicacabolivia.com
FB: www.facebook.com/Hotel.Estelar.del.Titicaca
Book on TripAdvisor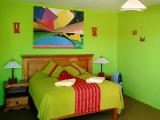 LA ALDEA DEL INCA
San Antonio #2 btw. Jauregui & M. Perez
Copacabana, Bolivia
Tel: (591-2) 862-2452 or (591) 670-77198
Email: laaldeadelinca@hotmail.com
Web: https://hostalaldeadelinca.com
FB: www.facebook.com/laaldeadelincacopacabana
Book on TripAdvisor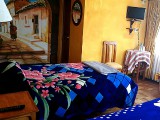 HOTEL UTAMA COPACABANA
Calle Michael Perez #60, corner of San Antonio
Copacabana, Bolivia
Tel: (591-2) 862-2013
Cel: (591) 715-73745
Email: hotelutama@hotmail.com
Web: www.utamahotel.com
Book on TripAdvisor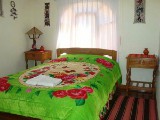 HOSTAL IMPERIO DEL SOL
Isla del Sol, south side by Yumani church
Copacabana, Bolivia
Tel: (591) 719-61863
Cel: (591) 735-91952
Email: info@hotelimperiodelsol.com
Web: http://hotelimperiodelsol.com/en
Book on TripAdvisor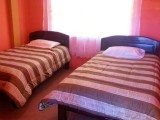 HOSTAL PUERTO ALEGRE
Manuel Mena Mejia 190
Copacabana, Bolivia
Mobile: (591) 719-63727
Email: puertoalegre97@gmail.com
Web: www.hostalpuertoalegre.com
Book on TripAdvisor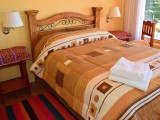 HOSTAL JACHA INTI
Comunidad Yumani
Southern Side of Isla del Sol
Lake Titicaca, Copacabana Bolivia
Mobile: (591) 715-15180
Email: jacha_inti_hostel@hotmail.com
facebook.com/JACHA-INTI-533394536722926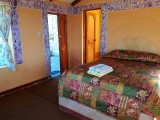 REFUGIO ECOLOGICO KALLUCHI Isla del Sol, near Yumani
Lake Titicaca, Copacabana, Bolivia
Cel: (591) 719-98383 or 735-46899
Email: refugioecologicokalluchi@gmail.com
Web: www.refugioecologicokalluchi.amawebs.com
FB: www.facebook.com/refugioecologico.kalluchi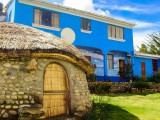 HOSTAL JOSHUA +Vegan/Veg Restaurant
Calle Manco Kapac
Copacabana, Bolivia
Cel: (591) 752-19707
Email: info@hostaljoshua.com
FB: www.facebook.com/hostaljoshua
Web: www.hostaljoshua.com
Book on TripAdvisor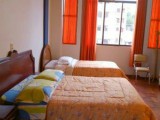 HOTEL PARAISO DEL LAGO
Av. Busch corner of Av. Costanera
Copacabana, Bolivia
Cel: (591) 791-64827
Email: paraisohotel5@hotmail.com
FB: www.facebook.com/hotelparaisodelago
Book on TripAdvisor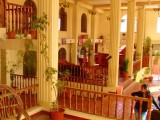 HOTEL MIRADOR DEL LAGO
Av. Busch corner of Costanera
Copacabana, Bolivia
Email: elmiradorhotel@hotmail.com
Tel: (591) 2-862-2289
Cel: (591) 772-05013
Book on TripAdvisor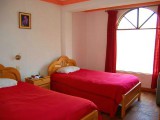 HOSTAL COLONIAL DEL LAGO
Av. 6 de Agosto corner 16 de Julio N. 100
Copacabana, Bolivia
Book on TripAdvisor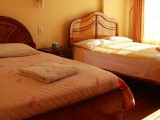 HOSTAL LAS BALSAS DEL TITICACA
Av. 16 de Julio btw. Potosi and Paredes
Copacabana, Bolivia
Email: hostal.las.balsas@gmail.com
https://hostallasbalsasdeltiticaka.blogspot.com
Book on TripAdvisor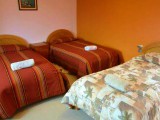 HOSTAL FLORENCIA
Calle Mena Mejia N 120
Copacabana, Bolivia
Cel: (591) 762-58858
FB: www.facebook.com/Hostal-Florencia-Bolivia-150481491784953
Book on TripAdvisor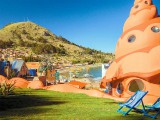 HOSTAL OLAS DEL TITICACA
Av. 16 de Julio, Copacabana, Bolivia
Tel: (591) 2-862-2205
Email: olasdeltiticaca_@hotmail.com
FB: www.facebook.com/Hostal-Olas-del-Titicaca-541741319239367
Book on TripAdvisor

---
Hotels | Plan Your Trip | Lake Titicaca Forum | Tourism Home Page
---