The following are some famous filmmakers, movie directors, and others involved in cinema in Bolivia. You can read about more famous Bolivians by visiting our
Famous People from Bolivia
home page where you'll find many other categories. You can ask questions about any famous Bolivian person or
add another famous person from Bolivia
.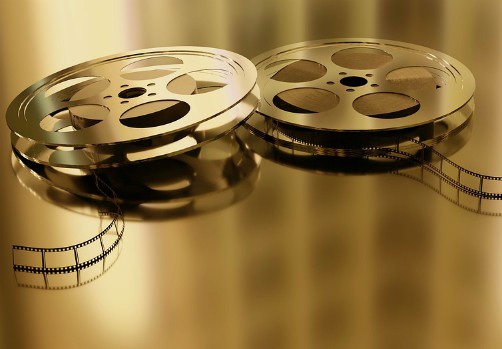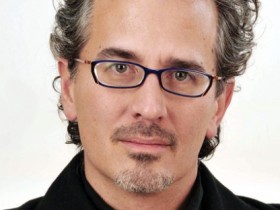 Juan Carlos Valdivia
A movie director and script writer, he was born in La Paz. He studied in the United States and made his debut with the movie "Jonah and the Pink Whale" which earned him the best script award from the Nuevo Cine Latinoamericano Foundation. His movies, which include "American Visa" and "Zona Sur" were inspired by Bolivian and Latin American reality and he has been nominated for prizes in both writing and directing categories in festivals in Spain and Mexico and won two prizes at the Sundance Film Festival. As one of Bolivia's famous filmmakers he has also directed music videos and commercials. Photo Source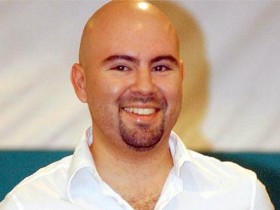 Rodrigo Bellot
A director and producer born in Santa Cruz de la Sierra. He is the youngest Bolivian director, having made his debut at 25 when he directed the movie "Dependencia Sexual" in 2006; however, this famous filmmaker began his career in theater at age 13. He won a scholarship to study cinematography in the United States and was nominated in the U.S. for an Oscar for the best student movie at age 21. He has directed many short films, three movies, and holds workshops. He has also worked as a casting director for an Argentine-Spanish movie about Che Guevara.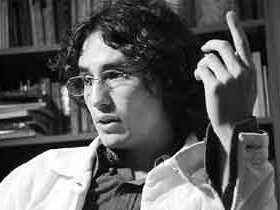 Martín Boulocq
A director, producer and script writer born in Cochabamba in 1980. He studied writing, cinematography, and communications in Cuba and Bolivia although he had already begun as a photographer in high school. He has directed half a dozen short films and several videos, debuting with a full movie in 2002. He has also collaborated on magazines dedicated to the cinema arts.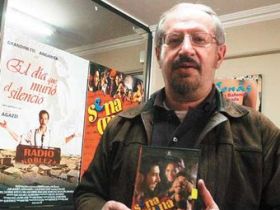 Paolo Agazzi
Another of Bolivia's famous filmmakers, he is a director and producer of Italian origin. He moved to Bolivia at a very young age and has developed his entire artistic career in this country, debuting as a director's assistant and head of production for two movies by Eguino, another Bolivian director. In addition to working as a script writer and producer on several movies, he has written and directed three of his own. The last one debuted in 1998. Photo Source


Jorge Sanjinés
A movie director born in La Paz in 1936. He studied cinematography in Chile and is one of the founders of national cinema having filmed his first two short films there in the early 1960's, both with social themes. He has directed a total of seven movies to date among other work, and is the only Bolivian to have won the Concha de Oro award at the San Sebastián Film Festival in Spain. He co-founded the Bolivian Film School, the first in the country, half a century ago, where the first group of Bolivia's movie stars was trained. Indigenous actors and international actors, such as Geraldine Chaplin, have participated in his movies, making him one of Bolivia's most famous filmmakers. Photo Source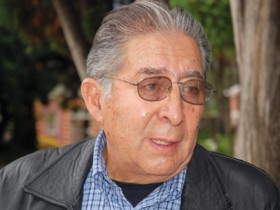 Antonio Eguino
A movie director born in La Paz in 1938. He was studying something completely unrelated to filmmaking at a university in the United States when he attended some photography classes and that marked his beginning in the drama arts. In Bolivia he began as head of a photography and image section for a group of Sanjinés' actors, and went on to direct his own short films both alone and with a French movie star, Danielle Gaillet, who later became his wife. His first movie was filmed in 1975, and two more followed it. Then, twenty years went by until his fourth movie, "Los Andes no Creen en Dios" came out in 2005, featuring both national and foreign actors.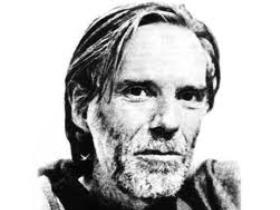 Luís Espinal
A communicator and theologian, from Catalonia, Spain. He belonged to the Jesuit order of priests. He was trained in Literature and Theology in his native country, and in cinematography in Italy. He arrived in Bolivia in the 1960's working as a priest, journalism professor, radio commentator, conductor of several television programs on poetry and movies, literary critic (he wrote columns and 13 books about the cinema), collaborator to the Sanjinés and Eguino group, organizer of cinema workshops, and script writer for films and documentaries – all at the same time. His ideology made the military dictatorship uncomfortable. He was kidnapped and killed by paramilitary agents in 1980. The day on which he was killed, the 21st of March, is Film Day in Bolivia in honor of this famous filmmaker.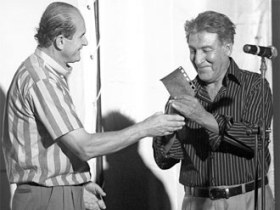 Juan Miranda
Director, producer and cameraman born in Huanuni, Oruro, in 1939. He first studied film by means of a distance learning program, until he was hired by Sanjinés as an assistant and later, upon studying further at a French university, got hired by directors Ruiz and Eguino as cameraman and assistant.
He established himself as an independent documentary and video-maker in Santa Cruz de la Sierra. He's filmed two full-length movies, the first in 1989 was called "La Cruel Martina," and earned him the prestigious award at the Llama de Plata Film Festival. The last one, "Los Igualitarios," debuted in 1991 and tells the story of the 1876 uprising in Santa Cruz, where Miranda currently resides. Photo Source


Diego Torres
Famous filmmaker, scriptwriter, producer, video-maker, cameraman, poet, painter, ecology activist, journalist and university professor, he's one of the most versatile Bolivian directors, and was born in La Paz in 1952. He started as a painter in the early 70's, continuing his career as a poet until he debuted in cinema with the 1975 short film "El profeta errante" (The Wandering Prophet), to which followed another short film that won an award at the first Condor de Plata short-film competition.
He also has worked as a professor in the San Andrés state university, teaching Film, and held a workshop on the same subject that would become the first Film School in Bolivia in the early 80s. He would later work as a scriptwriter and journalist, earning some awards for his writing and production of around two dozen short films, videos and documentaries, but wouldn't direct a full-length movie until "La Calle de los Poetas" in 1999, a work that broke the traditional movie narrative format, and that was exhibited in festivals at Marseilles, Kansas City and Brussels. His second movie, "Alma y el viaje al mar" hit the theaters with more international success in 2003, and was the first Bolivian digital movie. His third, of which he was also a producer, "La ley de la noche," is the first GLBT movie in Bolivia as well, and won a Special Mention in the Madrid Film Festival in 2005.


Marcos Loayza
Born in La Paz in 1959, he wasn't studying film at all but Architecture, a major he put aside in order to study filmmaking and scriptwriting at the San Antonio de los Baños Film School in Cuba, where he had as mentors the distinguished French actor and scriptwriter Jean Claude Carrière and Peruvian writer Alfredo Bryce Echenique. He worked as a professor for a while, and had directed one soap opera and a couple of short films before he became known for his first film, "Cuestión de Fe," that won eleven national and international awards, amongst them one offered by the Nuevo Cine Latinoamericano Festival. That remains to date his most known, and made it possible for him to debut internationally as director of an Argentinian film, "Escrito en el Agua." Back in Bolivia, he's directed over a hundred commercials, videos for various institutions, another film called "El Corazón de Jesús," and a documentary on Bolivian reality commissioned by the United Nations. He is currently working on a new film project. Photo Source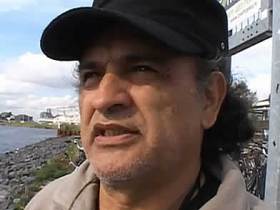 Tonchy Antezana
Director and scriptwriter Sergio Antonio "Tonchy" Antezana was born in the city of Oruro in 1951. He was college-educated in the United States, and upon his return to his native land, he created a company dedicated to video and film production, and worked as a TV series and video director, also directing some short films occasionally. He made a greater impact with his film "El Cementerio de los Elefantes" in 2007, which won a large number of awards nationwide and internationally, amongst them Best Film and Best Director at El Pasto Film Festival in Colombia, Best Actor at the Ibero-American Film Festival in Brazil and at the Hispano Film Festival in Orlando, and the Best International Director at the New York Independent Film Festival in 2009. This famous filmmaker also filmed a biographical movie about the president still in office, Evo Morales, called "Evo Pueblo," and is giving the finishing touches to his latest full-length film "Boquerón," about a famous siege during the Chaco War between Bolivia and Paraguay, which Antezana has said will be also his last film after a two-decade long career in filmmaking. Photo Source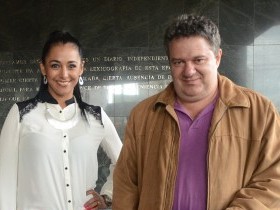 Rodrigo Ayala
This director, scriptwriter and essayist was born in La Paz in 1964, and graduated from the San Andrés University first film workshops before completing his education in Miami. His movies are different from those of other Bolivian directors in that they fall into the comedy genre, with a style similar to the old Hollywood comedies from the 40s and 50s but adapted to the country's customs and idiosyncrasies. Amongst his most celebrated are the TV mini-series "Fuego Cruzado" (Crossfire), and the movies "Día de Boda" (Wedding Day), "Historias de Vino, Singani y Alcoba, and "La Huerta," all of them highly comedic and also considered a trilogy. He is also a film critic for several national newspapers, and a writer, and has edited books on matters concerning the Southern Bolivian region of Tarija, his adoptive home.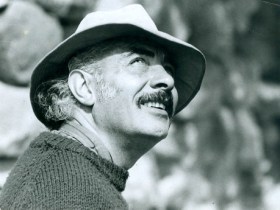 Oscar Soria
One of the first famous filmmakers of Bolivia, this scriptwriter, writer and producer was from La Paz, where he was born in 1917. He was a military career officer and a Chaco War veteran turned award-winning writer, whose short stories had been adapted for the screen by director Ruiz. But he himself debuted in the film industry in 1953 with a script for Jorge Sanjinés' documentary "Voices from the Earth," which won an award at the Edinburgh and Montevideo film festivals. With Sanjinés as director, he went on to write two more scripts for movies, and was a member of the famous cinema group Ukamau, in which he produced and wrote for three movies that critics and filmmakers consider the best from the old Bolivian school: "Ukamau," "Yawar Mallku" and "El Coraje del Pueblo." He went on to write a few more scripts for directors Eguino and Agazzi's movies before his death.


Jorge Ruiz
One of the pioneer film directors, and a founder of Bolivian cinema, he was born in the capital city, Sucre, in 1924. A self-taught filmmaker, his initial short movies were shot with his own 8 mm. camera, and it wouldn't be until he formed a partnership with audio expert Augusto Roca that he'd enter filming in full with professional equipment. He and Roca were hired by an American film distributor living in La Paz to film a short movie that became the first Bolivian sonorous movie, "Virgen India" (Indian Virgin), in 1948.
Back in the 50s, there weren't any national color movies yet, so Ruiz partnered with Roca and Alberto Perrin to film the first color movie in the country, "Donde Nació un Imperio," and some years later he'd be director in the iconic movie "Vuelve Sebastiana," which won the 1953 award at the SODRE Montevideo Film Festival, thus becoming the first Bolivian movie to win an international prize. And to continue his pioneering career, Ruiz would also make the first color-and-sound local film, "Detrás de los Andes," and became the first Bolivian director to film in a foreign country, Ecuador. He stayed in the country doing short movies and documentaries, and as head of the Bolivian Film Institute until 1960, and then he lived in exile till 1983, when he returned and filmed at least four more movies before he retired. For his 50 years in cinema, he was awarded the Premio Nacional de Cultura, the highest State-given arts award in the country, and received also an Honoris Causa doctoral degree as well as being paid a public homage by the Huelva Film Festival in Spain. He died in 2012.


Mela Márquez
Born in La Paz in 1963, she is one of the few female directors in Bolivia, and currently the head of the Cinemateca Boliviana, the country's institution that promotes filmmaking and festivals. She was education at the local state university of her city, and continued her education in Europe, where she graduated in Film Editing from the Center for Experimental Film in Rome, Italy. Her first full movie, and also her only to date, "Sayariy" came out in 1995 and won her awards at Sidney and Montreal's First Peoples film festivals due to the outstanding manner in which the ritual native dance called Tinku was represented. She's worked as Director of Editing for Bolivian director Paolo Agazzi, and has been editing for international filmmakers such as Manni, Campion and Moffart. Photo Source