Ensalada de Palmito - Bolivian Hearts of Palm Salad
by Alura Gonzalez
(Santa Cruz Bolivia)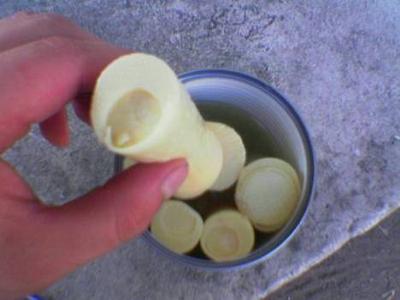 Palm hearts are the core of the palm tree trunk
You'll need:


2 cans of palm hearts
lemon
oil
salt
Optional: You can also add corn and sliced, if desired.
How to prepare:
Drain the cans of palm hearts, and cut them into small square slices. Then add the lemon juice, salt, and oil to the sliced palm hearts.
Note: This salad is to be served preferably with cold dishes.
In Bolivia, people typically eat palm hearts with a salad dressing called "salsa golf".
Bolivian Food Home Page &nbsp&nbsp Bolivian Recipes Home Page
Photo Copyrights:
http://commons.wikimedia.org/wiki/File:Palmito_de_pupunha_-_ABr_-_Valter_Campanato.jpg
http://en.wikipedia.org/wiki/File:Palmito.JPG
http://en.wikipedia.org/wiki/File:Rice%28669%29.jpg