Empanadas de queso are typical all over South America. Some are baked and others are deep fried. In Bolivia we sometimes eat them for breakfast, but more commonly they are a teatime food.
Ingredients
Dough:
3 cups of sifted flour
2 tablespoons of shortening
1 tablespoon of baking powder
4 eggs
Pinch of salt
2 tablespoons of powdered sugar
1/2 teaspoon of baking soda
Milk (you'll be adding only as much as necessary, see below)
Filling:
3 egg whites
1/2 pound of hard white cheese*
*I've found, at least in the U.S., that the cheese most similar to the one used in empanadas in Bolivia is a Mexican cheese called Queso Cacique that is usually readily available in grocery stores. However, they are especially delicious (surprise!) with goat cheese or sheep's milk cheese!! I also tried them once with Myzithra cheese and it was very similar (not as salty as ours, but good). So you see, it's OK to get creative with whatever is available.
Instructions
Dough:
Sift together the flour, baking powder, salt and baking soda. Add the shortening and mix until crumbly. Make a hole in the center of the dough and add the egg yolks. Knead well. Only if necessary (if too dry and dough cracks) add a few teaspoons of milk until the dough is the consistency of a nice bread dough (not too wet, not sticky, but not so dry it forms cracks).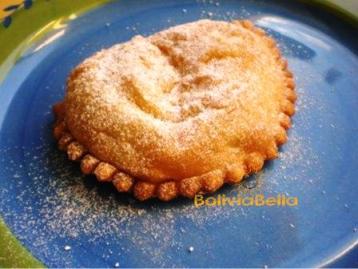 Take small pieces of dough into your hands and roll them into balls. Then roll each ball flat with a rolling pin into an OVAL (not round) shape.
Filling:
Grate the cheese. Beat the egg whites until foamy. Mix the cheese with the egg whites. Fill each piece of flattened dough with 1-2 tablespoons of cheese filling.
Fold one half of the dough over the other until the two edges match and press together until completely sealed. At this point you can crimp the edge of the dough all around the empanada - I find it's easier to press a fork all around the edge to seal (and faster, and I'm bad at crimping dough edges).
With a pastry brush, brush a little bit of egg white onto the surface of each empanada so that when baked it will take on a nice golden color. Bake the empanadas de queso for 20-30 minutes at 350ºF on previously greased cookie sheets.
Serve hot sprinkled with powdered sugar on top.