Buenavista es un agradable pueblo a menos de 2 horas en vehículo desde la ciudad de Santa Cruz. Las personas que ponen un poco de atención en la atmosfera de este lugar podrán darse cuenta que el aire u oxígeno que se respira aquí por lo general es saludable mas la espectacular vista que se tiene del parque Amboro en días despejados es un complemento ideal. Por estas razones y otras Buenavista es conocido como el mejor pueblo relativamente cerca de la ciudad de Santa Cruz.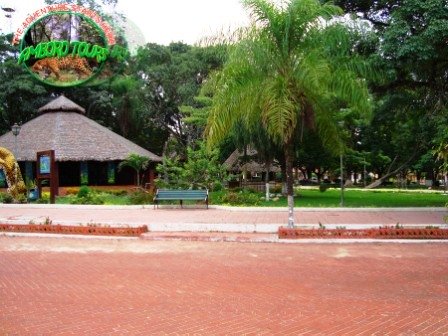 Las actividades que se pueden realizar desde allí, en viajes de uno o dos días, varían dependiendo del interés del visitante. Desde paseos por reservas privadas observando aves o visitas a propiedades donde se cultiva diferentes tipos de plantas como la macadamia entre otras más comunes, o quizá el visitante prefiera conocer más acerca del proceso del grano de café o una visita a la fábrica de queso Suizo es también interesante.
Pero sin lugar a dudas la mayor atracción es el Parque Nacional Amboro, tan cerca de la ya gran ciudad de Santa Cruz, pero gracias a su difícil acceso aun conserva la mayor parte de su bosque Amazónico sin explorar. No te pierdas la oportunidad de visitar los numerosos destinos a cuales Amborotours te puede llevar.
English
Buenavista is a pretty town less than 2 hours drive from the city of Santa Cruz. Those who pay attention to the atmosphere will realize that the air or oxygen one can breathe here is generally healthy. The spectacular views of Amboró National Park on clear days is ideal. For these reasons and others it is known as the best town to visit, relatively close to Santa Cruz.

You can take one-day or two-day trips depending on your interests. Visitors can take day trips to private reserves to do birdwatching, or to see how various types of plants, such as macadamias, are cultivated. Some visitors prefer to see how coffee is processed, or visit a local Swiss-owned cheese factory.
But undoubtedly, the greatest attraction in Buenavista is Amboró National Park. It is so close to the huge city of Santa Cruz, yet most of this Amazon forest remains unexplored and preserved due to the difficulty of accessing it. Many thanks to Amborotours for sharing this text and photos.