Bolivian Restaurant Review: Fingers Finger Food in Santa Cruz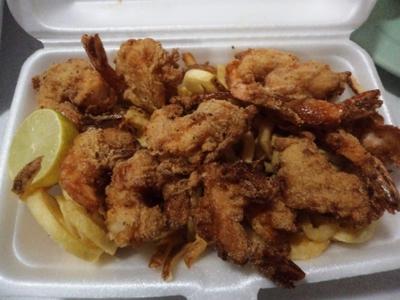 I forgot to mention that the portions are very generous!
There's a new fast-food restaurant in Santa Cruz called Fingers. It serves just what its name implies: finger food. Most of the food is fried (fried calamari, fried shrimp, beef sandwiches, chicken, burgers, philly steak sandwiches, mozzarella fingers, BBQ ribs, etc. most served with fries) but they also have a separate healthy choice menu option consisting of Caesar salad, pasta salad, an amazing Asian salad, and chicken sandwiches on pita or wheat bread.


The restaurant is small but friendly. The indoor section is air conditioned and they have a nice outdoor patio section. What is surprising is how truly GOOD and TASTY the food is! It is also very affordable. In fact, we are getting kind of addicted to the fried shrimp. It comes with about 8-10 big shrimp and curly fries (never seen those before in Bolivia) and the flavor is really, really delicious. It comes with two different sauces which taste like they are home made. Fingers also has a variety of sodas, juices and bottled water. It's small but cute, clean and very friendly. We really like it a lot.
Fingers is located just off the 2nd ring, on the little curved street that runs behind the Burger King (literally across the street from the Burger King drive thru) on the corner of the Cristo and Avenida Monseñor Rivero. So, about 1/2 a block from the big Cristo statue. It's really worth a visit. They also provide take-out.
FINGERS Finger Food
Fortín Arce Street No. 71
Santa Cruz - Bolivia
Phone: (591-3) 327-3336