Bolivian Restaurant Review: Charlie Papas in La Paz, Bolivia

(La Paz, Bolivia)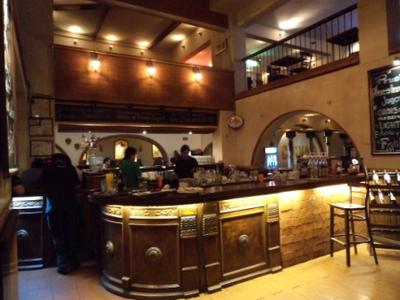 Charlie Papas, located on 17th Street of Calacoto, in the southern zone of La Paz, Bolivia serves a wide variety of international dishes with a mix of Bolivian traditional food. You´ll find many salads, desserts, and soups like Bolivian peanut soup served American-style in a hollowed-out bread bowl. There are also various types of Lake Titicaca trout, several cuts of steak with sides like steamed vegetables, mashed potatoes or French fries, shrimp, BBQ ribs, numerous takes on hamburgers, and many, many drinks (fresh-squeezed fruit juices, juices with milk, teas, coffees, and a full bar).


The restaurant itself is really large and equipped with a small playground for kids, several large TVs, and a big kitchen with a glass partition that allows you to watched the chefs at work. It is a family-style restaurants, not unlike a TGIFridays with a similar menu. With the TVs on and lots of customers it gets a bit loud, but in all is a really comfortable, casual place to have a great meal.
We tried the buffalo wings which were good, but too spicy for one of us (too much Tabasco sauce). Charlie Papas has an awesome steak and shrimp meal served with onion rings, steamed vegetables and a side of steak sauce made with Jack Daniels which was delicious! When we got there they had run out of that particular steak, so they served us extra shrimp and it was really a great trade-off. Fully recommend the place.
Charlie Papa
Av. Ballivian #999
Corner of 17th Street
Calacoto, La Paz, Bolivia
Phone: (591-2) 211-5511