Los Boat Tours, o tours en embarcaciones, son viajes en ríos tributarios de del Río Mamoré, o en algunas casos, por el mismo Mamoré. También se navega en lagunas, dependiendo de la temporada del año y la factibilidad del viaje. El hospedaje y demás servicios es generalmente en la misma embarcación.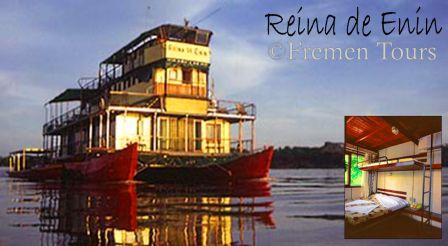 Los Boat Tours también pueden incluir pernoctes en carpas u otros tipos de hospedaje en tierra firme. Estos lugares pueden ser comunidades nativas cercanas o en las orillas del rio. Estos tours se pueden combinar con paseos en deslizadores para visitar lugares de atracción, de acuerdo con los días disponibles e itinerarios. Algunos de los puntos a visitar pueden ser lugares para la observación de aves o mamíferos, como también pueden ser comunidades nativas para compartir y conocer sus creencias y cultura. También en los Boat Tours podremos hacer caminatas en la selva o bosques. No te pierdas la oportunidad de visitar los numerosos destinos a cuales Amborotours te puede llevar.
English
Boat tours are trips on tributaries of the Mamoré River, and sometimes on the enormous Mamoré itself. Some tours also include lagoons, depending on the season and possibility for travel during certain times of the year. Accommodations and other services are generally provided on the boat itself. These tours can also include tent camping and other types of accommodations on dry land in nearby native commuities or along the river banks. These tours can also combine short trips on motor boats to visit local attractions according to days available and the itinerary each tourist chooses. Other interesting attractions are birdwatching and wildlife observation and we can also visit some of the native communities to share and learn about their beliefs and culture. They can also include hikes through the jungle and forests. Many thanks to Amborotours for sharing this text and photos.