Yvaga Guazu (which means Big Paradise in the Guaraní language) is a beautiful Ecological Park located 15 minutes from downtown Santa Cruz, Bolivia on Km. 12 ½ of the Doble Via a
La Guardia.
This is highway you take to Samaipata and eventually to
Cochabamba
(known as the "old highway to Cochabamba").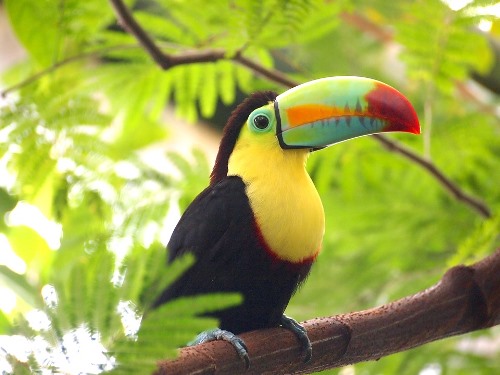 You can call one of dozens of companies that provide taxis or hop on one of our small buses called "micros". Just take the #44 or #83, both of which run as far as Km. 13 where there is a small toll booth. If you drive yourself, just follow the Doble Via and watch for the Yvaga Guazu road signs on the left hand side of the road about 500 meters prior to arriving at this toll booth (if you arrive at it, you've passed the park).
If you're interested in plant life, Yvaga Guazu is the place for you. This tropical paradise is home to over 650 native and imported species of plants from dozens of tiny bonsais to towering palm trees imported from Cuba, hundreds of blooming plants, dozens of fruit species, and lots of native tropical plants. Several biologists are on hand 365 days a year to take you on a 1 ½ hour walking tour through 3 hectares of forest.
Children can enjoy (and learn from) this trip too – there are several species of native animals and birds (deer, iguanas, monkeys, boars, toucans, parrots, and more) some in cages, others in the wild. At the end of the walking tour the guides give the children a short explanation about some of the animals, allow them to hold a snake, and help them make crafts, like animal masks they can color and wear. There is also a small playground for kids to play on.
At the park entrance there is a ticket booth where you must pay your entrance fee: about $12 dollars for adults and about $3 dollars for children. Once you've paid your entrance fee (which includes a snack if you bring a large group of children with a reservation, like for a school field trip) your biologist guide will meet you here and begin the tour.
The walking tour through the forest takes about one hour, or a little longer depending on how inquisitive you are and how many times you stop to ask questions or take photos. The tour covers 3 of the park's 14 hectares of land, ending near a small thatch-roofed hut where the kids are given a presentation by the guides (you can use the restroom there too). This hut faces a big soccer field next to which there is also a volleyball net, so feel free to bring big groups and enjoy the entire day doing sports.
You can end your tour of Yvaga Guazu plant life with lunch at the restaurant, which serves typical dishes like steak and several kinds of chicken and fish along with potatoes, rice, salads, and pastas. Enjoy a glass of mocochinchi (a cruceño juice made from dried peaches and burnt sugar) or any number of fruit juices or sodas. Meals cost between Bs. 30 and Bs. 60 each, (currently about $8 per person) not including beverages, and are made to order.
There is also a small souvenir shop where you can purchase local handcrafts. Round out the day with a ride on a horse-drawn cart around the park. Be amazed at the over 150 species of butterflies flitting about you throughout the day, on your walking tour and everywhere else you are in the park. Wear comfortable clothing and good walking shoes.
Personnel are very nice and really REALLY knowledgeable about all the species of plants and animals they show you. When they are not guiding tours they are working and researching the plants that eventually are shown on the tour.
Yvaga Guazu is a definite "don't miss it" place if you are a true nature lover. It is the only park in South America that has obtained Sustainable Tourism Certification. The park is open from sunrise to sunset every single day of the year. June and July are winter in Bolivia and colder so you're less likely to see some of the animals (like sloths, monkeys and butterflies) during these months (all the plant species will be there regardless of the weather). However, I've found it's the most comfortable time of the year to take such a long walking tour because you won't suffer the heat and humidity. This is the rainforest.
Click here to visit the Yvaga Guazú Ecological Park website or connect with Yvaga Guazú on Facebook. The page will open on a new tab.