Santa Cruz in September!
Active, Dynamic and Bursting into Bloom!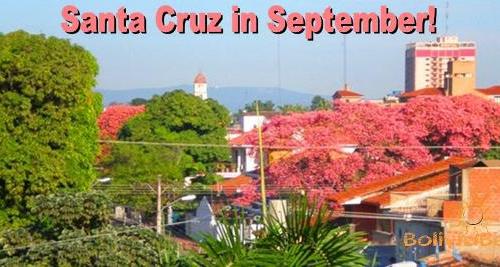 September is my absolutely favorite month in Santa Cruz! Everything about this city is active and dynamic in September. Winter is over, spring arrives, the climate begins to warm, all the trees burst into bloom, and more activities and events are crammed into September than any other month.
September 24th is the day Santa Cruz celebrates its foundation and this department celebrates everything about itself throughout the entire month! There are literally hundreds of events – the culture, music, history, art, dance, theater, handcrafts, food, fashion, and industry of this department, now known as Bolivia's economic engine, are all celebrated.
September 21st is the first day of Spring. As if they knew this, every tajibo tree in the city simultaneously bursts into bright white, yellow, pink or purple bloom. It's also the day we celebrate Bolivia's version of Valentine's day, and also Día del Estudiante (Student's Day). Students get the day off from school. This is one of the biggest days for flower shops, gift shops, bakeries and restaurants.
September is the month Santa Cruz hosts the biggest expo in South America – the Feria Exposición – also known as Expocruz. Nearly 500,000 people participate and visit from all over the world in the largest display of products and services on the continent during this 10-day window of business opportunity. This year, over 1100 exhibitors participated from over two dozen countries. The city is just bulging with tourists and business travelers and there isn't an empty hotel room in the entire region. The Fexpo is similar to America's largest state fairs with cattle auctions, tons of restaurants with typical and foreign food, live concerts and other cultural events, live runway fashion shows, traditional dancing, and about a dozen huge pavilions, each filled with thousands of products on display. Simultaneously, the Expocruz and Chamber of Industry and Commerce organize a series of business round tables similar to speed-dating. Exporters from all over the world meet for minutes at a time to tell each other about their products or services – they move from table to table and appointment to appointment rapidly. This year Santa Cruz surpassed all records in both attendance to the Expocruz and the $180 million dollar goal in intended business exchange.
Because Santa Cruz is celebrating the month of its foundation, all around the city many cultural events take place as well. There are theater and comedy shows, concerts in various stadiums, dozens of art exhibits throughout the city's many galleries and museums, traditional dancing and more, in addition to the formal historical and political events to celebrate the city's growth and development which include marches, town hall meetings, and speeches by authorities.
I think Santa Cruz celebrated more than ever before this year, despite the growing political tension and economic problems this country is undergoing, because last year at exactly this time, the city was surrounded on all sides by thousands of fully armed campesinos who were marching upon the city with sticks, guns and dynamite. Everyone was extremely frightened and tense. For the first time ever, there was some doubt as to whether or not the Expocruz would open and all ceremonies and events celebrating the city's history and foundation were cancelled because the city was under serious threat, roads were blocked, there were fuel and food shortages and people were afraid to go out. In short, Santa Cruz had little to celebrate as it was under siege. This year, Santa Cruz showed the world the economic engine of the country will not be halted. Participation at all types of events throughout the department broke all previous records, especially at the Expocruz. Here are just a very few of the cool events that took place this month:
Santa Cruz Jazz Festival Way cool!
New Forest Walkway Park Great initiative!
World Renowned Bolivian Guitarist Piraí Vaca Love him!
Ejti Stih Art Exhibit Love her! (She founded the Manzana Uno art gallery on the main plaza – go see it.)
Elay Puej Folklore Festival Really good!
2009 Expocruz My fave!
Traditional Foods Festival Truly nice! Hope it grows.
Zonzo Festival at the Pirai River It was delicious!
Alasitas (still ongoing – go!) Been going since I was a kid. Love it.
WWF Bolivia's Photo Exhibit of the Pantanal See the Bolivian wildlife pages WWF is contributing to BoliviaBella. They're working on a Climate Change and Earth Hour section for us now too.
Inauguration of Bolivia's largest cultural center – go now! I'm extremely excited about this! Please go see it! It's gonna be huge.
Don't Miss this in October and November!
Here are some of the most important upcoming events for October and November that you should NOT miss if you're here!

Alasitas – ongoing through October 23rd

2009 Orchid Festival – one of the best times to visit Concepción – October 9-11

Julio Iglesias – in concert in Santa Cruz only. October 17 OK personally I love Enrique but I saw Julio in concert in Houston a way long time ago and it was very good.

Chacarera Festival in Villamontes. November 6-7 Personally my favorite Bolivian music. It's very lively and joyful! I love this dance.

Oktoberfest (in November hahaha). November 7 Beer, beer and more beer. Take kids early. Leave them at home after 5:30.

Reina Hispanoamericana 2009. October 20-30 If you're into modeling and fashion shows Bolivia is hosting this year.

Sonic Music Festival A pretty cool idea. Sounds like fun.
Stay informed throughout the month
The Message Board is where I post messages about things I think you might be interested in throughtout the month. Anything goes as long as it's useful! Check it out daily – things change here quickly. You can also sign up to my RSS feed to get updates each and every time I add or modify a page. It's the best way to stay informed between issues of this Ezine! You'll find interesting news, great flight deals, reviews of new books about Bolivia, highlighted articles, and anything else that's useful to Bolivia tourists and expats.
"The tax filing season for UK expats is rapidly approaching its finish. The deadline for submitting your tax refund application is the 31st of October 2009. We recommend that you contact the expat experts of Taxback.com in order to fit in the timeframe."
Help Bella Raise Funds for Wanides.org
Wanides.org (Association of Washingtonians for Needy Bolivian Children) is a non-profit organization established by my aunt Margarita Hassenteufel and a group of Bolivian women who live in the Washington D.C. area. They raise funds every year to donate hospital equipment, clothing, and many other types of items to children's charities and children's hospitals in Bolivia. I just had to be a part of this somehow so I pledged to donate 20% of ALL sales made at Bella Store to Wanides. Visit their website for info. Check out all my Bolivia designs at Bella Store.

Know somebody who'd like to read this?
I really hope that you've enjoyed reading this newsletter. If you think your friends might be interested in taking a look, please feel free to forward it to them.
Haven't subscribed yet?
If you're reading this on the recommendation of a friend and would like to receive all the future editions subscribe here for free.
Contact Me
If you have any comments, opinions, or content ideas I'd love to hear from you. Just click here to tell me what you want.
Link to BoliviaBella.com
Grab a link to BoliviaBella.com and link your website or blog to BoliviaBella to access this site easily and see when I make changes or add new pages and sections. (You can also click on the orange RSS button in the top left corner of EVERY page on this site to add BoliviaBella to your RSS feeder, or click on any of the SHARE buttons on the BOTTOM of every page so you can add BoliviaBella to your personal page in Facebook, Technorati, MyYahoo, Google, and many others). To grab a link, click here:


Welcome to all our new subscribers!
We had a lot of new BELLA NEWS subscribers this month - welcome to the BoliviaBella online community. For those of you who don't yet know, "Bella" is actually an American living in Bolivia. She works as a professional translator and interpreter and also spends countless hours designing this site just for you! Find out who is Bella really??




As you can see, we've been very busy working super hard to grow and improve BoliviaBella.com and make it the number one English site on Bolivia. Parts of the site are also being translated into Spanish due to the large number of visitors we have from Spanish-speaking countries. We're always looking to improve - this site is FOR YOU so be sure to let us know what you want to see included on BoliviaBella.com - we're not on our way to NUMERO UNO for nothing - we're working very hard to get there!! Please direct your comments to webmaster "Bella". Tell Bella what you want!



WHAT'S YOUR PASSION?
BUILD YOUR OWN WEBSITE AND OWN YOUR FUTURE!
New!

Comments Have your say about what you just read! Leave a comment below.