Thanksgiving in Bolivia
Help me give my birthday away!
Great new features on BoliviaBella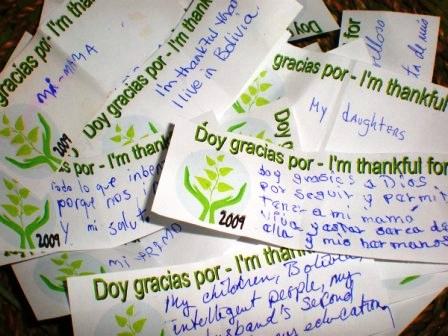 Hope you all had a wonderful Thanksgiving! It's hard to get back to the grind after all that turkey huh? Here in Bolivia it was a HOT Thanksgiving (we're beginning our tropical summer months in Santa Cruz) so no snow in sight! Here's what's going on at BoliviaBella this month – there's so much as we head in to the holiday season, year's end and tons of exciting new projects for 2010. Don't expect me to be brief but do expect a lot of exciting cool news:
As promised, I'm sending out November's newsletter AFTER Thanksgiving so I can tell you all about how we celebrated here in Bolivia! Thanksgiving is sort of a mystery here. Those who don't know US history much find it interesting that the world's most consumer-based society actually takes time off to give thanks for something. In Bolivia, I began inviting Bolivian friends over for Thanksgiving many years ago so people can see that contrary to popular belief, many Americans actually are grateful for what we have and not all of us use the holiday to watch football or get up at 3 a.m. for "Black Friday door-buster fights… er… sales." (Black Friday and Cyber Monday do nothing but give the rest of the world an absolutely horrifying opinion of America).
Read all about my super thank-packed 2009 Thanksgiving with adopted gringo guests, new and old traditions, and dozens of reasons to be grateful!
While we're on the subject of giving thanks, I want to share another message that came in this week online. Please read Chloe's story about how a New York teenager learned about gratefulness during a visit to the San Isidro cultural center and street soccer academy in one of Santa Cruz, Bolivia's poorest neighborhoods. It changed her! It's great that Americans set aside a special day to give thanks, but you don't really need to! Make Thanksgiving a part of your DAILY agenda and your life will be better for it!!
Don't Miss this in December!
My birthday is coming up! And every year I give it away! I do this by asking friends to donate to a charity of my choice rather than purchase gifts for me. This year I'm hoping to donate 100 soccer balls and 100 uniforms to the kids at San Isidro (did you read Chloe's story above?) See why I'm doing this and how you can help.. If you can help me give my birthday away by donating soccer balls, t-shirts or uniforms in person, please contact me here. If you can donate online, please use the PayPal donate button on the San Isidro page.
And while we're on the subject of traditions, Christmas is coming up. To learn about typical Bolivian Christmas traditions, share yours with us on this page and I'll link you right to our Christmas in Bolivia page! You'll also get to read about my memories of crazy mixed up Bolivian/American/German/Norwegian family Christmasses at home (wherever that happened to be at any given time).
Share your favorite Christmas cookie recipe and find out what mine is here (and get the amazing recipe!)
If you live in Bolivia pre-order your Christmas pumpkin pie, pecan pie or many other gringo baked goodies staring NOW from NutriDiva in Santa Cruz, Bolivia!
I also donate 20% of ALL sales from Bella Store to Wanides.org and I do this all year round so if you're looking for great Bolivia gift ideas, check out my totally new, very unique Bolivia porcelain Christmas ornaments, my brand new Bolivian wildlife 2010 calendar featuring my own all original photographs, and many other great gifts for Christmas and know that your purchase will help wanides.org donate much needed equipment to hospitals in Bolivia.
Bolivian handcrafts make AWESOME Christmas gifts too! Our Andean handcrafts sales page features dozens of gorgeous alpaca sweaters, unique jewelry pieces, amazing leather goods and more, all provided by National Geographic. Your purchase helps National Geographic continue its research and education mission, helps keep BoliviaBella online, AND 20% of what Bella earns goes to wanides.org. Your chance to do some triple-good gift giving this year!
I've also set up a page on my expat website GoSouthExpat.com where you can donate to any one of 40 different projects that benefit the poor in 8 different countries of South America. In my family some members have made it a Christmas tradition to gift to charities on behalf of other friends and relatives. Many families throughout the world have benefitted from these gifts. It's a great feeling! You can help a poverty-stricken family thrive for as little as $10. See how here.
Another great way to give is to give of your time and caring! Bolivia needs volunteers in many areas. If you're planning a trip to Bolivia or are looking for a great way to spend your vacation while giving to others, learn about our culture, improve your Spanish and take a breath-taking trip all in one, check out my list of organizations in Bolivia that need volunteers!
Elections are coming up! On Sunday, December 6th Bolivia will shut down (no transportation – read this page if you are traveling) and Bolivians will go to the polls to elect or re-elect a president and vice-president for the next 5 years. Read our Bolivia news page for information on this. Be sure to check out the Pronto Blog and Mabb Blog, both include political commentary. There is much apprehension in Bolivia now about what this means for the future of (some say end of) democracy in Bolivia.
New on BoliviaBella!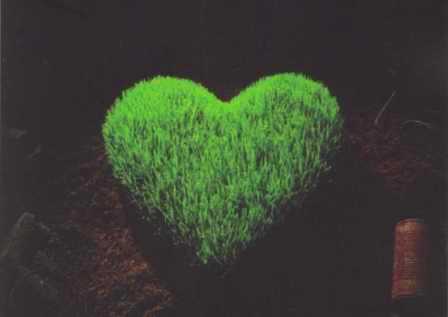 I've got 100 brand new Bolivia E-cards for you! Choose from video cards or static cards and add audio to them. A great way to share Bolivia – free!
Salteña lovers, I've found salteñas for you in the Chicago area. Meet Noly's Salteñas!
BoliviaBella.com and WWF Bolivia the conservation agency are working arduously to bring you new and updated information on Bolivia's wildlife and what WWF Bolivia is doing to create awareness on climate change. WWF is at work right now creating a whole new section on Climate Change that will be come a permanent and continually updated part of BoliviaBella.com! In addition, BoliviaBella.com is making WWF Bolivia's children's magazine about the Pantanal Pandilla Pantanera available for download as each issue comes out!
BoliviaBella.com and the Green Hearts Project are also now working on building an entire new section on what this forest reserve project is doing to save Bolivia's forests for future generations! Be on the lookout for many new changes to this page in 2010. Can you imagine enormous green forest reserves, planted in the shape of enormous green HEARTS, visible from outer space??? You won't want to miss this – or the chance to participate! We'll tell you how in future issues!
The Chuchini wildlife reserve and refuge 15 minutes from Trinidad in Beni Bolivia needs your help! Read about my visit to Chuchini in May 2009. Chuchini is in desperate need of volunteers at this time. If you would like to volunteer for ANY length of time contact them now on this page. You can work directly with birds and animals if you have experience, but you can also help with forest maintenance, feeding and clean-up or anything else required at this beautiful, now at-risk-of-being-sold wildlife refuge. If you ever wanted to take a pink river dolphin tour on the amazing Amazon, this is your chance to work with the people who started it! Chuchini is also looking for financial help and/or partners!
Why is BoliviaBella working so hard with organizations that promote active environmental conservation and climate change mitigation? My friends, it is not a choice any more. There is only one way to live without regret: act! Small but important changes, introduced into our daily living, on a personal and individual basis, is what will create the change we need to face climate challenges our governments have been unable to agree upon. New Year's resolutions are a great place to start!
Stay informed throughout the month
The Message Board is where I post messages about things I think you might be interested in throughtout the month. Anything goes as long as it's useful! Check it out daily – things change here quickly. You can also sign up to my RSS feed to get updates each and every time I add or modify a page. It's the best way to stay informed between issues of this Ezine! You'll find interesting news, great flight deals, reviews of new books about Bolivia, highlighted articles, and anything else that's useful to Bolivia tourists and expats.
Help Bella Raise Funds for Wanides.org
Wanides.org (Association of Washingtonians for Needy Bolivian Children) is a non-profit organization established by my aunt Margarita Hassenteufel and a group of Bolivian women who live in the Washington D.C. area. They raise funds every year to donate hospital equipment, clothing, and many other types of items to children's charities and children's hospitals in Bolivia. I just had to be a part of this somehow so I pledged to donate 20% of ALL sales made at Bella Store to Wanides. Visit their website for info. Check out all my Bolivia designs at Bella Store.
Know somebody who'd like to read this?
I really hope that you've enjoyed reading this newsletter. If you think your friends might be interested in taking a look, please feel free to forward it to them.
Haven't subscribed yet?
If you're reading this on the recommendation of a friend and would like to receive all the future editions subscribe here for free.
Contact Me
If you have any comments, opinions, or content ideas I'd love to hear from you. Just click here to tell me what you want.
Link to BoliviaBella.com
Grab a link to BoliviaBella.com and link your website or blog to BoliviaBella to access this site easily and see when I make changes or add new pages and sections. (You can also click on the orange RSS button in the top left corner of EVERY page on this site to add BoliviaBella to your RSS feeder, or click on any of the SHARE buttons on the BOTTOM of every page so you can add BoliviaBella to your personal page in Facebook, Technorati, MyYahoo, Google, and many others). To grab a link, click here:


Welcome to all our new subscribers!
We had a lot of new BELLA NEWS subscribers this month - welcome to the BoliviaBella online community. For those of you who don't yet know, "Bella" is actually an American living in Bolivia. She works as a professional translator and interpreter and also spends countless hours designing this site just for you! Find out who is Bella really??




As you can see, we've been very busy working super hard to grow and improve BoliviaBella.com and make it the number one English site on Bolivia. Parts of the site are also being translated into Spanish due to the large number of visitors we have from Spanish-speaking countries. We're always looking to improve - this site is FOR YOU so be sure to let us know what you want to see included on BoliviaBella.com - we're not on our way to NUMERO UNO for nothing - we're working very hard to get there!! Please direct your comments to webmaster "Bella". Tell Bella what you want!



WHAT'S YOUR PASSION?
BUILD YOUR OWN WEBSITE AND OWN YOUR FUTURE!
New!

Comments Have your say about what you just read! Leave a comment below.