November is my favorite month in Bolivia!
WANT TO SHARE THIS NEWSLETTER?
CLICK "SHARE" TO ADD IT TO YOUR PERSONAL PAGE!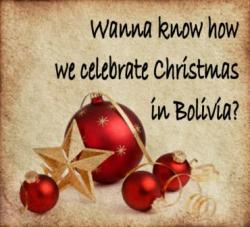 November is my favorite month here in Bolivia. It's SPRING time! And as everyone in the U.S. and other regions up in the Northern Hemisphere are getting ready hunker down for the winter, we're getting ready to face a hot and muggy summer (also known as the rainy season). Of course, Christmas is a little weird without snow but you get used to it (for those of you who don't know I'm originally from Minnesota). Big difference!!!

I'm feeling a little nostalgic with the holidays coming up. I'll miss like Thanksgiving and Christmas with my family so I thought I'd share with you a little about how I plan to spend my Thanksgiving.

First of all, being a U.S. holiday, we don't actually celebrate Thanksgiving here. In Bolivia Thursday the 27th will be business as usual. But I, being the pecan-pie-sort-of-person that I am, will NOT be deterred! I always celebrate Thanksgiving in Bolivia, even if I have to make some compromises. So being as everyone will be working that day, I'm making Friday my Thanksgiving. Better late than never, when there are pecans involved.

I generally invite a bunch of friends and go all out with a very traditional Thanksgiving meal. Before dinner we all sit down and I tell my friends, and especially their children, the American Thanksgiving story and why we continue to give thanks for our blessings 200 years later. Then, during dinner as everyone is oohing and aahing about my hilarious candied yams with pink marshmallows (I know, I can NEVER find white ones here!) I quietly go around the table and place three small cards and a pen in front of each person. Dinners are usually long in Bolivia so I ask each person, as they're conversing and enjoying, to write down on each card one thing they are thankful for, without names.

When dinner is finished we clear the table and I serve a very formal dessert (pecan pie and thick, sweet Bolivian coffee). We turn out the lights, light up a zillion candles for calming effects, and everyone puts their "I'm thankful for..." cards in a basket. Then we mix them all up and I begin to pass the basket around. As it goes around the table each person takes out a card and reads it aloud so we can hear we're all thankful for.

The first time I celebrated Thanksgiving this way my friends loved it so much Thanksgiving has become a tradition for us here too. I try to invite at least one new family each time, so the tradition can spread. This year there will be five families gathered and I've got a LOT of cooking and baking to do!

So what am I thankful for this year? Many many things! But among these is the world that has opened up to me through my website so let me thank YOU and all my Bella readers this year for helping make BoliviaBella.com THE top website about Bolivia in the world in English. We're now in the top 1% of ALL websites in the world and that means I'm reaching my most important goal - to project Bolivia to the world in a positive light!

I've "met" a LOT of very cool people online because of my site and I get so many great messages and letters - I just cannot WAIT to get up each morning and check my mail, design new pages for you all, and see who'll join the Bella community next. Thank you!


What are you thankful for?
I am on a mission to spread a spirit of joy and thanks. Isn't that hard these days? It's so much easier to find things to complain or worry about. You don't have to look far or make any effort for that. But I believe there is something to be thankful for each and every day – even if it's just one tiny little small thing. I put up a page on BoliviaBella about thanksgiving and I'm hoping you take a moment to visit this page and send your own message of encouragement and hope and thanks. What are you thankful for?


Getting ready for Christmas shopping?
Now I know the U.S. and the day after Thanksgiving is like the BIGGEST shopping day of the year am I right? And in other parts of the world the Christmas shopping frenzy begins just shortly after. So this year I have a really important message for you!


If you still plan to join the frenzy...
In light of the upcoming Christmas shopping frenzy, I also thought that this year I will encourage all my Bella friends to spend wisely and consider our Earth while doing their holiday shopping so I spent HOURS online researching and I came up with this:



Another Earth Gentle Christmas Gift Option:
I get a lot of messages asking me HOW I design my site. After 18 months online and much to be thankful for, I finally decided to share about this. I think everyone has the potential to own their future. Designing BoliviaBella.com has given me SO MUCH satisfaction that I want everyone who is even remotely interested working freelance, starting their own business, or living freely to know not only how I design my site, but also why I design BoliviaBella and I also went a little further, for those who've asked me for the name of my website developer (ha! that's me!) and I included a full detailed page on how I design my site and why I totally encourage anyone else who is considering it to do NOT pay someone else, but to do it themselves!

So aside from the technical aspects I included on this page, please read why I think if you are one of those people who are considering this, that this year for Christmas you should give yourself and your family a future!

Along the same lines, and because I believe in putting my money where my mouth is:


I've launched my second website!
I, like anyone else, know a thing or two about shopping and giving presents. I absolutely love gift-giving and naturally I love to shop! But I also like to make gifts, specifically gift baskets. I love making gift baskets SO MUCH that I just launched a whole new site all about making gift baskets! I'm working really hard to design and develop it and I'd love your comments on it. It's a SHARE SITE just like BoliviaBella.com so it's completely interactive and there are plenty of places on the site where you can upload your own text and photos and add your own page to my site. Or just rate it at the Basket Buzz. Check it out! Unique Gift Basket Ideas.com

How do you get a website to climb 25 million places in the rankings in 10 days? It's all about the passion you put into what you do. Watch and track me as I design my new website and slam through the Alexa.com rankings!

You can even buy gift baskets on my new site. There are over 500 to choose from for all occasions. Great kosher, sugar-free, gluten-free and organic choices too! I did all the research and categorized them in advance. Have a healthy holiday!


Help Bella Raise Funds for Wanides.org
Wanides.org (Association of Washingtonians for Needy Bolivian Children) is a non-profit organization established by my aunt Margarita Hassenteufel and a group of Bolivian women who live in the Washington D.C. area. They raise funds every year to donate hospital equipment, clothing, and many other types of items to children's charities and children's hospitals in Bolivia. I just had to be a part of this somehow so I pledged to donate 20% of ALL sales made at Bella Store to Wanides. Visit their website for info. Check out all my Bolivia designs at Bella store here:

Know somebody who'd like to read this?
I really hope that you've enjoyed reading this newsletter. If you think your friends might be interested in taking a look, please feel free to forward it to them.
Haven't subscribed yet?
If you're reading this on the recommendation of a friend and would like to receive all the future editions subscribe here for free.
Contact Me
If you have any comments, opinions, or content ideas I'd love to hear from you. Just click here to tell me what you want.
Link to BoliviaBella.com
Grab a link to BoliviaBella.com and link your website or blog to BoliviaBella to access this site easily and see when I make changes or add new pages and sections. (You can also click on the orange RSS button in the top left corner of EVERY page on this site to add BoliviaBella to your RSS feeder, or click on any of the SHARE buttons on the BOTTOM of every page so you can add BoliviaBella to your personal page in Facebook, Technorati, MyYahoo, Google, and many others). To grab a link, click here:


Welcome to all our new subscribers!
We had a lot of new BELLA NEWS subscribers this month - welcome to the BoliviaBella online community. For those of you who don't yet know, "Bella" is actually an American living in Bolivia. She works as a professional translator and interpreter and also spends countless hours designing this site just for you! Find out who is Bella really??




As you can see, we've been very busy working super hard to grow and improve BoliviaBella.com and make it the number one English site on Bolivia. Parts of the site are also being translated into Spanish due to the large number of visitors we have from Spanish-speaking countries. We're always looking to improve - this site is FOR YOU so be sure to let us know what you want to see included on BoliviaBella.com - we're not on our way to NUMERO UNO for nothing - we're working very hard to get there!! Please direct your comments to webmaster "Bella". Tell Bella what you want!



WHAT'S YOUR PASSION? OWN YOUR FUTURE!
New!

Comments Have your say about what you just read! Leave a comment below.