We've Gone Green This Month
But Not With Envy!
WANT TO SHARE THIS NEWSLETTER?
CLICK "SHARE" TO ADD IT TO FACEBOOK ETC.!
Since my last newsletter a month ago, which was packed with information on new features at BoliviaBella.com, I've been hard at work for you once more! So far March has been a busy month.
Happy St. Patrick's Day and Father's Day
Here's one reason to be green this month: in just a few days many of you will be celebrating St. Patrick's Day so Happy St. Patty's to you. Of course down here in Bolivia it's not a holiday except among the expats. However, we do have an important holiday this month: Father's Day! Yes, I know in a great part of the world this takes place in June but Bolivians (who are famous for being late for everything) actually celebrate this holiday a month before everyone else (hold your applause please).
I've put together a page on Father's Day in Bolivia here and added a special feature: you can send a message to any Bolivian father right on this page! Just type it in, upload a photo (optional) and click submit. In no time your message with be converted into your very own page on BoliviaBella and you'll receive an email to let you know where to see it live. Once you get that, you'll be able to share the page address so others can see it, comment on it, and even rank it! I also set up an online Father's Day gift basket shop. So a cool message… a great gift… everything in one place!
Discount on Pingo Calling Cards Just For You
In line with this I'd like to let you that Pingo is offering a discount on phone cards to Bolivia. This special discount, offered to BoliviaBella visitors through the 31st of December of this year, is a great way to keep in touch with dad. So if your papito is far away this year, give him a call. The prices are great! You pre-pay so use it yourself or give it as a gift! Check it out (you'll see this banner throughout the site too). They totally did this just for us, can you believe it?
HEY BELLA FRIENDS - WE GOT YOU A DISCOUNT ON PHONE CARDS!

Special $5 Off Pingo Bolivia Phone Cards for BoliviaBella Readers.
Please Participate in Earth Hour!
Another reason to go green is an important event coming up on March 28th - Earth Hour. Santa Cruz was the first city in Latin America to participate in this endeavor, led by our friends at the WWF.
Now Santa Cruz is leading Bolivia's efforts to support Earth Hour 2009, as it did last year. Click on the image to find out more about what you and your company or organization or community can do to participate this year.
Volunteer Opportunities
Some of you have written in asking for information on volunteering opportunities in Bolivia. Apparently you find it a little difficult to find information about this online. If you check out my page on Volunteering you'll see there are actually several organizations and places online you can look for opportunities. You can check them out and even contact them. I have found another cool company, Intrepid in Great Britain, that offers volunteer trips several times a year.
Intrepid is a British Tour Operator/Travel Agency. They've got a really NEAT discount if you book a volunteer trip! They also have some very cool normal touristy trips that include Bolivia and right now if you purchase a trip before the 31st of March you get this voucher worth 75 pounds:
Teach, build, holiday - Don't just take a holiday; join Intrepid Travel to build, teach and volunteer around the world! Click here to book and get 15% off any trip you add.
More information on volunteering with Intrepid? OK, here's what they have to say about their trips:
More than a holiday, volunteering is an opportunity to really make a difference in the world. Spend your days living and working in a remote village and getting involved in community development. Working closely with the locals you could find yourself renovating a school, building a health clinic or teaching the kids. With plenty of free time to explore the region, this is the ideal getaway for those who want to do more than sightsee, they want to become a part of local life.
Key Features
* Group size: Maximum 12 travellers who can be of all ages and from all corners of the world.
* Group leader: Yes. An experienced leader accompanies every trip.
* Accommodation: Usually very simple, multi-share accommodation with a local family.
* Transport: A mix of private and local transport.
* Inclusions: Most meals are included (except on free days).
* Departure: Departure is guaranteed, subject to booking conditions.
* Single Supplement: Not available.


Easter and the Missionary Train
On the subject of vacations and holidays, Easter is coming up next month (Easter Sunday is April 12). So be prepared to see information on that uploaded to the site very soon! As a great majority of Bolivians profess to be Catholic, it is one of the most celebrated holidays in the country. For any of you who may be traveling to Bolivia during April (or live here and just want something interesting to do during that week, the railway company offers the Tren Misionero to San José de Chiquitos only during this week).
Super Ways to Get Yourself On Down Here!
If you're planning a trip to Bolivia soon, LAN Airlines has an incredible special (it's actually a spring break special flight discount but you can take advantage) ROUND TRIP from Miami to Lima and back for only $277!!! If you're willing to take the train and/or buses to Bolivia (totally cheap) you can save HUNDREDS on your trip! It's valid to book through June.
They've also got a good price to Brazil going right now. Here's the info. Oh! And they have some special airfares that they offer only on weekends! (They go on sale for only 2 days. You have to buy them during those two days, but once purchased you get to fly ANY TIME):
Spring Break Savings at LAN.com! Fly round trip from Miami to Lima, Peru from $277. Book by 6.15.09. Some restrictions apply
Spring Break Savings at LAN.com! Fly round trip from Los Angeles to Rio de Janeiro from $790. Book by 3.31.09. Some restrictions apply
Relating to this, Orbitz is featuring a FARE SALE on American Airlines flights within the U.S. Get major discounts if you fly by the 13th of May, 2009. American Airlines is the most frequently flown airline to Bolivia from Miami. If you have to fly from another point of origin to Miami to get here, this is a good deal. There are some black out dates in March and April...
American Airlines Fare Sale on NOW at Orbitz! (Travel by 5-13-09)
Orbitz WINTER SALE: SAVE up to 50% on Hotels worldwide! Exp 3-29-09.
Wow, this is so cool - if you're connecting in Miami on your way to Bolivia and you have that awful 9 hour wait (try doing that with kids – ha!), take the Miami: Tour and Bay Cruise
and enjoy your wait instead of sitting it out at the airport (or running around trying to keep your kids in one place).
AND, if you FREQUENTLY travel to Miami or connect through Miami, you should 100% get the Miami: Go Miami Card
which gives you FREE UNLIMITED ACCESS to 25 of Miami's top sites, tours, and attractions.
Cool New Stuff in My Bolivian Food Section
OK! Unrelated to travel, I've added more pages to one of the most popular areas on my site, our Bolivian Food section - Bolivian Beverages. I get requests for Bolivian recipes ALL the time and I could use some help! So I'm putting it out here now: help me out pleeze! Share your favorite Bolivian recipes right here. Just enter the text, a photo if you want to, click submit and voilá, you'll have created a full page on Bella. And for my readers overseas who've been having trouble finding some of the ingredients to make these recipes, I've now got two new alternatives for you.
The first is good old trusty amazon.com. I searched and searched and searched and put together an online Bolivian Food Store. I was surprised to find some items I really didn't think you could get in the US at all.
I'd also like to introduce you to my new best food friends: latienda.com La Tienda is an online site that specializes in food from Spain but they recently contacted me because they've added a section called NEW WORLD FOODS and you are NOT going to believe it! They have chuños! Yay! (You don't know how I suffered for years without chuños in the U.S.) And purple corn for chicha morada too! They'll ship anywhere and have warehouses in both the US and Europe. Yay them!
PURPLE CORN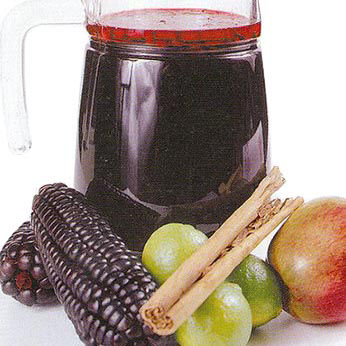 QUINOA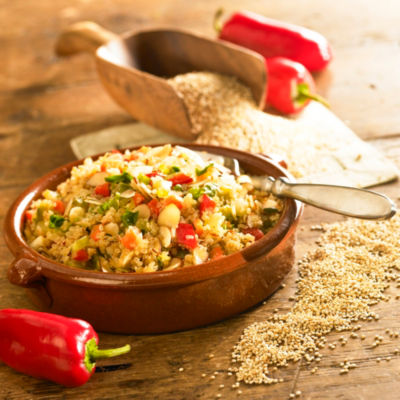 CHUÑOS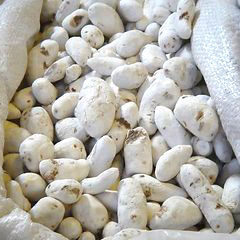 What the H-E-Double Hockey Sticks is So Super About Açai!
I've also gotten some questions about this little purple berry that is all the rage in the US and Europe right now: the açai berry (pronounced "aw-saw-EE"). Now açai is not a new find. It's been a staple food in the Amazon region for hundreds of years and I've been drinking it forever, but ever since foreign scientists found out it is superloaded with antioxidants and other amazing qualities (some medical scientists believe it even slaughters cancer cells and also largely since Oprah made a big spiel about it helping with weight loss on her show), it's become known as one of the world's top super foods. So being the friendly neighborhood webmaster that I am, I did a mountain of research on it. Here's what I found out about our açai berry.
News and Political Analysis About Bolivia
Before I sign off I'd like to remind you that if you're very interested in keeping up with the news and political situation in Bolivia, I've captured two great blogs about these issues which are now part of my site. You can find them both in the Bolivia News tab on my site. The first is the Pronto* blog written by Miguel Centellas and the other is the MABBlog written by Miguel Buitrago. Both post frequently and offer really in-depth analysis of exactly what is going on here.
SeeYa in April!
Have a wonderful remainder-of-March! Happy St. Patrick's Day and Happy Bolivian Father's Day to all the great Bolivian fathers out there, including my superdad!
Help Bella Raise Funds for Wanides.org
Wanides.org (Association of Washingtonians for Needy Bolivian Children) is a non-profit organization established by my aunt Margarita Hassenteufel and a group of Bolivian women who live in the Washington D.C. area. They raise funds every year to donate hospital equipment, clothing, and many other types of items to children's charities and children's hospitals in Bolivia. I just had to be a part of this somehow so I pledged to donate 20% of ALL sales made at Bella Store to Wanides. Visit their website for info. Check out all my Bolivia designs at Bella Store here.

Know somebody who'd like to read this?
I really hope that you've enjoyed reading this newsletter. If you think your friends might be interested in taking a look, please feel free to forward it to them.
Haven't subscribed yet?
If you're reading this on the recommendation of a friend and would like to receive all the future editions subscribe here for free.
Contact Me
If you have any comments, opinions, or content ideas I'd love to hear from you. Just click here to tell me what you want.
Link to BoliviaBella.com
Grab a link to BoliviaBella.com and link your website or blog to BoliviaBella to access this site easily and see when I make changes or add new pages and sections. (You can also click on the orange RSS button in the top left corner of EVERY page on this site to add BoliviaBella to your RSS feeder, or click on any of the SHARE buttons on the BOTTOM of every page so you can add BoliviaBella to your personal page in Facebook, Technorati, MyYahoo, Google, and many others). To grab a link, click here:


Welcome to all our new subscribers!
We had a lot of new BELLA NEWS subscribers this month - welcome to the BoliviaBella online community. For those of you who don't yet know, "Bella" is actually an American living in Bolivia. She works as a professional translator and interpreter and also spends countless hours designing this site just for you! Find out who is Bella really??




As you can see, we've been very busy working super hard to grow and improve BoliviaBella.com and make it the number one English site on Bolivia. Parts of the site are also being translated into Spanish due to the large number of visitors we have from Spanish-speaking countries. We're always looking to improve - this site is FOR YOU so be sure to let us know what you want to see included on BoliviaBella.com - we're not on our way to NUMERO UNO for nothing - we're working very hard to get there!! Please direct your comments to webmaster "Bella". Tell Bella what you want!



WHAT'S YOUR PASSION? OWN YOUR FUTURE!
New!

Comments Have your say about what you just read! Leave a comment below.