You'll See Big Changes at BoliviaBella.com in 2009!
WANT TO SHARE THIS NEWSLETTER?
CLICK "SHARE" TO ADD IT TO YOUR PERSONAL PAGE!
I skipped the January 2009 newsletter to concentrate on completing a lot of new and important changes at BoliviaBella.com and I hope you'll think it's worth it. Everything added to the website is based on what you want so it's been a busy month!
I've been getting a lot of questions about the political and economic situation in Bolivia lately. I recently added two more news feeds and an interesting blog by Miguel Buitrago to my Bolivia News page in an attempt to answer that. If you speak Spanish, you can now also watch several Bolivian local TV stations right on Bella (just click on the Español page to see this TV widget any day of the week) or right now you can scroll on this TV widget until you find Bolivia, click on it, then click on the station you'd like to watch. I've also picked up a blog feed by lists and updates (every few minutes) on blogs that are being written about Bolivia from all over the internet here: Blogs About Bolivia.
Two additional new features are our English Chat Room and Spanish Chat Room. The idea behind these is that they will, over time, become another way for website visitors to share information with each other. Check in once in a while to see who's online. Ask a question or if you'd had any experience living in Bolivia or touring, as a volunteer or doing business in Bolivia, share the wealth! BoliviaBella is all about paying forward – that's my philosophy: giving before receiving!
I'd also like to invite you to share your experiences in our many other "forums". Bella forums are different from other "live" online forums. You'll see many pages throughout the site that have forms that allow you to add text and photos. By sharing travel information, your favorite recipes, a message of hope to Bolivia, your experience adopting a Bolivian child, your memories of your time as a volunteer or anything else, you can help BoliviaBella grow! The text and images you add actually convert into your own page, which you can later share and ask people to rank or comment on. It's an exciting and important feature because as I promised when I began to design this site less than two years ago, ALL the information on BoliviaBella is firsthand, personally researched, personally experienced information – and that's what's made BoliviaBella such a popular site. You can access our Forums Home Page here to choose a topic you'd like to write about.
(By the way, right now I'm especially interested in hearing from anyone who's adopted a child in Bolivia. I've had several readers interested in that and it's not something I have personally experience in. Please forward this to anyone you might know who can help us out with this. I also need help adding recipes to my Really Rad Recipe Roster – we get more requests for Bolivian recipes, I swear I can't keep up!) We'll love you for it and Bella readers are always letting us know how grateful they are to read first-hand stories about stuff they wanted to know!
- - - - - SIDEBAR - - - - -

Speaking of love and popularity, I'll throw in a little side bar here – in February BoliviaBella just entered the TOP 1/2% of all websites in the world. That's no small feat! Bolivia is not exactly the most researched country/keyword on the net. Google recently announced that it has counted over ONE TRILLION web pages on the net, and over 100 MILLION full websites and Alexa.com ranked us at 557,395 on February 9th. For those of you who like to get "techy" that's a 40% climb in readership since December! Thanks to all who've helped us grow and become the top English website on Bolivia in the world!
Part of our success is due to the program/software/host BoliviaBella is designed with. I had SO MANY people ask me who designs my site (ahem…that would be little ol' me all by my lonesome) that I put up a page all about why I decided to build a BoliviaBella and how I design the site. Some of you are just curious, others have asked me if I'm a website designer, and still others want to know how you can build your own website. So click here and I'll tell you all about SBI (Site Build It), which is now considered the most successful website building/host in the world. (By the way, I actually build 3 websites simultaneously. My Unique Gift Basket Ideas website, which I began just three months ago in November of 2008 jumped 2900% and 21 million positions in the rankings in its first three months online. Now I'm not trying to toot my own horn at all – just want to give you an idea of how successful SBI websites really are!!! See it for yourself at www.alexa.com).
- - - - - SIDEBAR - - - - -
Back to Bella:
It seems people are gearing up to travel to Bolivia sometime in 2009 because there's been an incredible jump in the number of messages I receive requesting information on airlines, cheap flights, visas, and more. Therefore I've spent more time researching and adding to my Airlines section than anything else in the past few months, in search of the perfect tools for you! You'll now find that I've added a Cheap Flights Search page. I actually went through all the "rig-ma-roll" of affiliating with several airlines and well-known online international travel websites just so I could build this page for you. This search page contains search boxes they've provided. Just enter your destination and travel dates and compare all airlines on a single page! No more surfing the net for hours! A bonus to this is that I'm in constant contact with each one of them. They announce their upcoming flight and travel discounts to their affiliates before the public is apprised – so as an "insider" I get to share upcoming great cheap flights and travel deals with all of you first! You'll see I've added a Cheap Flights Announcements page – this page will change continuously as new deals are added, and others expire. If you're planning to travel to Bolivia at any time, this is definitely a page you'll want to add to your RSS feed. Please also visit these pages: Immigration, Customs, Visas, Rush Your Visa, Info for Americans, and Travel Information for much much more!!!!
- - - - - SIDEBAR - - - - -
Psssst! Right now LAN Airlines has some amazing deals if you purchase before February 28th and travel before June 15th and Intrepid Travel (a UK company) has a special deal where one person pays a full trip and a friend pays only ½ price! This also expires on February 28th, (they have over 30 different great trips to South America and Bolivia) and Orbitz has some great deals ending in May… so be sure to check out this page if you're planning ANY travel to Bolivia or NEARBY this year and do someone a favor - forward this newsletter to a friend who may be visiting Bolivia soon…
- - - - - SIDEBAR - - - - -
My new Message Board is also a page you'll want to check often! The above is exactly the kind of information that I will be announcing on the new Bella message board. As you know, any time I have anything new to share I don't blog - I build a full new web page! But some things are just here today and gone tomorrow (like great travel deals) so the Message Board is where I'll announce these – and of course ALL new pages I add to the site (or pages on which I've made changes) automatically roll through my Bolivia Blog.
There's something new about Bella's Bolivia Blog too! You see, I've noticed that TONS of sites have picked up and inserted my blog onto their pages (see an example at the bottom of the page here). So I've now made a new WIDGET of my blog. A widget is a small version of my blog – a little picture of it if you will. You'll see my widget on my Bolivia Blog page and on my Home Page. If you'd like to add Bella's Blog to your website, blog, or social network profile (Facebook, Technorati, etc. etc.) just click on the GET WIDGET button on my new blog widget, copy and paste! There is really NOTHING more to it than that! The blog widget flashes the titles of my last 20-30 blog posts. Find one that interests you, click on the title, and it'll automatically take you straight to that page on my site. It's instantaneous and it updates automatically so once you've uploaded it, you never need to do anything else. Easy huh!? Oh, you can also add and share ANY Bella page to your profile just by clicking this SHARE button
.
What else, what else… oh right! I've also added SEVERAL new sections to Bella Store. If you've been getting my newsletter for a while, you know that Bella Store has various sections, offering Books about Bolivia, Bolivia Gifts and souvenirs, and Kricket's Rainforest Store (Kricket is my 5-year old – his Bolivia for Kids section is hugely popular)! By the way, I have pledged to donate 20% of ALL SALES to Wanides.org!
But now, again based on what visitors have told us about what you want, I've added several new sections. Check out the Travel Maps you can buy online now, or the new Living Overseas research section. The Bolivian Art Gallery continues to be one of the most visited pages on the site (some artists actually offer their original art for sale here). And two additional new sections are the Pack It Up! shop (where you can actually shop for luggage and backpacks for your next trip to Bolivia) and the Bolivian Handcrafts shop (I actually became a National Geographic affiliate to bring you top quality woven alpaca and leather goods from Bolivia). See, TONS of new stuff!
You'll see BoliviaBella has a new Bella community toolbar. If you download it onto your desktop (it's from conduit.com – a website you can trust!) you can actually use it to search BoliviaBella at any moment with our new scroll-down Search Bella feature. You can also Contact Meinstantly just by clicking on Tell Bella, and you can access my blog immediately just by clicking on Bella Blog. It's really a cool feature because once you've added it to your desktop, you can add many other neat features and customize it with an RSS feed button, an online radio, the weather, a calculator, clocks, an email notifier, and other fun features. Click on the orange BoliviaBella logo to the left to view all the options you can add/change/customize - you decide! I've been loving the radio myself – my new favorite radio station Virgin Radio straight from Italy (great repertoire)!
For those of you who are keeping up with News about Bolivia, you'll know that the country is going through a difficult time right now and Bolivians could really use a little hope and positive thinking (can't we all?) Please consider adding your Message of Hope through the BoliviaBella Hope Project, and if you prefer to send good vibes in Spanish, visit the Bolivia Positiva project page and add your own positive message!
I also hope you'll join me in another little effort. Our friends at the WWF are leading the worldwide Earth Hour (Hora del Planeta) effort again in this March. On March 28th (your local time) disconnect from everything! Turn off the lights, unplug your electric apparatus, and let's all give Earth a little break from the burden she bears for us! Many major companies and thousands of individuals in big cities and little towns all over Bolivia have already pledged to spend an hour in the dark. Bolivians love Pachamama (Mother Earth). Tell us what you, your company or your community has planned for Earth Hour – share on this page.
Wow! I just realized how much I've had going on in January! Before this becomes a novel…Happy Valentine's Day and see you in March!
&nbsp &nbsp &nbsp
&nbsp
&nbsp
&nbsp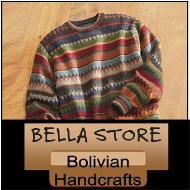 &nbsp
&nbsp
Help Bella Raise Funds for Wanides.org
Wanides.org (Association of Washingtonians for Needy Bolivian Children) is a non-profit organization established by my aunt Margarita Hassenteufel and a group of Bolivian women who live in the Washington D.C. area. They raise funds every year to donate hospital equipment, clothing, and many other types of items to children's charities and children's hospitals in Bolivia. I just had to be a part of this somehow so I pledged to donate 20% of ALL sales made at Bella Store to Wanides. Visit their website for info. Check out all my Bolivia designs at Bella store here:

Know somebody who'd like to read this?
I really hope that you've enjoyed reading this newsletter. If you think your friends might be interested in taking a look, please feel free to forward it to them.
Haven't subscribed yet?
If you're reading this on the recommendation of a friend and would like to receive all the future editions subscribe here for free.
Contact Me
If you have any comments, opinions, or content ideas I'd love to hear from you. Just click here to tell me what you want.
Link to BoliviaBella.com
Grab a link to BoliviaBella.com and link your website or blog to BoliviaBella to access this site easily and see when I make changes or add new pages and sections. (You can also click on the orange RSS button in the top left corner of EVERY page on this site to add BoliviaBella to your RSS feeder, or click on any of the SHARE buttons on the BOTTOM of every page so you can add BoliviaBella to your personal page in Facebook, Technorati, MyYahoo, Google, and many others). To grab a link, click here:


Welcome to all our new subscribers!
We had a lot of new BELLA NEWS subscribers this month - welcome to the BoliviaBella online community. For those of you who don't yet know, "Bella" is actually an American living in Bolivia. She works as a professional translator and interpreter and also spends countless hours designing this site just for you! Find out who is Bella really??




As you can see, we've been very busy working super hard to grow and improve BoliviaBella.com and make it the number one English site on Bolivia. Parts of the site are also being translated into Spanish due to the large number of visitors we have from Spanish-speaking countries. We're always looking to improve - this site is FOR YOU so be sure to let us know what you want to see included on BoliviaBella.com - we're not on our way to NUMERO UNO for nothing - we're working very hard to get there!! Please direct your comments to webmaster "Bella". Tell Bella what you want!



WHAT'S YOUR PASSION? OWN YOUR FUTURE!
New!

Comments Have your say about what you just read! Leave a comment below.