We're Celebrating BoliviaBella's Birthday!
This issue of BELLA NEWS is very special! BoliviaBella.com is one year old this month! It's hard to believe 12 months have gone by already. On the other hand, it's also hard to believe (given its traffic rankings and how large the site has become) that it went online ONLY one year ago!

BoliviaBella.com now has over 500 sections and pages AND in the last week of May just got promoted to the TOP 1% of all sites in the world!!! There are more than 100 million websites online now and BoliviaBella's new Alexa.com traffic ranking has topped the ONE MILLION mark at 902,112 (and climbing weekly) just in time to celebrate our first birthday.

June 25th is our birthday! Help us celebrate! Send us a birthday message:


New BELLA WEAR and BELLA BEARS !!!
At BELLA STORE we're celebrating our birthday with a whole new line of BELLA WEAR and BELLA BEARS (with both English and Spanish phrasing and designs). These items make great gifts! (The bears are especially cute!) We've also added several new lines of athletic Bolivia-inspired apparel and gifts - more options for the guys and sportygirls. And don't forget: none of these items is available ANYWHERE else! Check it all out at BELLA STORE:


Bella's new SCHOOL PROJECT Page.
BELLA has a new SCHOOL PROJECT page. Based on the number of emails we get each month from students and teachers who request information for book reports and school projects, we've facilitated their search by providing a special page just for them. The project page will shorten their search time by listing and providing links to all the pages on BoliviaBella.com that contain relevant information PLUS videos of Bolivia, MP3s of the Bolivian Anthem and other Bolivian music, and other features, including photos of Bolivia which they will have permission to use in their projects without needing to contact us for authorization.

We will be working during the summer of 2008 to prepare all of the above in E-BOOK and CD format - these will be available to students and teachers in time for their return to school in the fall of 2008. Help us inform the schools in your area by forwarding Bella's School Project page to all the teachers you know! See the page here:


Totally Cool New Features at BELLA BOOKS.
We've added some neat new features to BELLA's BOOK SHOP. Now, in additional to ordering books, MP3s and CDs about Bolivia, you can actually directly download MP3s of Bolivian music onto your MP3 player or computer right on the BELLA BOOKS page.

IN ADDITION, for Bella's foreign friends who live in Bolivia (and other places overseas) and are missing their favorite TV shows and movies, we've added the Amazon's super cool UNBOX TV and MOVIE download features - you can actually buy episodes of your favorite TV shows (for pennies) and download them. Same with movies.

And FINALLY, we're now also offering the AMAZON KINDLE (portable virtual reader) which is super convenient for people who travel a lot or are moving overseas. You can subscribe to your favorite newspapers, magazines, books, and even travel guides (over 100,000 are available so far) and they'll be delivered to your KINDLE portable reader - just like that you'll never miss your daily news and you can forget about having to pay hundreds of dollars to transport all your favorite books overseas.

Check out all these super cool new features - check out BELLA BOOKS:


News From Bolivia
It'll be winter soon in Bolivia so if you're planning a trip, bring jackets. Don't forget June-July are our coldest months!

On May 4th the Department of Santa Cruz held it's now world-renowned AUTONOMY REFERENDUM. Despite the fear expressed by governments in other countries that civil war would break out, voting took place quietly and peacefully (with the exception of one neighborhood in which Evo Morales supporters tried to prevent people from exercising their right to vote - they burned the voting urns and this caused a fight between about 25 people).

Over 85% of the department's population voted in favor of departmental autonomy - which I explained and discussed in May's issue of Bella News (check the back issues page to read it). In June several other departments of Bolivia will be holding their Autonomy Referenda so we're not out of the woods yet; however the sense of anticipation over possible violence is not as strong any more and we are expecting / hoping there will be no violence there as well.

Regardless of the outcomes of the above-mentioned Referenda, the government of Bolivia does not acknowledge them as legal and there is very little probability they will amount to anything more than a simple tool to pressure the government into holding more talks with area representatives. So far, all talks have been futile.

People are required to vote near their homes and driving is NOT allowed on voting days, so everyone has to walk to the nearest voting station. I have to admit I was a little afraid all the tension would play out on the streets, but I was surprised to find that cruceños, true to their easy-going, family-oriented nature, turned this into a family day. Entire families were out walking, enjoying a stroll in the sun and the quiet of the day - in fact, it was the quietest day I have ever experienced here. Santa Cruz was like a ghost town. THIS is the ONLY car I saw on the streets that day: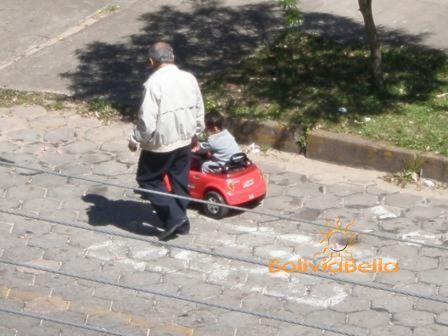 In Bolivia Celebrating Moms is a BIG DEAL!
In other news, life can still be amazing here. There is always time and room for a celebration of some sort and May was no exception - May 27th was Mother's Day in Bolivia. Aside from Christmas, Mother's Day is THE MOST CELEBRATED holiday in the nation. Personally I think mothers everywhere should be celebrated every day! But I'm a mom so I guess I'm biased. The banner below will take you to my page on Mother's Day in Bolivia:


As you can see, we've been very busy working super hard to grow and improve BoliviaBella.com and make it the number one English site on Bolivia. Parts of the site are also being translated into Spanish due to the large number of visitors we have from Spanish-speaking countries. We're always looking to improve - this site is FOR YOU so be sure to let us know what you want to see included on BoliviaBella.com - we're not on our way to NUMERO UNO for nothing - we're working very hard to get there!! Please direct your comments to webmaster "Bella". TELL BELLA WHAT YOU WANT!




New!

Comments Have your say about what you just read! Leave a comment below.