William Bernard Brooks visited Santa Cruz, Bolivia where he exhibited his art at the Anahí Art Center. Opening night, September 10th, 2008 was very successful and I was honored to have the opportunity to spend some time learning about him and over 50 pieces of his art. His exhibit was covered extensively by the local media and the flow of guests was constant throughout the evening.
Hosted by the Gran Paytiti Foundation, which works to promote cultural exchange, Mr. Brooks was to have spent nearly 6 weeks in Bolivia during which time he had planned to travel extensively, meeting some of the Eastern Bolivian native cultures and chamans; however, the political situation took a turn for the worse and many of the roads in Santa Cruz were blockaded by protesters, thus he wasn't able to do any traveling and cut his trip short. We're deeply disappointed this happened, but very sure Mr. Brooks will return.
View this slide show of his exhibit's Opening Night. If you collect art, some of the pieces featured are still available - scroll further down to view them (along with prices) and contact Mr. Brooks directly through the contact form at the bottom of the page.
William B. Brooks has been sharpening his powers of observation since his childhood in Germany. Twice the recipient of the Photokina Youth Photography Award, William B. Brooks graduated with a BA in photography from the Werkschule in Cologne and served an apprenticeship with acclaimed portraitist, August Sander. Moving to Paris, he photographed fashion and advertising layouts.
In the United States since 1971, William B. Brooks has developed a client list akin to Who's Who of fashion, fragrance and beauty. Vanity Fair, Sears Roebuck, Lord & Taylor, Saks Fifth Avenue, Faberge, Coty, Helena Rubinstein and corporations as diverse as DuPont and Johnson & Johnson have used his perspectives on their products. The pages of Time, Cosmopolitan, Mademoiselle, Montana Living and Spirit Talk Magazine have all reflected his editorial aesthetics. Sylvester Stallone, Perry King, Henry Winkler " the Fonz", Pam Dawber, Susan Blakely, Carol Francis, Lauren Hutton and many other personalities became part of his portfolio.
Since he established residence in Montana he has begun work on his " Montana Mirror" project. A collection of portraits of ordinary people with non ordinary dreams. His lifelong fascination with Native American Culture is permitting him to participate in many native healing ceremonies and expand his appreciation of different cultural lifestyles.
William B. Brooks is not merely the eye behind the camera. His gifts transcend the shutter while continuing to probe beneath the surface. In his paintings and sculpture, William's incisive gaze never varies. Also, the pursuits of a wide range of interests that span fencing, sailing, gliding, eastern philosophy and Native American traditions insure his keen instinct for the outer limits of accomplishment.
"My goal," the artist asserts, " is to record and create sensitive images of people that show their inner feelings, inner desires and moods." And through a variety of mediums, William B. Brooks focuses unerringly on "observed behavior that can be transformed into recognizable aspects of human experience."
You can read more about William Bernard Brook on his website www.soulcaller.com and I really encourage you to view his blog
www.tipitopics.blogspot.com where you'll see more of his art and can read his thoughts on Native American life, his life in Montana and more.
In addition, Mr. Brooks has written a book called SOULCALLER which contains images and instructions for meditation. It will be available in print toward the end of the year; however, you can get a sneak peek at all its pages now by visiting his website above.


Shamanic Interludes Exhibit in Santa Cruz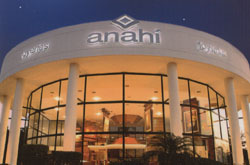 The following prints were shown as part of the William Bernard Brooks exhibit "Shamanic Interludes" in Santa Cruz, Bolivia on 10 September, 2008 at:
ANAHI Art Center, Guemes No.5
Esquina Canal Isuto
Barrio Equipetrol
Santa Cruz, Bolivia
(591-3) 3354054
Sponsored by the Gran Paytiti Foundation of Bolivia. The photographer William Bernard Brooks creates images of shamanic interludes. Meditations in the forest and near hidden lakes in the Rocky Mountains in Montana provide an opportunity to align with energies that are still communicating with humans. In those moments, when form and intent, desire and surrender, knowledge and manifestation coalesce into joyful bliss, we find that gratitude is the noblest of expression.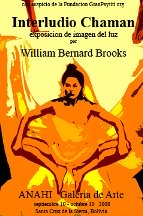 Purchase William Bernard Brooks Prints Online
The following prints are for sale. There are only 8 prints made of each. Some have already sold. Size: 12x18 inches on Hahnemuehle German etching fine art paper. Signed and numbered. Price: US $ 1400 each.
William Bernard Brooks is making these prints available to you online through this site. Please contact him using the form located below the prints for purchase, payment and shipping information. (Shipped from Montana, USA to destination).