Matt Pepe, USA. One volunteer role led to another and then to Matt creating the Centro de Miembros Artificiales (
Centre for Artificial Limbs
) in La Paz, Bolivia. The centre is fully supported and operated by the La Paz San Pedro Rotary Club.
For over 15 years the La Paz San Pedro Rotary Club had provided prosthesis to low income Bolivians through a government-run clinic. Thanks to Matt, the Rotary Club now has its own clinic and crucially is able to provide artificial limbs for a larger number of needy patients, and also an improvement in the quality of artificial limbs available.
Also, through a partnership with LIMBS International, the La Paz clinic will receive training in the production, fitting and rehabilitation of their polycentric knee design, free of charge. The clinic will also be their sole training clinic for the whole of South America and any technician on the continent can come to them to learn how to make these knees.
In short, Matt has created - from zero - an entirely new prosthesis clinic.
How did you get involved in this?
Well, as a little bit of background I had been travelling all around the world, without a stop, for about 4 years and when I landed in Bolivia I decided to stick around a little longer to learn Spanish and I didn't want to just kill time while here so I looked for a volunteer job.
I volunteered for a government-run hospital for 9 months and then with the Rotary Club for another 9 months. I actually also taught math to children at two different schools for about 3 months and so I was working three different volunteer jobs at the same time in late 2009. I did not expect any of this when I first came to Bolivia. The job that I am currently working in grew from a small idea into a monster (in a good way) and the more I do the more work and need I see.
I was volunteering with an organization called "Artisan Sorata" at a government-run prosthesis clinic and I was trying to gather data about the amputee population in Bolivia when I was introduced to the La Paz San Pedro Rotary Club because someone told me they might have statistics (they didn't).
What volunteer role(s) did you undertake in this project?
I have ended up being the architect, inventor, builder, buyer, researcher, plumber, electrician, fund raiser, web master, form-generator, process-creator and chief grunt for the entire project to create a new prosthesis clinic. To make this all a reality I have basically worked 10-12 hours per day for 6 to 7 days a week for the past 9 months. And today I have a prosthesis clinic which is staffed by a professional prosthetist and we have 30 patients.
How did you acquire the knowledge to carry out these tasks?
I knew absolutely nothing about the subject of my work. My background is in software engineering and my degree is in Electrical Engineering so I guess those things helped me to think critically and logically and to allow me to do something this different. I learned a lot "on the job" by watching the technician in my first workshop. I also taught myself everything else I need to know by spending countless hours and endless nights surfing the internet for ideas and answers.
How do you spend your time off? Do you have any?
Time off? I have none. I CHOOSE to have none. Probably not what other volunteers want to hear but as I say above this is a unique experience of my own creation and I have a HUGE amount of my life personally invested in this project and so I don't want to take a break until I am sure that I have done all I can do to make this clinic as success and able to function without me.
Quite frankly you have achieved something amazing. Were other people supportive of your ideas?
At my first position in the government-run hospital I mentioned above, (Instituto de Rehabilitación Infantil), my grand ideas got me into a little hot water with some the staff since they did not appreciate all the change that my tidal wave of ideas were bringing. The chief technician (who I THOUGHT was a very good friend) eventually tried to get me deported. We had had a GREAT relationship at first (we even played racquet ball together) but as I proposed more and more changes I think he started to fear more and more for his job (even though it was never at risk) and our relationship soured.
But even though I knew it had gone downhill I was still shocked at the end at what he was willing to do to sabotage the project in general and me personally. Even after it all came crashing down at that clinic I actually never did feel 100% sure that I knew what he was so angry about. The other problem is that I tend to be a pretty direct and honest person and that is not always the best nor the 'proper' way to do things here. My major advice to others is to be very careful (culturally) how you present ideas in a different country and how you carry those ideas out and be careful about "stepping on toes".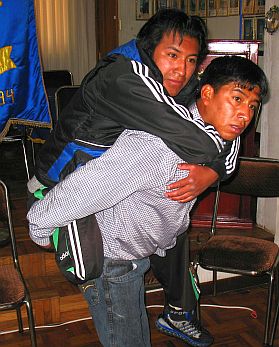 Have you ever undertaken a project like this before?
I had have always tried to volunteer in general in my life and I have always done a little volunteering here and there but never ever anything nearly this huge.
What was your favourite thing about your experience?
Seeing my ideas go from a nascent unplanned idea into a full-blown massive success and being allowed to do absolutely anything and everything I want, without any applicable license, degree or training.
And your least favourite?
Relying and waiting on others to do the things that they claim they are willing to, and will, do. And then it never happens so I have to do it myself.
Knowing what you do now, is there anything you would do differently?
I would be more careful who I work for if I want to try to implement some new big change or plan. I mean I would try to feel comfortable that the organization that I am working for has the guts and determination, financial resources and follow-through to actually get the job done. If I just want to be a helper and work a few hours a week then all this does not really matter and you can work for almost any organization.
You are now looking to secure the future of the organisation with more volunteers. Can you tell us more about the roles that are available?
Other than the Certified Prosthetist Orthopedist position none of the other jobs require any previous experience. You only need to have the desire to do a good job and be an organized self-motivating reliable person who does not mind taking charge when needed and has good follow-through. Being fairly capable in Spanish is also highly helpful but you will also be able to work with some English speakers at the clinic who will be able to help handle more complicated situations if you so desire.
What about accommodation for volunteers? Can the organisation arrange this?
Volunteers will need to make (and pay for) their own arrangements for accommodation and food. In La Paz there are plenty of options, depending on your personal preferences, budget and how long you intend to stay.
We estimate that volunteer living costs will generally be between US$15 and US$40 per day. ... beer money, internet, laundry, and generally unaccounted for "miscellaneous costs" can add up to be a significant part of any travel budget -- I would suggest that people take any budget they can anticipate and then increase it by 50% to account for these 'other' indefinable and unpredictable but necessary expenses.
We understand you will be leaving Bolivia shortly. How involved will you be in the project after your departure?
First of all I am trying to make sure that the clinic is as organized and automated as possible before I leave so that I am not needed. I also hope to find a strong volunteer to take over some of my work. But that will obviously never work 100% so I will also try my best to stay involved as I can. I plan to stay in regular email and phone contact for the immediate future and I will hopefully be able to solve some problems with remote advice. I also plan to continue to try to raise funds for the clinic.
What is next for Matt Pepe?
I want to continue my travels around the rest of South America. I want to float down the Amazon from Peru to the Atlantic coast of Brazil and then travel up and through the Guianas, Venezuela, Colombia and Ecuador. Then it will be back to the US to work for 6 months or so and refill my depleted bank account. Then I want to go back to Asia indefinitely -- I loved Asia and constantly think about going back.
Do you have any advice for anyone reading this who is inspired (but maybe a little in awe) of your accomplishments?
Dream big and then GO FOR IT!! You can do more than you can possibly imagine! I have found that a person can do almost ANYTHING if they put their mind and dedication to it.