Uyuni Photo and Video Gallery

---
Plan Your Trip | Uyuni Home Page | Tourism Home Page
---
Tour this Uyuni photo and video gallery. The Salt Beds (sometimes called Salt Flats or Salt Desert) at Uyuni are one of the more amazing tourist attractions in Bolivia. Stretching as far as the eye can see, the Salar de Uyuni was left behind when Lake Minchín dried up 40,000 years ago. The salt desert is about 120 meters thick and you can stay at a hotel made completely out of salt bricks. Visit our
Salar de Uyuni
home page for more.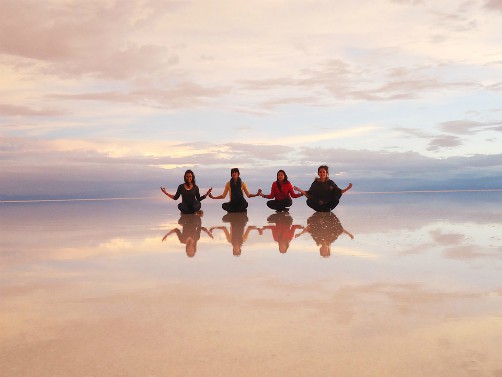 An absolutely gorgeous video showing the Bolivian altiplano from Chile to Uyuni and everything in between, with views of: Bolivia border with Chile, Laguna Blanca, Laguna Verde, Licancabur, Desierto Dali, Laguna Polques, Geiser Sol de Manana, Laguna Colorada, Arbol de Piedra, Desierto Sololi, Laguna Honda, Laguna Hedionda, Laguna Canapa, Mirador Volcan Ollague, Salar de Chiguana, Salar de Uyuni, Isla Incahuasi.
A short documentary by the Bolivian Vice Ministry of Tourism
A beautiful video with no words, just soothing music
This video of Uyuni is very well made and has some drone views
A 3-day tour video showing the train cemetery, the yuni salt flats, Incahuasi island, salt hotel, town of Uyuni, Ollague volcano and more.
Video producido por el Viceministerio de Turismo de Bolivia:
How Important Are the Salt Flats to Our Future?
Learn more about Salar de Uyuni
Salar de Uyuni tours and attractions
Road maps and maps of Uyuni Bolivia
Hotels, hostels and where to stay
Salar de Uyuni photo and video gallery
View our Salar de Uyuni travel forum
How to get there and what to take
How to choose an Uyuni tour operator
Return to the Salar de Uyuni home page

---
Plan Your Trip | Uyuni Home Page | Tourism Home Page
---