It's true, if you plan to travel with pets you have your work cut out for you. However, I did some research to try to help things go more smoothly for you.
IF YOU'VE ALREADY HAD EXPERIENCE TRAVELING WITH PETS please do share your best advice in our Pet Travel Forum with other BoliviaBella readers. You can do so in under 3 minutes and your contribution will automatically create your own page on this site. Be a precious pet's hero today!
IF YOU DO NOT HAVE EXPERIENCE TRAVELING WITH PETS scroll to the bottom of the Pet Travel Forum where you'll find the advice for traveling with animals other pet owners have shared.
Read these very general tips for travel with your dog and travel with your cat and this specific information on airline travel with your dog and airline travel with your cat.


TOP RECOMMENDED PET TRAVEL SITE
I think this is the most complete website on pet travel with info on:
Pet Safety
Pet Travel Gear
USDA Certification of Health Certificate
Using a Microchip to Track Your Pet
Cold Weather Restrictions
Medical Documents & Suggestions
Service Animals
Military Personnel
Shipping Your Pet
Relieving Stress For Your Pet Before a Long Trip
About Car Travel With Pets
Quarantine and Overseas Travel
Pet Passports, Immigration & Quarantine Travel Info by Country


DOCUMENTS FOR PETS ENTERING BOLIVIA
AUGUST 2009 UPDATE TO THIS INFORMATION
Thanks to Jake from Chicago went through the process of importing a dog into Bolivia. We're grateful Jake took the time to write us. Information and procedures change frequently in Bolivia (it can be quite maddening, really) and we just love that our site visitors are helping make BoliviaBella the Numero Uno source for first-hand information on Bolivia. Click the link above to read about Jake's experience with his pet.
FEBRUARY 2013 UPDATE TO THIS INFORMATION:
Tara and her dog Boesman have traveled back and forth between the U.S. and Bolivia 12 times! Boesman shares his doggy experiences with you too: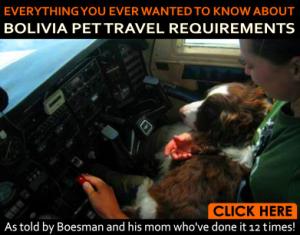 Post your pet travel tips or questions too
PET SHIPPING AND RELOCATION

If you're trying to find out about shipping your pet the following companies offer pet relocation and animal transport services. Try one that is a member of IPATA (Independent Pet and Animal Transportation Association International). By the way, there are dozens and dozens of companies that provide this service. Read more on pet relocation here!
IATA (International Air Transport Association) is also extremely informative and VERY DETAILED - well worth your time, and of course it has the most up-to-date information on travel regulations, with links to Canadian and European Union laws.

IATA Recommendations for Shipping Your Pet

IATA Traveler's Pet Corner

I'm still looking for information on Pet Friendly Accommodations in Bolivia. There aren't many. However, check our Pet Travel Foroum to see where other website visitors have found their pets are welcome.