Travel Tarija Bolivia and immerse yourself in the beautiful mediterranean climate, gorgeous mountain surroundings, pretty wine country valley landscapes, and rich colonial heritage. In Tarija people are very warm and inviting. You may notice they are unusually smiley and friendly. The food is delicious and the wines and singani are awesome. Below you'll find some of the best Tarija travel spots, attractions and tours. Click here to find
hotels in Tarija Bolivia
here and really great
restaurants in Tarija
here. Because it's still a small city, Tarija is probably the friendliest city in Bolivia. You'll also enjoy some of the liveliest music in Tarija. It's small but not too small and a really different and refreshing change from the typical Andean
tourist attractions in Bolivia
. Travel Tarija and see for yourself!
Tarija travel forum
.
Tarija Travel and Tourist Attractions
The Paleontology Museum one block from the central plaza but in the opposite direction is very interesting. It's star resident is a 9 foot prehistoric sloth. You'll also see a huge mammoth, a 6 foot armadillo ancestor, and thousands of other fossils. Upstairs are two salons, one featuring remains of our human prehistoric ancestors and their ceramics, weavings, pottery and more, and the other featuring gems and minerals found nearby.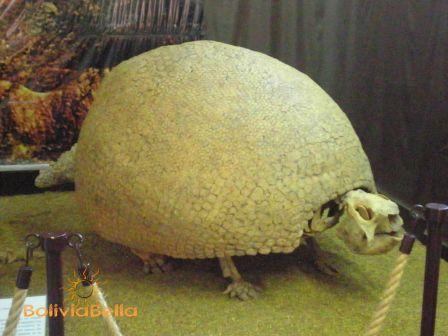 La Casa Dorada one block from the central plaza used to be a single family home but is now a museum. It's one of the best preserved vestiges of the Spanish Colonial era. Everything inside is original. Tours are given once an hour on weekday mornings and afternoons.
Plaza Luis de Fuentes is Tarija's central plaza. You can spend a lazy hour here people watching, get your shoes shined, read the paper, feed the pigeons, enjoy a great fresh squeezed fruit juice, and just enjoy the breeze. It's always bustling but simultaneously very relaxing. There are several hotels and restaurants surrounding the plaza, in addition to various government buildings.
The San Bernardo Cathedral is one block from the central plaza and across the street from it is another small plaza. It's worth a visit to see the stained glass, religious paintings and relics, and beautiful Colonial architecture. Tarija has several other very pretty Colonial churches.
Plazuela Sucre is located 3 blocks from the central plaza and is surrounded on all sides by restaurants, cafés, and ice cream shops. This is where Tarija's younger crowd gathers after school and especially in the evenings. You'll find quite a few handcraft sellers here too. A great place to pick up some souvenirs.
The Markets Tarija has a great central market where you can have a clean, delicious lunch for under $2 any day of the week. Be sure to look for Doña Berta and try her saice. It's so delicious past Bolivian presidents have sought her out for her saice, Tarija's most typical meal. There are other markets where you can also shop for thousands of items.
Represa San Jacinto is a river dam that has created a huge lake just 15 minutes from town. Here you can take a row boat or canoe out onto the lake, or enjoy fresh fish for lunch at one of the tiny restaurants on the shore.
Valle Concepción If you travel Tarija it would almost be a sin not to take a short one-hour trip out to the vineyards where most of Bolivia's best wine grapes are grown for both national consumption and export. The vineyard valleys are Tarija's greatest tour attraction and several wineries have amazing restaurants, most of which are several hundred years old. You'll be transported back in time for lunch at an hacienda. Tarijeños have a saying: "El que vino a Tarija y no tomó vino, a que vino?" Here's what it means.
Uriondo is a tiny town in Valle Concepción. Visit the plaza and walk the town and do not miss a stop at the Casa Vieja Vineyards and restaurant here. You'll be treated to a breathtaking view, and it has a great colonial 400-year old adobe restaurant, the best wine in Tarija and a great little store. If you travel Tarija be sure to stop here at least once.
San Lorenzo is half an hour by bus from Tarija and one of the most interesting places to visit. Read the history of Tarija before you go. You'll need to know who Moto Mendez is to understand why the Casa de Moto Mendez is the top tourist attraction in the town, and one reason why the best restaurant in San Lorenzo is called Eustaquio Restaurant. San Lorenzo is 'the' place to be on Easter Sunday if you happen to visit during April or May. It's historical and interesting and really worth a half-day trip. For breakfast step in to the San Lorenzo market next to the Cathedral for a big fluffy white rosquete and some peanut juice. In the afternoons be sure to stop in at La Casa del Vino about 5 blocks from the central plaza. Lunch or dinner at Eustaquio - definitely.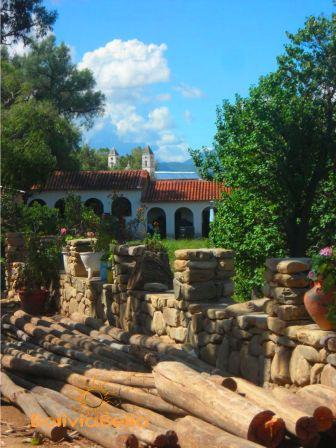 Coimata Waterfalls is a tiny town about ½ hour from Tarija by taxi or mini-bus located up in the hills and away from the bustling city. The main attraction here is a set of two waterfalls to which you can trek easily. Be sure to visit the La Pasarela Hotel for lunch. You'll have one of the most privileged mountain views in Tarija while you quench the thirst you built up hiking. A call ahead if you plan to eat there ensures lunch will be served more swiftly. Belgian-owned La Pasarela also has a hilltop overlook of the valleys beyond. It's worth spending the night here. The owner speaks English.
Los Parrales Hotel Although it's a hotel, it's sort of a tourist attraction in and of itself. If you can't actually stay here, stop in and tour the grounds. It is located high above the city on a cliff with views of the entire city, valley and river and is a prime photo spot! Their restaurant is tops and their spa/sauna is huge with a glass-domed ceiling for prime star gazing while you relax in hot bubbles.
Tarija City is full of life and its many flowery parks and plazas, open markets and unusually high number of pretty hotels per capita make it a very hospitable city. There are lots of shops and stores, more restaurants than you'll ever need, and great bakeries and cafés. You'll have no trouble finding internet access and calling centers, or exchanging money – not that you'll need much. Tarija is very affordable. Be sure to stop in at the Prefecture's Tourist Information office across the street from the Casa Dorada for brochures on all the best Tarija travel and tour options.
If you prefer more rural or natural surroundings, visit the 4 main regions of Tarija and don't miss the 7 natural wonders of Tarija.
View our Tarija photo gallery below and listen to some traditional music from Tarija.