ESPAÑOL
Tamengo Resort Hostel
is a surprisingly gorgeous hostel located in the Bolivian
Pantanal
, one of the most beautiful and biodiverse regions of the country. It is located in the town of Puerto Quijarro in the southeastern part of the state of
Santa Cruz
, a major trading route between Bolivia and the town of Corumbá, Brazil.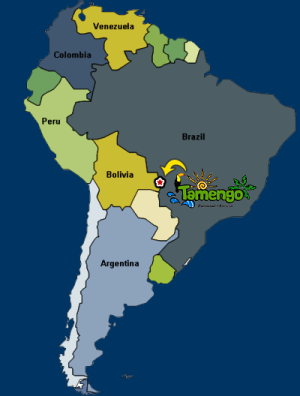 From Wikipedia: Puerto Quijarro is an inland river port and municipality situated on the Tamengo Canal in Bolivia by the border with Brazil. It is part of the province of Germán Busch in the Santa Cruz Department. The Tamengo Canal connects it to the important Paraguay/Paraná waterway. It is Bolivia's only waterway which leads to the ocean.
Officially, its population was 12,903 (2001). Antonio Quijarro was the founder. June 18, 1940 is celebrated has the founding date of the municipality. Roads and a rail-line connect Puerto Quijarro with the rest of Bolivia and with Brazil. The important port of Puerto Aguirre, part of the municipality of Puerto Quijarro, is located on the Tamengo Canal between Puerto Quijarro and Puerto Suarez. The neighbouring town in Brazil is Corumbá.
Corumbá is a municipality in the Brazilian state of Mato Grosso do Sul, 425 km northwest of Campo Grande, the state's capital. It has a population of approximately 96,000 inhabitants, and its economy is based mainly on agriculture, animal husbandry, mineral extraction, and tourism, being the gateway to the biggest wetlands of the world, the Pantanal.
Corumbá International Airport connects it to many Brazilian cities and also operates some international flights. There is also another airport serving Corumbá indirectly: the Puerto Suárez International Airport, 20 km away from the center of the city of Corumbá. The city is one of the few Brazilian cities to be served by two international airports.

About Tamengo Resort Hostel
Tamengo Resort Hostel is an amazing opportunity for someone with vision! Puerto Quijarro is a growing town and the Pantanal is gaining in popularity among tourists. Across the river, Corumbá Brazil is already a well-established tourist town. Santa Cruz is the largest state in Bolivia and its capital city, Santa Cruz de la Sierra, is the largest and fastest growing city in the country. It is frequently called the economic engine of the country. Of Bolivia's nine states, Santa Cruz alone produces over 60% of the country's food and accounts for nearly 40% of the nation's gross national product. This region of Bolivia is very dynamic with a future for continued growth and expansion.
The resort hostel has the best view in the area. It is a hidden paradise in Puerto Quijarro and already a member of Hostelling International. It is conveniently located just 6 blocks from the train station and 5 blocks from the city market and the bus station.
Tamengo features:
- Beautiful gardens brimming with flowers, fruit trees and coconut palm trees
- a 25 x 12.5 meter pool surrounded by palm-roofed huts with a view of the Paraguay River, the Tamengo Channel and the city of Corumbá
- a restaurant and bar
- TV room
- beautiful galleries
- enormous storerooms and garages
- a scenic overlook
- a soccer field
- outdoor grill
- volleyball court
- racquetball court
- facilities for events with a capacity for 400 guests
- 10 rooms with a capacity for 50 guests, some private, some shared
- room for much more.
The property covers an area of 11,000 square meters, of which 3500 square meters are constructed. It has been operating for several years with a high percentage of foreign tourists. The exact address is Calle Costa Rica No. 57, Barrio Copacabana, Puerto Quijarro, Santa Cruz, Bolivia.
Officially assessed at nearly $600,000 dollars, the price has recently been reduced to US$ 490,000.
Foreigners should take note that Tamengo and Puerto Quijarro are located directly on the border between Bolivia and Brazil. By law, foreign individuals may not own land within 50 kilometers of a Bolivian border. Therefore this property would have to be purchased by a "personalidad juridica" or company. We can provide you further details about what this entails. If you're a person of vision and would like more information about Tamengo please contact BoliviaBella Expat Services for more details.