SUSTAINABLE BOLIVIA
is a 501 (c)3 non-profit organization with its main offices in Cochabamba, Bolivia. With projects in the Andean highlands, our primary objective is to provide Bolivian organizations with much needed human and financial resources while providing international students and professionals the opportunity to gain practical work experience through internships and volunteer opportunities in Bolivia.
Volunteering with Sustainable Bolivia
By working closely with local people, volunteers make a positive difference in the lives of Bolivians in Cochabamba and its surrounding areas. Volunteers have the opportunity to contribute to the development and implementation projects within one of our 30+ partner non-profits. Our non-profit partners have diverse areas of expertise such as child and adult education, physiotherapy, orphan care, environmental conservation, new technologies, international law, gender equality, healthcare, housing construction, and much more. All volunteer placements match individual skills and interests to local needs in order to provide the most impactful experience.
Sustainable Bolivia Internships
Many of our partner organizations require minimal time commitments of a month or more (due to considerable training periods); therefore the majority of our internship positions in Cochabamba are only available to those able to make longer time commitments. Personal advantages for longer-term interns include the opportunity to develop deeper relationships with members of the community and the ability to truly see the merit of one's work. Additionally, interns will benefit professionally as they develop new skills, improve their language abilities and gain cross-cultural experience. All long-term volunteers are considered interns and, if desired, will receive a letter of recommendation upon successful completion of their stay.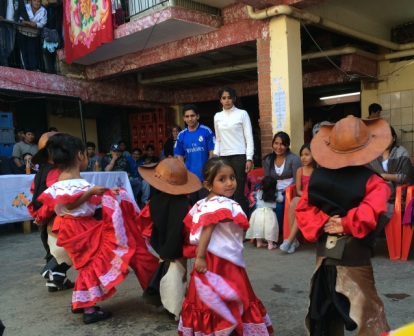 Short Term Volunteers
Unfortunately due to work, school, or financial constraints, many volunteers do not have the capacity to donate months of their time. With these restrictions in mind, Sustainable Bolivia has developed a range of volunteer opportunities that operate on a short term basis. We work hard to accommodate volunteers who wish to maximize their stay in Bolivia and make a lasting contribution, no matter the amount of time that they are able to dedicate to volunteer projects.
What we offer
For all individuals wishing to donate their time, Sustainable Bolivia offers full or part-time volunteer placements/internships, free phone calls to North America and most of Europe, free transport from airport upon arrival, free wireless internet access, free orientation and city map as well as 24 hour staff support. Additionally we provide reduced price language classes, family stay opportunities, private or shared accommodations and reduced travel prices. We also organize optional social activities in the evening and on weekends.


Sustainable Bolivia Language School
SUSTAINABLE BOLIVIA LANGUAGE SCHOOL provides high quality instruction for students of all levels and ages. All of the profits from our language school are reinvested to help support the work of our organization. Our philosophy facilitates a positive studying and working environment while allowing us to employ the most qualified teachers in Cochabamba.

Our goal is to create an optimal learning environment allowing our students to learn and fully enjoy their experience. All of our instruction is private one-to-one lessons with tailor made curriculum to meet the needs of each student. Teaching is balanced between the areas of writing, reading, and grammar, but we place special emphasis on developing conversation skills. Our focus is not only on learning Spanish from a text book but also on the real world experiences of our teachers. Topics include Bolivian history, culture, and religion, as well as current social and political issues. In addition to time spent in class, students have the opportunity to explore Cochabamba and its surroundings accompanied by their teacher.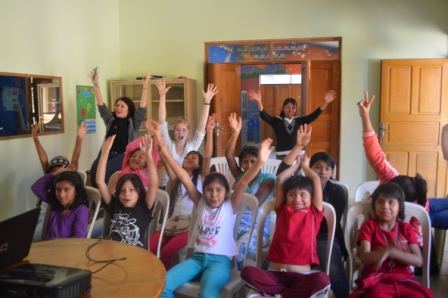 Some of the advantages of studying Spanish or Quechua with Sustainable Bolivia include:

• A professionally developed Spanish and Quechua curriculum taught by highly experienced and motivated teachers.

• One-to-one Spanish classes tailor made to correspond to each student's level.

• All materials, books, notes and photocopies provided free of charge.

• Free additional materials for learning and practicing Spanish pronunciation, comprehension and vocabulary.

• Volunteering/ internship and cultural exchange opportunities through Sustainable Bolivia and other affiliate organizations.

• Experienced travel advice.

• Reasonably priced furnished rooms and family homestays.

• A positive and socially engaging atmosphere.

• Free wireless internet access

• Free telephone calls to North America and much of Europe

If you've already volunteered or taken Spanish language classes with Sustainable Bolivia, please share your story with us! You can insert text and photos in 3 easy steps using the form found on our Volunteer Forum.