Stores in Santa Cruz for Everything You Need

Santa Cruz Home &nbsp City &nbsp Hotels &nbsp Tours &nbsp Photos &nbsp Forum &nbsp Map &nbsp Food &nbsp Plan Your Trip

Use the links above and below to view all pages related to Santa Cruz
Custom Search
We've begun to build a list of stores in Santa Cruz for you on this page. Obviously there are thousands of stores so this is going to take some time!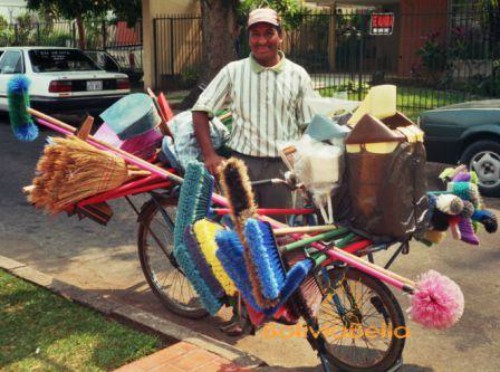 (OK! Just kidding! You won't have to shop like this...although you can!)
There are very few places where you can shop for everything you need all under one roof. Usually you have to do some shopping around. BoliviaBella is for you, so if you can't find what you need, tell Bella what you want! And don't forget that we have a lot of outdoor markets in Bolivia and that Santa Cruz grocery stores frequently stock items you wouldn't expect, like clothing and office supplies. Also, check out the section on malls in Santa Cruz (coming soon) where you'll find lots of choices as well.
Appliances
Baby Stores
Beauty Salon Supplies
Book Stores
Cameras / Photography
Carpenters
Cars / Car Parts
Clothing / Tailors & Seamstresses
Construction (bricks, fencing, cement, paint, lumber...)
Shoes
Accessories (Purses, Belts)
Computers
Cosmetics / Perfume
Electronics
Fabric / Sewing
Flower Shops
Framing
Furniture
Gardening / Landscaping
Gift Shops
Glass Cutters
Grocery Stores
Hardware
Home Improvement Stores
Homeopathic / Organic / Health Supplements
Interior Design / Decor
Jewelry and Gems
Kitchen / Bath
Leather Goods
Lighting
Luggage / Travel Supplies
Medical Supplies
Office / School Supplies / Stationery
Party Stores (for cakes and baked goods see bakeries)
Pets / Pet Supplies
Pharmacies / Medications
Plastics
Pool / Patio
Roofing
Souveniers
Sporting Goods
Tile
Toys



Read my pages on shopping etiquette, bartering in Bolivia, and Bolivian sales taxes before you go. And if you didn't find what you need, feel free to drop me a line. This site is for you! So tell Bella what YOU want.
Santa Cruz Home &nbsp City &nbsp Hotels &nbsp Tours &nbsp Photos &nbsp Forum &nbsp Map &nbsp Food &nbsp Plan Your Trip

Return from Stores in Santa Cruz to Tourism Home Page &nbsp Shopping Home