SECURITY & SAFETY IN SANTA CRUZ

Tourism &nbsp&nbsp Travel &nbsp&nbsp Hotels &nbsp&nbsp Airlines &nbsp&nbsp Restaurants &nbsp&nbsp Agents &nbsp&nbsp Forums &nbsp&nbsp Things to Do
---
Security is a necessary part of living in Santa Cruz (even though this section was written specifically about Santa Cruz most applies to other cities and towns in Bolivia). It's a lovely place to live, but theft is sometimes a problem. Police are often under-trained, under-staffed, or just simply unorganized and response times are long. Most homes are completely surrounded by high walls for both safety and privacy.
It is a common sight to see private guards keeping watch outside these walls. Many also equip their homes with cameras and electronic security systems, alarms and other equipment to prevent home invasions, as do banks, stores and businesses, which often also used the services of armored cars.
Sometimes all the homes on one street or block will pool their resources to hire a security guard to patrol the entire night, or during the day, or both. The cost is divided equally among all homes and each family is expected to pay their portion monthly. If you move into a neighborhood that already has this in place, one of your new neighbors will undoubtedly approach you about this. Ask if there is one, before you choose which home to rent or which neighborhood to move into, and ask about the crime rate in your area. If your street does not have a guard, you could talk to your neighbors to see if they are interested in hiring one together with you. (Be sensitive about your neighbors' financial position and resources).
The following companies provide security services for homes, businesses, and industry. They also provide body guards, 24-hour monitoring and instant response, in Santa Cruz. Other large cities such as La Paz and Cochabamba have similar services.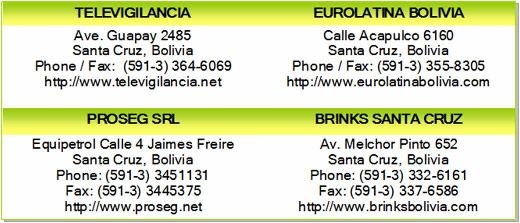 Return from Security to Home Page


Custom Search