The San Isidro Cultural Center is an arts, sports, theater, and cultural facility located in between the neighborhoods of Plan 3000 and Villa 1º de Mayo in Santa Cruz, Bolivia. These are two of the most needy neighborhoods in the city and a very large part of the city's population lives here. It's an organization that I personally support.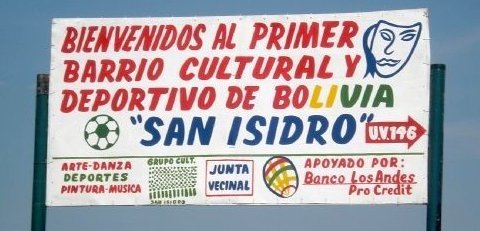 In 2009 our website visitors made donations online so we could fulfill our goal of donating soccer balls to the San Isidro center prior to Christmas. We were able to donate dozens of soccer balls to some very happy and thankful kids. Local TV station FullTV also covered the event. The activities at San Isidro help keep kids off the streets and make a real difference in their lives. I asked the kids, "what did you learn at soccer school today?" Expecting to hear "how to kick, how to pass, etc." the response I got was "respect", "helping each other", "working together", "how to make friends". See how a New York teenager was changed by her visit to San Isidro. The center needs donations all year round. See below how you can volunteer or donate too.


San Isidro is the brainchild of Fernando Figueroa, his brother Pablo Sejas, and several other friends who saw the need to bring hope to their community. All are young. Fernando is 31 and Pablo is 27. Their friends are younger.
Nevertheless, given that their neighborhood has been all but forgotten by city managers they took it upon themselves to organize, plan and dedicate themselves to bringing some fun, education, and learning to the children and young people in their community. Rarely have I seen such initiative and such a spirit of proactive energy as I have at San Isidro. Over the years the center has receive numerous awards and trophies and has been named Bolivia's first culture, arts and sports community. Plans are underway to emulate the example these young people have shown in communities throughout the nation.
Fernando we was born in Tarija in 1978. He arrived in Santa Cruz in 1998 after having accompanied his parents through several cities and towns of Bolivia throughout his youth. Everything was new to him but he adjusted quickly and entered the University to study sociology. His experience living in San Isidro, allegedly a "red light district", and the direction his theoretical studies took, gave him a deep understanding of the local reality.
Since his first years in the University he has participated in many volunteer settings, done research, and participated in workshops, courses seminars and encounters on subjects such as the environment, effective citizenship, democracy and participation, integration and the promotion of culture, and others. He also participated in establishing university and school networks to strengthen solidarity and trust, and construct a more just society.
What motivated him to carry out all these activities and dedicate so much of his time with no pay other than the gratitude of the people his actions benefitted? Fernando tells us of something that had a very deep impact on him:
"One day, a lady knocked on the door of my house and asked me if I happened to have some specific schoolbooks her children needed. I told her that I didn't and she began to cry. My reaction was to ask her why she was crying and tell her there was a solution, we could make photocopies. She answered that the school didn't allow photocopies. Each textbook cost Bs. 70 ($10 dollars) and she had 4 children so the total was about 280 bolivianos ($40), and she needed to stretch that amount to sustain her family for a month or two. So we talked with some friends and we began to organize and think about what we could possibly do."


From this moment on Fernando began to develop several projects which resulted in the creation of the Centro Cultural San Isidro (San Isidro Cultural Center); but prior to this, he worked with his friends at the Gabriel René Moreno University on projects such as the creation of ecological groups and a street theater group. The goal of each of these was to train and guide young people.
Fernando explains the need for these initiatives: "We saw that one of the needs of our society, and among these children, is the lack of decision-making, not because they lack the will to do so, but because they lack information. So we formed the university ecological group and began to work on three themes: training and leadership, the environment and sustainable development, and the creation and organization of youth groups." The university group worked with schools, forming a network of six ecological groups. The project was successful and the schoolchildren themselves continued on with the ecological groups on their own, thus perpetuating the initiative beyond its initial inception.
Professionally Fernando has worked with different organizations and institutions. As of 2002 he's been the project coordinator for an NGO called Centro Para la Participación y el Desarrollo Humano Sostenible (Center for Participation and Sustainable Human Development or CEPAD Bolivia) and the Centro de Estudios Amazónicos (Center for Amazon Research or CEAM-España). In these two organizations he works on concrete projects geared to strengthening the participation of grassroots organizations by training men and women to be leaders so they can construct a just society and promote democracy, power and democracy, and local governability, thus guaranteeing citizens will have ability to fully exercise their rights and obligations.
Along the same lines, the promotion of integral development among citizens, Fernando founded the "San Isidro" Cultural Center. All his personal and professional experience led him to establish this project. The Cultural Center was created with what Fernando describes as "the sum of wills." A group of friends met at Fernando's house to plan weekend activities for the neighborhood children. "Well, one April 12th, a very symbolic day for us because it is also Día del Niño (Children's Day) in Bolivia, we decided to organize to have an influence on society. We decided to work for our neighborhood and I remembered the experience I had when that woman knocked on my door looking for textbooks." They organized theater and arts activities, sporting events, raffles, anything to bring some happiness to the lives of the children who have been forgotten by the government and stigmatized by society.
Fernando says in a pained tone of voice that according to statistics, there are about 60 violent gangs in his district. The term "gang" is associated with violence and drugs. But he began to realize that he was a part of these gangs because his friends had to organize to protect themselves and their families from different groups, and even from the police themselves.
Knowing what an impact Fernando and his friends have had on this neighborhood and nationally, it is evident how unjust the stereotypes used by the media to describe these areas are: like calling them marginal or marginalized neighborhoods.


In 2005 Fernando met with members of a foundation called AVINA with, in his own words, "the innocent intention of telling them about my experiences". This turned out to be very decisive concerning the activities carried out at the San Isidro Cultural Center. On this occasion someone mentioned street soccer to him. He had never heard of it. But the AVINA Foundation offered him the opportunity to travel to Argentina to visit the Defensores del Chaco, a street soccer club that had been active for some time.
Fernando, along with the municipal mayors with whom he had been working, traveled to Buenos Aires. Fernando confesses that he identified well with the situation in which the children of Moreno, a marginal neighborhood of Buenos Aires, found themselves. He saw the same abandonment and the same poverty, but he also witnessed the same desire to change things. What impacted him the most was the training and play methodology being used by Defensores del Chaco. Men and women participated under equal conditions; there were no referees; the teams set the rules prior to each game.
"A different type of game is promoted, solidarity, sportsmanship and peace are respected. It's not just about counting how many goals were made. It's about how the game itself is played. There is a discussion after the game using critique and self-critique. You analyze whether or not the women participated, if the men were egotistical, if anyone used swear words or if there was any violence during the game. Based on this you make an evaluation to see if respect and tolerance have been shown…" The Defensores del Chaco experience greatly inspired Fernando and especially when the Argentinean representatives invited Bolivia to participate in the South American Street Soccer championship.
Fernando returned to Santa Cruz in October determined to carry out this project and began to organize a local championship in order to set up a team to travel to Argentina for the Copa Sudamericana (South American Cup) which was to take place in November. He had one month to form a team, find funding for the trip, and get to the championship. Fernando admits that it would have been much easier to simply choose the best soccer players from among the San Isidro children and form a team. However, he asked friends to help him with this effort. They organized a tournament to choose the most outstanding boys and girls from both rural and urban areas.
The local media supported this effort as well and 30 teams of young people between the ages of 16 and 21 signed up. The event took place, players were chosen to form the team, and training began. Fernando and his friends knocked on doors searching for ways to fund the team's trip to Argentina. It was hard, very hard even though they only needed about $1000 dollars. Companies were unwilling to support this young organization because, Fernando observed, they preferred to support projects that were already established as they stood to benefit from the publicity.
However, again with support from AVINA, the team readied for its trip to Buenos Aires and on the last day the Banco de los Andes decided to support them as well. They traveled to Argentina, shared experiences with 26 teams from different South American teams, and, although they didn't win, they obtained a very good standing in the championship. This was a source of pride for both the players and the organizers. The returned to Santa Cruz and were warmly received by the neighborhood.
But the greatest challenge was yet to present itself: just days after returning they received an invitation to participate in the first Worldwide Street Soccer championship in Berlin, hosted by none other than the FIFA* itself, and set to take place at the parallel to the official 2006 championship.
*The Fédération Internationale de Football Association (FIFA) is an association governed by Swiss law founded in 1904 and based in Zurich. It has 208 member associations and its goal, enshrined in its Statutes, is the constant improvement of football (soccer). FIFA employs some 310 people from over 35 nations and is composed of a Congress (legislative body), Executive Committee (executive body), General Secretariat (administrative body) and committees (assisting the Executive Committee).
Again the battle begins. Again there is little time and no funding. But again Fernando and his team made every effort believing that with good will and personal commitment they could move mountains. With support from some of the neighborhood inhabitants they began fundraising activities such as campaigns and raffles. The entire neighborhood of San Isidro seemed to identify with the goal of sending their Bolivian team to Germany. Fernando was very grateful to his enthusiastic neighbors. Some of them even got angry saying, "Why didn't you tell me? I also want to help out."
In the meantime the team began to train. Their soccer field was in extremely poor condition and constantly flooded when it rained. The young people had to walk five kilometers to train at a city park called the Parque Urbano. But companies continued to turn down support for the team so again they began knocking on doors. Again they wrote hundreds of letters to companies requesting their support. Finally, the efforts Fernando and his friends made to get local media coverage turned out to be very decisive. All the television channels supported them. The newspapers wrote that the young people were going to lose their chance to represent Bolivia in the First World Street Soccer Cup.
Finally, one day a Reuters journalist contacted Fernando and invited him to travel to La Paz. He organized an encounter with President Evo Morales in the Government Palace. Fernando couldn't believe it. After speaking with the President and explaining that street soccer can actually be considered the sport of the "social movements" the President assured him that the Government would fully support the young team and that Bolivia would participate in the World Championship.
Fernando immediately told the young people and they made their way to La Paz by bus. They met at the Government Palace for the act to commemorate the delivery of funds and were received there by President Evo Morales, the Government Spokesman and the Government Minister. And, as Fernando says, the young people broke all protocol by giving the President one of the t-shirts the team had worn in Argentina and a hand-held wooden massager they had made themselves, as many of them are artisans. "This is for you so you can give yourself a massage after your soccer games," they told Evo when they presented him with this gift.
After this gesture by the government, local companies such as COTAS, ENTEL, FairPlay, and the Banco de los Andes decided to support them. With the decisive support of the government and some of these companies the team returned to Santa Cruz to prepare for departure…and then an accident happened. Fernando's eyes fill with tears as he tells of what happened next. Three days prior to departure a friend called him at the center to tell him something terrible had happened.
Vico, the team goalkeeper had had an accident, was in the hospital and would need an operation. He had lost three fingers from his right hand while carving wood. Fernando, still moved, describes his visit to the hospital; "I saw Vico and he was lying on a stretcher with his hand wrapped up in cotton and he said to me, 'Forgive me.' He said 'forgive me, I just wanted to help my family.' And I began to cry."
Vico, an artisan, worked with wood. His mother traveled constantly to various artisan's markets in Bolivia to sell his products while Vico stayed behind as the head of the family. He's 22 years old now. So the question was "what do we do now?" At no time did it occur to Fernando to leave Vico behind.
The organizers in Germany told him they would give Vico a special welcome and that he would be the championship's symbolic player, in representation of all young workers involved in the tournament. Thus, finally, the team travelled to Germany. They left their neighborhood, got on a city bus, boarded a plane and crossed the ocean to another continent, other countries, and different cultures. They were very nervous and carried the responsibility of representing their country. Bolivian residents abroad gave them a warm welcome and a traumatologist, married to a Bolivian woman, treated Vico during their entire stay. This is how Fernando qualifies the atmosphere at the World Street Soccer Cup:
"There was an incredible sense of solidarity…we were boarded at a school and the young players were very impressed. It impacted them to see that people didn't speak their same language, to see people from all parts of the world…there was a Judeo-Palestinian team, another team from the Balcans, and others from Kenya, Poland, South Africa, Senegal…on the day of the inauguration everyone applauded Vico in a stadium specially constructed for the event in one of the most conflictive zones of Berlin."
After several games a Santa Cruz, Bolivia newspaper "El Deber" and a Bolivian television station (a program called "Facetas Deportivas") arrived to cover the event. They were covering the official World Cup but left that to cover the Street Soccer Tournament. The Bolivian team's success was truly incredible: "There we did count goals, but there was also much reflection…and much good luck. Bolivia beat Brazil 6 to 2, Argentina 3 to 0, Rwanda 6 to 3…we played 15 or 20 games and beat Puerto Rico, Peru and others…I always say that at the official World Cup there was no Latin American team but Bolivia was present to represent everyone.
We came in third. Kenya, Rwanda and Bolivia were the three top winners. In our country they called us the "Bolivian Street Soccer Team". The point we made is that on the streets there is another type of soccer, or language, another way to have fun and construct democracy in a school without walls. The stadium in which we played had 1500 seats, all were full, and everyone shouted 'Bolivia!' 'Bolivia!'. And so we put Bolivia on the map. So much so that German television broadcast one of our games live. Our satisfaction doesn't come from winning for the sake of winning. It's the happiness that comes from showing the country that we can overcome and that it's essential to support children and youth. And it's urgent and necessary that we believe in ourselves."
After the World Cup finished the German organizers took the Chilean and Bolivian street soccer teams to the Baltic Sea. This encounter, according to Fernando, was a demonstration of "the diplomacy that the people can also exercise, not only governments. And the kids were able to build friendships that have lasted until now because they write each others, and send photos to the Chileans."
When they arrived at the shores the young peoples' first reaction was complete exaltation. They shouted "the ocean, the ocean, the ocean!" And then something funny happened: "They began to run toward the water and then suddenly, when they reached the beach, they all stopped short! Everyone on the beach was nude. It was a nudist beach! But in the end they all got in the water anyways. They took off all their clothes. They were happy. They would not have these attitudes here in Bolivia, in a society such as ours…there they allowed their natural state to shine through, and truly lived the experience."
Fernando's testimony leaves us with this image of the kids running toward the sea, with the image of youth, energy and hope. Now, Fernando's dream is to reproduce this experience, expand it, and provide more opportunities for more young Bolivians by consolidating the San Isidro soccer school and creating a Bolivian Street Soccer Network. The objective is to create the First Bolivian Cultural and Sporting Neighborhood. "We dream," says Fernando, "but we dream with our feet firmly planted on the ground." And they truly, literally do so: they dream with their feet, kicking the ball through the streets of our city.
How you can help San Isidro
The San Isidro Cultural Center of Santa Cruz, Bolivia is in constant need of sports equipment, arts and crafts materials, musical instruments, theater accessories and volunteers. They recently added a wrestling ring. Their community theater area needs seating, lighting and fans. The over 250 soccer students completely shred about 10 soccer balls per WEEK! They also need nets, uniforms and cleats. Most urgent is the need for an electric pump to suction the water from the fields and courts after each rainfall (see photos). Santa Cruz is in the middle of a dengue crisis of pandemic proportions because it has been impossible to eliminate mosquitos due to all the stagnant water in neighborhoods all over the city. Hopelessness and frustration are something these young people struggle with every day.
If you'd like to volunteer at San Isidro or donate equipment or materials, please contact Fernando using the form below. The center functions completely on donations and needs them througout the year. If you'd like to make a donation, you can do so through BoliviaBella's PayPal account, marking your donation SAN ISIDRO. This cause is very close to our hearts and we can use your help. Please consider giving of your resources or time. The children and young people of San Isidro are future leaders of Bolivia and ensuring they receive positive motivation is essential. You can make a secure donation through PayPal and will receive a Donor's Appreciation Certificate when your donation has been received. Any help you can provide will be greatly appreciated. For more information in English you can also contact Bella.


Volunteer Home Page
Forum
Facts
Visas
Spanish
Travel Planner