Quinta Victoria is lovely. This privately owned property, just past the tiny town of
Porongo
and only 35 minutes from the city of
Santa Cruz
, is perfect for a weekend getaway. You can leave the noise and traffic of the city behind in minutes as you drive North past the residential neighborhood of Equipetrol and cross the
Pirai River
.
Owner Mario Andrade and his wife Norma Velasco purchased this property and gradually built it to their own personal specifications, planning to live on it eventually. Every detail is perfectly planned and integrated into the surrounding environment. Now they offer you exclusive use of the quinta so you can enjoy the tranquility of a weekend in the country amidst gorgeous surroundings, with a beautiful hilltop view.
As you reach the opposite bank of the Urubó bridge and pass the entrance to Colinas del Urubó, you'll find yourself sliding peacefully into a restful state of mind. For the next 30 minutes you'll drive along both paved and dirt roads, through some of the city's newest exclusive neighborhoods, and past the famous La Rinconada Restaurant and Güembé, the world's largest butterfly sanctuary and orchidarium, after which the road opens into the forest. Both sides of the stretch from here to Porongo are flanked by stands of palm trees, toborochis and tajibo trees. The vegetation thickens as you continue away from the city. Then abruptly, you'll come upon a shocking area of unannounced sand dunes!
To your left you'll pass Laguna Capihuara bordered by beachy waves of sand. Though not a huge lagoon, it's a popular weekend swimming, picnic and play area among locals. To your right you'll see more long, low dunes, sparse vegetation, and tall prairie grass. These dunes "travel" as much as 20 meters per year and often blow across the road. As abruptly as you encounter them, they disappear and after just a few more turns in the road, and you'll come upon the laid-back town of Porongo, where several popular festivals take place throughout the year. Porongo has two interesting attractions. The first is its church, built in the traditional Jesuit Mission style and worthy of a 10-minute stop if you appreciate baroque-style art, wood carving and religious relics. The second is located across the street: oddly, Porongo's main plaza is a near-regulation sized soccer field!
You'll drive past the Porongo open market (your last stop for some basic goods if you've forgotten anything), a jatata thatched restaurant, and several colonial style homes, and here the tiny town ends. Quinta Victoria awaits you just 10 minutes down the road. You'll come to a fork in the road marked by a blue painted cross. Stay to the right. At this point the terrain becomes hilly and the landscape offers a beautiful view. Along this road you'll drive by several quintas with pretty gardens and fruit trees and traditional thatch-roofed homes complete with families of chickens.
If you prefer not to drive, let Quinta Victoria know you'll need a ride and they'll arrange round trip transportation for you for a small surcharge.
As you enter through the outer gate of this large property, and up the main driveway, you'll see a pool to your left and a group of cabins to your right. After a big slimy hello from Quinta Victoria's resident canine greeter, my attention was immediately attracted to the many hammocks between cabin columns, and under the cool shady trees. A stone Buddha fountain eyes you on your way into the outdoor thatch-roofed dining hall featuring an enormous grill and cooking area, tables enough for 15-20 people and colorful hammocks. Here we enjoyed cold citrus juice under windblown palm fronds before taking a tour of the cabins.
Now, usually when you think of a country hacienda or quinta you imagine rustic country décor and furniture and the absence of urban amenities. What I encountered as we toured the cabins was a perfect blend of comfort, tranquility, top quality furnishings, and an amazing array of artwork! I hadn't imagined deep red walls, bright African paintings, or a 6-foot tall stargazing telescope. Walking through the property and structures was like touring an art gallery in the middle of the wilderness.
Cabin 1 has a double bed on the first floor, a second bed on the mezzanine above it, and complementary furnishings and décor, along with large pieces of art and the telescope. From the mezzanine you can look down onto an indoor den and dining area. This cabin alone can house a family of 4, has its own restroom, and opens out onto an outdoor veranda with wooden dining tables and colorful orange hammocks.
Past this dining area and across a wooden bridge you arrive at a raised deck overlooking the beautiful sloped landscape below. It opens into the den of Cabin 2 complete with leather furniture, windows all around and another mezzanine above with a bed overlooking the valley through an attic-style window. On its opposite side it opens onto a small porch and around the corner are two more rooms with several beds and another restroom. Exiting through the opposite side of this room you reach the den, dining area and kitchen you look down upon from the mezzanine of Cabin 1, which open out onto the front lawn.
Across the lawn a third cabin houses a full office complete with sofas and a bay window that overlooks the hilly landscape, a computer (with Internet access if you specify in advance) and an enormous executive desk.
Behind this cabin you'll see the only thing that appears to be incongruous about this property (until you enter): a large trailer. At first glance I assumed it was used for storage. Wrong! The interior of this air conditioned trailer, previously used in oil fields as a dormitory for personnel, is lovely! The walls are covered with some of the largest of the family's collection of paintings, and is actually another full cabin complete with beds and nightstands, a dressing area, and den furniture to boot. There are ten beds in all, most of which are double or queen-sized beds.
When you reserve Quinta Victoria the entire property is exclusively yours! Whether you are a party of 2 or 20, you own it for the time you've reserved. It's a perfect secluded weekend for two or a breezy country outing for a large family, or three. And as Quinta Victoria comes complete with dens and offices I can't imagine a nicer place for a seminar, training week or institutional retreat.
No details have been left out. All bedrooms, restrooms, dens, offices, dining rooms and kitchen areas are fully equipped. All you have to bring is food and drinks. You can choose to do your own cooking, or request full staff and meals. Either way, the staff is on hand for housekeeping and anything else you might need.
Everything about Quinta Victoria is colorful and cheery, airy and soothing, perfectly styled and filled with rich décor. Mario and Norma planned and decorated each room together, blending styles and colors (such as paintings from Africa, hand-painted Mexican dishes, delicate Italian glass, hand-carved benches, lacy hammocks, and huge leather armchairs, spry stools and soft slouchy couches). The furniture, art pieces and décor, (mostly collected during their travels) somehow all come together in an eclectic mix of rustic architecture and exteriors, and haute indoor refinement.
The gardens are equally beautiful. With sloping grass-covered hills, stands of tall rustling palms, a sparkling pool, swaying hammocks, odd guapurú trees, and a near 360º view of the valley and plains from the verandas and decks, Quinta Victoria is the perfect place to soothe your soul.


An Exclusive Discount Just for You!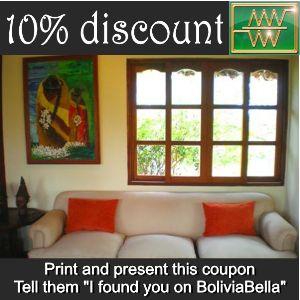 Mario and his family also own the Machacamarca café and coffee plantation in the Yungas region North of La Paz. They grow their coffee for export, but you can purchase the actual coffee at Quinta Victoria.
Next to the office at Quinta Victoria you'll see a very peculiar tree with round fruits growing directly out of the bark on its trunk and branches. That's the guapurú tree. Mario makes spectacular guapurú liqueur, also sold at Quinta Victoria.
The nearby town of Porongo is famous for its annual Achachairú Festival, which takes place in January of each year. The achachairú is a small round citrus fruit native to Bolivia. It's delicious as a juice. Pick some up (when they're in season) at the market on your way to the quinta.
If you're an avid birdwatcher, Quinta Victoria is an ideal place for bird-watching and bird photography, with an abundance of oropendola, brightly-colored tanagers, parrots, ovenbirds, tyrants, hummingbirds, toucanets and other exotic tropical species. Take a pair of binoculars so you don't miss any of Bolivia's many colorful native bird species, some of which do not exist anywhere else in the world.
Things I suggest you take with you: a volleyball, toys and games for kids and teens, an easel and paint (if you're an artist you'll get inspired and if you're not you'll wish you were), mosquito repellent, swimwear, sunglasses, sunblock, food or snacks, bottled water, and do NOT forget your camera!
There's a real clay outdoor oven at Quinta Victoria. It's not unusual to see these in rural areas of Bolivia. It's real and it's functional. Print out my recipe for oven-baked humintas, a traditional cruceño teatime treat, traditionally baked in just such an oven. Be adventurous and bake some! It'll add to the authenticity of your experience.
Mario tells me if you enjoy horseback riding, you can do that too! Just let them know in advance and they'll provide the horses and gear.


Pricing, Available Packages and Other Details
Remember, when you make a reservation
THE ENTIRE QUINTA is exclusively yours!
SPEND JUST THE DAY AT QUINTA VICTORIA
2 to 6 people: us$50.00 ($60 on weekends)
Each additional person: us$6.00
ONE DAY AND ONE NIGHT AT QUINTA VICTORIA
2 people: us$70.00 including breakfast ($80 on weekends)
Up to 10 additional visitors: $20 per person including breakfast ($25 on weekends)
TWO DAYS AND ONE NIGHT AT QUINTA VICTORIA
2 people: us$100.00 including breakfast
Up to 10 additional visitors: us$20.00 per person including breakfast
TWO DAYS AND TWO NIGHTS AT QUINTA VICTORIA
2 people: us$130.00 including breakfast
Up to 10 additional visitors: us$25.00 per person including breakfast
TO USE THE QUINTA FOR LONGER PERIODS
Please contact us so we can customize a package for you.
ADDITIONAL INFORMATION
• Children under 10 years of age pay only 50% of the per person price
• Quinta Victoria also offers lunch and teatime menus if you prefer not to cook.
• If you plan to drive, view the map on Quinta Victoria's website. Click on "Mapa"
• To see the actual floorplans of each cabin, click on "Paquetes" and then on "Cabañas"
FACILITIES, ACCOMMODATIONS AND AMENITIES
Quinta Victoria has a total of 3 full-sized cabins, 10 beds (most are double), 3 full restrooms all with hot water, 3 living rooms, 4 additional sitting areas (2 indoors and 2 outdoors), a fully equipped office with computer and internet service, 3 dining areas (1 indoors and 2 outdoors), a fully equipped indoor kitchen, a fully equipped outdoor grilling area with counters and sink, a fully functional outdoor clay oven, a pool, and a volleyball court - all on 3 hectares of land.