Naturalia was the first store to specialize in organic gourmet and health foods in general in Santa Cruz, Bolivia. Several years ago, when my friend Cecilia Zbinden decided to open a store that specialized in healthy, organic foods in Santa Cruz I was ecstatic! I thought, "yeah! finally!" but Ceci's idea went way beyond just selling gourmet Bolivian foods, options for vegetarians and just plain health food lovers. Read on!
Calle Independencia No. 474 Between Mercado and Manuel Ignacio Phone: 333-4374

Total Wellness - Body, Mind and Spirit
The idea behind Naturalia was to provide a store where everyone would have great options for total wellness - body, mind and spirit. In addition to organic food, vegetarian food, gourmet options, and other healthy foods for your body, Cecilia wanted to offer options for those who care about themselves integrally.
At Naturalia, aside from hundreds of food products, you can also find a selection of books with recipes for your physical health, spiritual enlightenment, and mental health. In addition, Naturalia carries a wide array of candles and ornaments, home decore items, incense, all kinds of music, paintings, books on both physical and spiritual wellness, and much more. And on occasion you can take cooking classes or learn about yoga, Reiki and other forms of meditation, and other options for total wellness, from chefs and instructors that Ceci invites for short seminars.
She also wanted to feature as many Bolivian products as possible. Did you know that Bolivia is a top producer of organic food products in South America? From it's incredibly varied topography including from some of the highest mountains in the world, to the most biodiverse rainforest in the world, come some of the healthiest organic gourmet foods on Earth! Not only did Cecilia want to offer these options to her customers seeking a healthier lifestyle, she really wanted to be sure that the sales from all the products in her store would ultimately benefit the Bolivian people and communities that produce them. Many of them hear of Naturalia and travel all the way from the Andes to offer her their products! Still, you will also find lots of great imported foods too!
I loved her idea so much I jumped at the chance to work out a full marketing plan with her and spent a ton of time at Naturalia during her first year in business so I can tell all about this special store first hand because I know it inside and out. Cruceños in general are very conscious of all aspects of health and beauty, so Naturalia just feels like a natural extension of society in Santa Cruz. But it's also extremely popular among foreigners. I think I run into at least one non-Bolivian every single time I enter the store. It's built up quite a clientele in the past 9 years and has had to expand its space 3 times. Today Naturalia has tripled in size, yet still feels warm and welcoming when you enter.

For Your Physical Health

Some of the specific organic gourmet foods you'll find at Naturalia include:
Free range chickens and their eggs (fed only healthy foods, these chickens come from Cecilia's own farm).
Organic chocolates and cacao from the Bolivia's rainforest regions - named by scientists as the most biodiverse region on Earth.
Several varieties of lettuce, artichokes, tomatoes, tons of other vegetables, organic Bolivian fruit and fruit juices, and even edible flowers and many varieties of tea from Bolivia's central valleys. You can order a nice icy cold fruit FRAPPE made with any of the natural fruits Naturalia has on hand - mango, strawberry, acerola, starfruit, papaya, maracuya, etc. If you want to sample great Bolivian exotic fruits you haven't tried before, there's no better way than in an icy frappe.
Organic gourmet coffees from the Bolivian Yungas (an incredible rainforest region high up in the Andes mountains, over 2000 meters above sea level).
Cave mushrooms, yogurt and other dairy products, herbs and the best cold cuts and smokes meats from Bolivian and European producers in the Andes foothills near Samaipata.
Quinoa, amaranth, cañawa, oatmeal, flax, poppy seeds, sesame seeds, all types of nuts, dried fruits and vegetables (try the dehydrated tomatoes - yum!) and cereals from all over Bolivia!!
Exotic jams, jellies and preserves from all over Bolivia - like jalapeño jelly, mango chutney, guava jam (my fave) and many others.
There are so many varieties of healthy organic gourmet breads at Naturalia, as well as cookies, crackers, and energy bars.

For Your Spiritual Wellbeing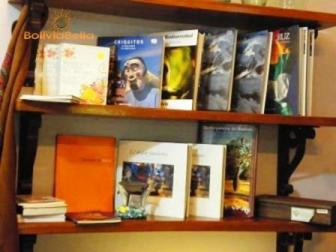 At Naturalia you can find lots of recipe books and beautiful books from some of Bolivia's greatest photographers, but you'll also find books on meditation, yoga, reiki, and other subjects relating to mental and spiritual wellbeing, as well as a variety of CD's with music for meditation and relaxation.
Pick up some scented candles or incense, or ask Ceci about where you can take yoga or Reiki classes. She practices Reiki and once did a full 10-day Vipassana silent meditation course that blew me away! Sometimes you can also take seminars from guests she invites and even great local chefs!

For Your Home and Garden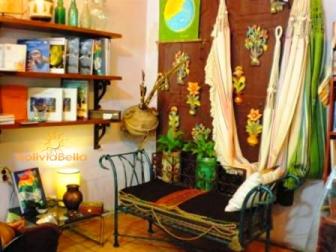 When you enter Naturalia you'll first notice all the organic gourmet food options of course, but take a full look around because once you enter, you'll probably be here for a while.
Throughout the store you'll see lamps, original paintings, home decor items, woven goods, candles, plants (like some of Bolivia's most beautiful orchids) and much more. Pick up some jewelry made from organic products like coconut shells and beautiful seeds, hand-woven scarves, or pretty table coverings. You can also buy beautiful Bolivian hammocks and souvenirs.

The Deli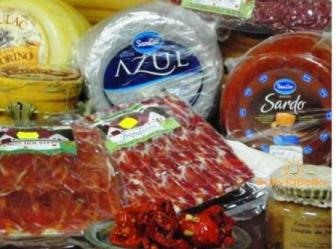 Naturalia has a full café (read more about it below) and also a full deli with some of the best cold meats and cheeses in the world. We all know the Swiss are the best cheese makers in the world and Germans are famous for their deli meats and smoked sausage! Naturalia carries items produced by German and Swiss residents of Bolivia that are beyond believably good! (Being German myself, I was in heaven when I found out I could get the sausages my mom always made us for breakfast as a kid).
You'll also find pickled products and lots of delicious preserves like tomatoes, olives and other vegetables in organic gourmet olive oils, vinegars and seasonings. Soon the deli will be offering "tablas" - that's where you get a cutting board and fill it up with a variety of deli meats, cheeses, olives and other preserves.
There are three special things you can get at the Naturalia Deli: ceviche, carbon grilled "galeto-style" chicken, and tablas.
Ceviche is sold on Saturdays (they call it Sabado de Ceviche) and it's made with all kinds of seafood. Typically in Bolivia, since this is a landlocked country, most ceviche is made with "surubi" which is a type of river whitefish that is fished in Northern Bolivia. However, at Naturalia the ceviche is made with real imported seafood including shrimp.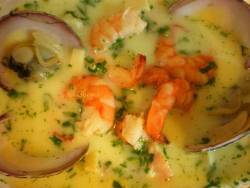 Tablas are deli platters. Naturalia sells entire platter served with fresh cold meats and cheese and crackers. You buy the entire platter and if you call ahead, you can order several for take-out or delivery for any event.


Galeto-style chickens are whole chickens grilled on a carbon grill. It's very common in Brazil and cannot be found anywhere else in Santa Cruz that I know of. Because they are small chickens, similar to cornish hens, I hear it is common in Brazil for each person to eat a whole chicken. They're really delicious! Naturalia's galeto-style chickens are available for take-out or by order and can be delivered for your special events.

Café Naturalia (WiFi Available)

Plan to take your time when you come to Naturalia so you can enjoy a moment of rest and relaxation at Naturalia Café where you can order any of the organic gourmet coffees or teas in offered in the store, along with apple strudel (Ceci makes it), cakes or muffins, cookies or chocolates, biscotti, lemon meringue pie, cheesecake, and lots of other delicious goods baked by Bolivian and foreign bakers every day - including me!
On the menu you'll also find sandwiches (a good chance to sample some of the German and Swiss cold cuts), organic fruit juices, and other organic gourmet foods. You can even have cereal or granola, oatmeal - just purchase a packet and ask them to add some milk. If you just insist upon working and not relaxing you can totally bring your computer and spend some time online - WiFi is available.
Naturalia carries many types of breads, jams and jellies too. I don't know why, but in Santa Cruz there are more varieties of bread than I've seen anywhere except maybe in Germany. If you like healthy breads and rolls filled with seeds and nuts, this is the place for you!
If you have special dietary needs Naturalia offers many organic gourmet products for diabetics, people with specific allergies, or even just health nuts or those of us who are on a diet. You can ask for brown sugar, raw cane sugar or Stevia if you prefer to sweeten your coffee with something less processed than normal sugar. (By the way, in Bolivia sugar is NOT made from beets, as is much of the sugar consumed in the U.S. Here you get pure sugarcane sugar!)
When you come to Naturalia, you always end up learning something - either about your health, about Bolivia, about a new product... or just about yourself. At the very least you'll leave feeling like you'll never put another processed product into your mouth again! It just sort of makes you WANT to be healthy!
Naturalia has a HUGE repeat customer base. And you make friends here! I think the café has a lot to do with that, so when you shop at Naturalia, plan to spend some time... because invariably you'll end up meeting someone you know. What began simply as an organic gourmet food store has now become a community. I'll see you there!
Naturalia is located on Calle Independencia between Calle Mercado and Calle Manuel Ignacio Salvatierra. The phone is: 333-4374. Their hours are:
8.30 am - 1.00pm and 3.30pm - 8.00pm Monday through Friday
8.30am - 2.00pm Saturdays They are closed on Sundays