Jerry Peek is a BoliviaBella.com and
RutaVerdeBolivia.com
2008 Bolivia Photography Contest winner. With his photo titled "Colores de La Paz" (Colors of La Paz), he won first place in the "Best Photo of an Urban Setting in a Bolivian City" category. Read more about Jerry below:
Jerry Peek es uno de los ganadores del Concurso de Fotografía de Bolivia 2008 de BoliviaBella.com y RutaVerdeBolivia.com. Con su foto "Colores de La Paz" ganó el primer lugar en la categoría "Mejor Foto Urbana de Una Ciudad Boliviana". Véase más acerca de Jerry a continuación: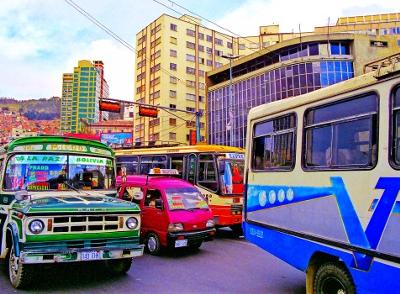 JERRY PEEK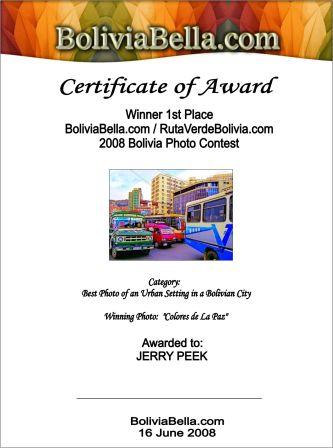 While I was visiting friends near Machu Picchu, I realized that I could take a few days to see a bit of Bolivia. I spent lots of time on buses, but the buses were excellent. I visited La Paz, Sucre, and Potosi. If you'd like to see photos of my trip, click there. (By the way, the altitude wasn't a problem for me because I'd gotten used to it in Peru. When I come back, though, I'll probably fly into Santa Cruz -- and work my way up to the higher elevations later.)
As many turistas do when they visit La Paz, I walked around the Plaza San Francisco, admiring the buildings and enjoying the Bolivian people there. Near the plaza, though, was this very different scene -- a busy street with buildings and hills behind -- that was full of energy and color. (To help recreate the feel, I used a powerful free photo editor to brighten the photo and add color.)
Mientras visitaba a unos amigos cerca de Macchu Picchu, me di cuenta que podría tomar unos días para viajar a Bolivia. Pasé bastante tiempo en flotas, pero encontré que eran de excelente calidad. Visité a La Paz, Sucre y Potosí. Si te gustaría ver fotos de mi viaje, oprime aquí. (A propósito, la altura no me afectó ya que me había acostumbrado a la misma mientras estaba en Perú. Sin embargo, cuando vuelva, probablemente viaje primero a Santa Cruz para luego acostumbrarme viajando poco a poco a ciudades más elevadas).
Como hacen muchos turistas cuando visitan a La Paz, caminé por la Plaza San Francisco, admirando los edificios y disfrutando ver la gente boliviana. Cerca de la plaza, sin embargo, vi una escena muy diferente -- llena de energía y colores. (Para resaltar en la foto lo que yo vi y sentí, usé un editor de fotografías para clarearla y agregar un poco de color).
I'm a writer and sometime photographer from the US. My new business, sites4people.com helps people build their own websites. My personal website is www.jpeek.com.

Soy escritor y a veces soy fotógrafo en los Estados Unidos. Mi nuevo negocio sites4people.com ayuda a las personas a construir sus propios portales en la red. Mi portal personal es www.jpeek.com