Hostels and Hotels in Tarija Bolivia

---
Hotels | Plan Your Trip | Tarija Home Page | Tourism Home Page
---
To help you find hotels in Tarija Bolivia we personally visited, reviewed, and took photos of each of the Tarija hotels featured on this page. We met with owners, managers and staff, toured each hotel, and got all the information you need to choose hotels in Tarija. For more hostels and hotels in Tarija, visit the Prefecture of Tarija's Tourist Information Office on Calle Sucre. You will a surprisingly large number of inexpensive and luxury hotels in Tarija. Read more about them in our
Bolivia Hotel Review
or share your own experience.
Book Hotels in Tarija Bolivia
Bolivian hotels are kind of "all over the place" when it comes to listing themselves on booking sites so that you can make reservations online. You'll find almost all of the 4 and 5 star hotels in Bolivia on most of the major hotel reservation websites that are well-known worldwide. But smaller Bolivian hotels aren't as organized about their online presence. They are more likely to be on Tripadvisor, which has become very well-known in the Bolivian hospitality industry by word of mouth. We've partnered with Tripadvisor so you can
save up to 30% on your hotel
.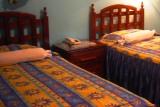 HOSTAL COSTANERA
Avenida Las Américas No. 594
Tarija, Bolivia
Tel: (591-4) 664-2851
Email: hostalcostanera@gmail.com
Web: http://hostalcostanera.com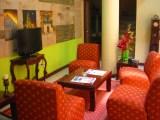 HOTEL DEL SOL
Calle Sucre No. 782 Esq. Bolivar
Tarija, Bolivia
Tel: (591-4) 666-5259 or 663-4635
Email: reservas@hoteldelsol.com.bo
Web: www.hoteldelsol.com.bo
HOTEL EL SALVADOR
Calle Alejandro del Carpio No. 840
Tarija, Bolivia
Tel: (591-4) 664-1920 or 664-1921
Fax: (591-4) 664-5444
Email: hotelsalvador@bolivia.com
Book on TripAdvisor
GRAND HOTEL TARIJA
Calle Sucre No. 762
Tarija, Bolivia
Tel: (591-4) 664-2684 or 664-4777
Email: grandhoteltarija@hotmail.com
Web: www.grandhoteltarija.com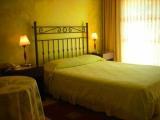 HOTEL LOS CEIBOS
Av. Panamericana No. 612 Esq. La Madrid
Tarija, Bolivia
Tel: (591-4) 663-4430
Email: reservas@hotellosceibos.com
Web: www.hotellosceibos.com
Book on TripAdvisor
HOTEL RESORT LOS PARRALES
Urbanización Carmen de Aranjuez Km. 3.5
Tarija, Bolivia
Tel: (591-4) 664-8444
Email: reservas@losparraleshotel.com
Web: www.losparraleshotel.com
Book on TripAdvisor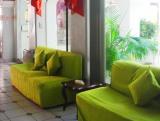 HOTEL LUZ PALACE
Calle Sucre No. 921 Esq. Domingo Paz
Tarija, Bolivia
Tel: (591-4) 663-5700 or 663-5701
Email: contactos@hotelluzpalace.com
Web: www.hotelluzpalace.com
Book on TripAdvisor
HOTEL MARTINEZ
Av. La Paz No. 251 Casi Avaroa
Tarija, Bolivia
Tel: (591-4) 664-0222 or 663-6518
Email: hotelmartinez@gmail.com
Web: www.hotelmartinez.com.bo
Book on TripAdvisor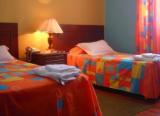 HOTEL VICTORIA PLAZA
Calle Madrid #282 Esq. Sucre
Tarija, Bolivia
Tel: (591-4) 664-2600 or 664-2700
Email: info@victoriaplazahoteltarija.com
Web: www.victoriaplazahoteltarija.com
Book on TripAdvisor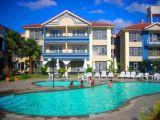 HOTEL VIÑA DEL SUR
Av. Hernando Siles (Villa Busch)
Tarija, Bolivia
Tel: (591-4) 663-2425 or 611-2277
Email: reservas@vinadelsurhotel.com
Web: www.vinadelsurhotel.com
TERRAVINA HOTEL DEL VINO
Bolivar E525 btwn. Santa Cruz and Junin
Tarija, Bolivia
Tel: (591-4) 666-8673 or 666-6444
http://terravinahoteldelvino.net
www.facebook.com/HotelBoutiqueTerravina
Book on TripAdvisor
HOSTAL CARMEN
Calle Ingavi 784
Tarija, Bolivia
(591-4) 664-4341 or (591) 702-11231
consultas@hostalcarmentarija.com
https://hostalcarmentarija.com/es
Book on TripAdvisor
HOSTAL GRANNY
Calle 15 de Abril No. 655
Tarija, Bolivia
Tel: (591-4) 663-5683
Email: reservas@hostalgranny.com
Web: www.hostalgranny.com
www.facebook.com/Hostal-Granny-209509445785237
Book on TripAdvisor
CASABLANCA HOSTEL
Ingavi # 645
Tarija, Bolivia
(591-4) 664-2909
luiszilvetiali@gmail.com
https://www.hostelcasablancatarija.com/en-us
Book on TripAdvisor
CONTINENTE HOTEL BOUTIQUE
Av. La Paz 419, btw. Belgrano & Delfin Pino
Tarija, Bolivia
Tel: (591-4) 666-5524
Web: http://continentehb.simplesite.com
Book on TripAdvisor
HOTEL MITRU
Calle Avaroa Nº 450, Barrio las Panosas
Tarija - Bolivia
Tel: (591-4) 664-3930 or (591) - 70522513
Email: info@hotelmitrutarija.com
Web: http://hotelmitrutarija.com
Book on TripAdvisor
CHURA TIERRA HOTEL BOUTIQUE
Av. Belgrano N° 1640
Tarija – Bolivia
Tel: (591-4) 667-7135
Email: reservas@churatierra.com
Web: www.churatierra.com
Book on TripAdvisor
HOTEL SEGOVIA
Colón btw. Ingavi and Bolivar
Tarija, Bolivia
Tel: (591-4) 666-1049 or (591) 68706343
Email: reservas@hotelsegovia.com.bo
Web: www.hotelsegovia.com.bo
Book on TripAdvisor
HOSTAL PUNTA ARENA
Av. Panamerica Nº 1544
Tarija, Bolivia
Tel: (591-4) 664-1655 or (591) 734-56492
FB: www.facebook.com/HostalPuntaArenasTarija
Book on TripAdvisor
APART HOTEL LA BANDA
Tel: (591) 751-11550
Email: labandaaparthotel@gmail.com
Web: www.aparthotel-labanda.com
Book on TripAdvisor
Photo:By Dieter Jungblut - Own work, Public Domain, https://commons.wikimedia.org/w/index.php?curid=22328118
---
Hotels | Plan Your Trip | Tarija Home Page | Tourism Home Page
---