Hotels in Camiri, Bolivia

Custom Search

Use this list of hotels in Camiri, Bolivia to find the best Camiri hotels for your needs! Camiri is a small, friendly city to the South of the city of Santa Cruz, and still within the state of Santa Cruz. Visit our
Santa Cruz travel forum
if you have any questions or if you'd like to share your Camiri travel stories. If you've already stayed at any of these hotels in Camiri, Bolivia, share your experience in our
Bolivia Hotel Review
.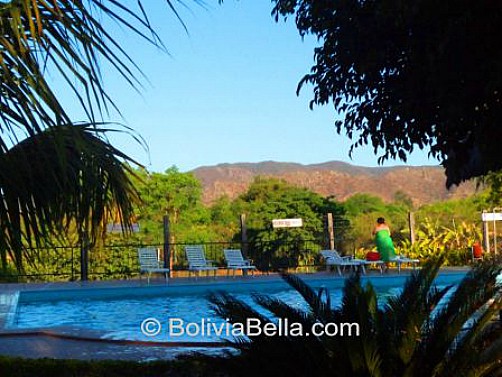 Book hotels in Bolivia on these travel sites:
JR Hotel
(Named for owners José and Risela. Costs between $30 and $45 a night, has good food, full restaurant, air conditioning, WIFI internet, laundry service, minibars)
Sanchez No. 247 between Comercio and Manchego (1 block from main plaza)
Phone: (591-3) 952-2300.
Hotel Balneario Las Tinajitas
OUR PICK FOR BEST HOTEL IN CAMIRI!
(Pool, air conditioning, cable TV, sauna, salon for events, minibars, and more. It is located about 5 minutes from the city center.)
Zona Williams, Urbanización Palmera Real
Phone: (591-3) 952-2730.
Hotel Oriente
(single, double and matrimonial rooms, private bath, garage, cable TV)
Calle Comercio No. 76
Phone: (591-3) 952-2564
Hotel Ramirez
(single and double rooms with private OR shared baths, fans, cable TV, laundry service, garage)
Av. Humberto Suárez Roca
Phone: (591-3) 952-3031
Hotel Lóndres
(single, double, triple rooms with shared baths, garage, cable TV, fans)
Av. Busch between Oruro and Comercio
No phone listed
Hotel Premier
(single, double, triple rooms with private bath, TV, fans, air conditioning in matrimonial rooms, garage, meeting rooms).
Av. Busch No. 60 between Oruro and Comercio
No phone listed
Residencial Las Mellizas
(single and double rooms with private baths, fans, TV, meeting rooms)
Calle Capitán Manchego No. 300, corner of Av. Busch
No phone listed
Residencial Cupesí
(single, double, matrimonial rooms with private or shared bath, TV, fans)
Av. Busch between Oruro and Comercio
Phone: (591-3) 952-2215
Residencial Los Pinos
(single, double, matrimonial rooms with shared or private baths, air conditioning, cable TV, minibars)
Calle Pando No. 160 between Av. Petrolera and 1ro de Mayo
Phone: (591-3) 952-4662


Facts
Tours
Hotels
Airlines
Forums
News
Maps
Food
Visas
Return to Camiri Home Page &nbsp Ecotourism &nbsp Tourism