The following are some famous athletes in Bolivia. You can read about more famous Bolivians by visiting our
Famous People from Bolivia
home page where you'll find many other categories. You can also ask questions about any famous Bolivian person or
add another famous person from Bolivia
to our list.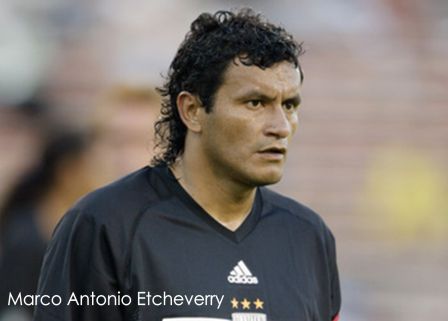 Photo Credit: bleacherreport.com
Maria Fernanda Álvarez
A tennis player born in Santa Cruz in 1989, this professional tennis player has achieved the highest International Tennis Federation ranking among Bolivians, at number 15 in the Juniors category in 2007. She has won various national and international singles and doubles tournaments.
Geovana Irusta
A marcher born in Chuquisaca she is considered the best Bolivian athlete in the 20-kilometer specialty for which she has earned many medals. She took second place at the Latin American level and was number 16 in worldwide competitions.
Bernardo Guarachi
A mountain climber and guide, born in Patacamaya (La Paz), he is another of our famous athletes. During the over 30 years he's been a climber he's climbed to the highest summits in the Andes as well as the highest peak in North America, Mount McKinley, and the fifth highest in the Himalayas (Makalu). He is the first Bolivia, and the first indigenous Latin American, to have ever climbed Mount Everest, which he did in 1998.
Paulo Víctor Aguilera
A BMX racer born in Santa Cruz in 1991. He has been the Latin American BMX champion fourteen times, the world champion five times, and the national champion innumerable times in this sport, which he has practiced since he was 3 years old.
Marco Antonio Etcheverry
A soccer player and trainer, he was born in Santa Cruz in 1970. He was schooled at the Tachuichi Aguilera Soccer Academy in Santa Cruz and played for various national and South American teams until arriving at the U.S. team DC United, for which he played eight years until retiring in 2006. His nickname is El Diablo (the Devil) due to his ability to break through his opponents' lines of defense. He was one of the members of the national team that participated in the US World Cup in 1994, and currently is a trainer and founder of a Fútbol 7 athletic club. He is one of Bolivia's most famous athletes.
Erwin Sánchez
A soccer player and trainer born in Santa Cruz de la Sierra in 1969. Like many of the country's outstanding soccer players, he trained at the Tahuichi Academy. He played for two national teams before moving to Portugal where he played until he retired, and where he won various national championships with his teams. He was also a member of the 1994 national team and is currently the coach of the Bolivian national team. He owes his nickname "Platini" to the similarities between his very strong kicking style, and that of French player Michel Platini.
Xavier Azkargorta
A soccer trainer from Spain, he was his native country's youngest coach at age 29 and led several teams. He is known for having led the Bolivian national team to qualify for the US World Cup in 1994. He went on to coach the Chilean team and other Asian soccer clubs and also worked as an athletic director in Spanish clubs, where he continues today.