In our Death Road Bolivia travel forum you can ask questions about this tour or share your own experiences and photos or videos of the World's Most Dangerous Road. To learn more about the road and bike tours offered, see the Bolivia
Death Road Home Page
. Please do ask questions, post travel stories, upload photos or videos, or share your experiences below.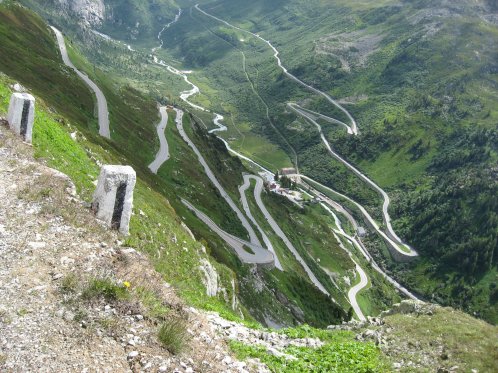 Your message will run through the BoliviaBella blog. You can also use our Bolivia Chat Room or go to the Bolivia Forums Home Page for more. If you plan to take a tour of the Bolivia Death Road, please read this important note regarding your safety while you travel Bolivia.
DEATH ROAD HOME PAGE
Although it is only really about 90 miles from La Paz to
Coroico
, the Bolivia road of death is carved around each mountain. The road winds up and down the sides of several mountains in a zig zag pattern, then curves around each mountain and on to the next where the zigging and zagging begins anew. It has a total of over 200 hairpin turns! Begin by visiting our
Death Road Home Page
.
INFO Get information about how to prepare, what to take with you and how to get to the World's Most Dangerous Road on this page. The Bolivia Road of Death lives up to its name. Between 100 and 300 people die in accidents on this road each year, including tourists who sometimes don't heed the warnings about how dangerous biking the road of death really is. Be sure you really want to do this and are in good health and top shape.
TOURS Bolivia Road of Death Tours take place along what is known as the Camino de la Muerte, Camino a los Yungas, and Camino a Coroico, a road which was declared the world's most dangerous road by the Inter-American Development bank in 1995. This page has a detailed description of the road the bike tours take and some of the stops you may make along the way.
FORUM In our Death Road Travel Forum you can ask questions about this tour or share your own experiences and photos or videos of the World's Most Dangerous Road. You can also post travel stories, upload photos or videos, or share your experiences on the world's most dangerous road.
PHOTOS & VIDEOS In our Death Road Photo Gallery you'll find documentary videos and homemade movies and photos of the "Camino de la Muerte", the most dangerous road in the world. And be sure to take a look at this Map of Death Road for a geographical perspective.
BoliviaBella.com is not a political forum and does not promote nor endorse specific political views on this site. Any views shared by our readers through the various forum pages available on the site are absolutely the responsibility of their authors.
BoliviaBella.com no es un foro político y no promueve ni endosa puntos de vista políticos específicos en este portal. Todas las opiniones compartidas por nuestros lectores mediante los foros disponibles en el portal son de la responsabilidad de sus autores.