Carmen Molina is a BoliviaBella.com and
RutaVerdeBolivia.com
2008 Bolivia Photography Contest winner. With her photo titled "Perdidos en el Cielo" (Lost in the Sky - at the Uyuni Salt Beds), she won first place in the "Best Photo of a Bolivian Natural Landscape" category. Read more about Carmen below:
Carmen Molina es una de los ganadores del Concurso de Fotografía de Bolivia 2008 de BoliviaBella.com y RutaVerdeBolivia.com. Con su foto "Perdidos en el Cielo" ganó el primer lugar en la categoría "Mejor Foto de un Paisaje Natural Boliviano". Véase más acerca de Carmen a continuación: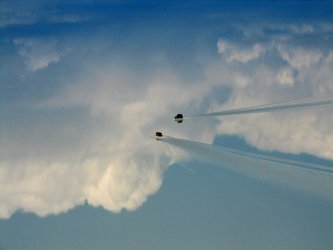 CARMEN MOLINA
First of all, the name of the photo is PERDIDOS EN EL CIELO (Lost in the Sky) and I named it this for a very simple reason: I thought the two cars seemed to be playing in the clouds oblivious to anything else going on around them. They were "lost" and were completely unaware of others. I watched them from atop Isla Pescado (Fish Island). Bolivia is a country that has many places where you can "lose" yourself and one of these is the magical Salar de Uyuni (Uyuni Salt Beds).
On the day I took this photo, we were very lucky because it had been rainy for days before this. And the thin layer of water that covered the salt created the optical illusion you see in the photo. (Our 4x4 broke down at the end of the day due to the amount of salt water that entered its engine and we had to continue our tour in another car).
I am actually only an amateur photographer and am really an athletic teacher by profession. I live in southern Spain, in the Andalucian province of Almería where people are very open and extroverted. I guess this is mainly because of the warm weather and we spend a lot of time outdoors.
My other passion "TRAVELING" is what took me to Bolivia. Every time I get a chance I go to another country to learn about other cultures and other ways of living. Bolivia is a good place to do this because in Europe we consider Bolivians the "Incas of the 20th Century". My first impression upon arriving wasn't that good because I am a very open person and wanted to meet a lot of people and it struck me that others did not open up as easily to me at first. But you have to listen to Bolivian with your heart, learn to get to know them, approach them in the correct manner. Because they really are exceptional, humble, simple, very proud of their origins, and they are very eager to improve. And as a foreigner, we admire that.
En primer lugar el nombre de la foto es PERDIDOS EN EL CIELO, y el porqué de este título es muy sencillo: me pareció que esos dos coches que jugaban entre ellos lo hacían entre las nubes ajenos a cualquier otra cosa que sucediera. Ellos estaban perdidos, pues no estaban para nadie, los pude observar desde la cima de Isla Pescado. Bolivia es un país con muchos lugares para perderse y uno de ellos es el mágico Salar de Uyini.
El día que realicé esta foto, tuvimos una gran suerte ya que llovió en días anteriores. Y esa pequeña capa de agua que sobre el salar quedó nos dió la posibilidad de crear el efecto óptico que la foto posee. PARECE QUE ESTAS EN EL CIELO ya que se refleja. Evidentemente el todo terreno se rompió al final del día, debido a la cantidad de agua salada que le entró al motor. Y para seguir el tour de los días posteriores hubo que cambiar de coche.
Yo realmente tan solo soy una fotógrafa aficionada, porque mi profesión es ser profesora de deporte. Vivo en España, al sur, concretamente en una provincia andaluza llamada Almería, donde la gente es muy abierta y extrovertida. Principalmente por que el clima es cálido y nos hace estar mucho tiempo en la calle.
Me llevó a Bolivia mi otra pasión "VIAJAR". Cada vez que puedo me marcho a países diferentes al mío, para empaparme de culturas y maneras de ver la vida distinta. Y Bolivia se presta muchísimo a eso pues desde Europa son vistos como los incas del siglo XX. Mi primera experiencia al llegar allí no fue muy buena, ya que debido al carácter que yo tengo (demasiado abierto) y a las ganas de conocer a sus gentes, me chocó el hecho de que ante mis prisas no se abrieran de primeras. Pero a estas gentes hay que saber escucharlas con el corazón, aprender a conocerlas, acercarte a ellas de la manera adecuada. Porque realmente son excepcionales, humildes, sencillos, muy orgullosos de su origen y con muchas ganas de mejorar. Y eso a un extranjero nos llena mucho.